Walmart Kicks off the Holiday Season with Toy Week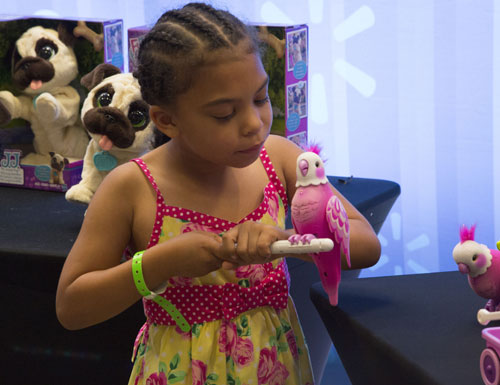 Walmart is officially kicking off the holiday season with its first-ever Toy Week. Toy Week coincides with the highly anticipated Force Friday events, which launch at 12:01am on Friday, September 4. That's when new and exclusive Star Wars: The Force Awakens merchandise will be unveiled at Walmart. Walmart says that more 500 new Star Wars products will be available in stores and thousands more on Walmart.com spanning almost every category in the store. Force Friday events are expected to take place at 2,900 Walmart locations on Friday (Sept. 4) and Saturday (Sept. 5). The film, Star Wars: The Force Awakens opens in theaters on December 18.
In addition, Walmart's holiday layaway program will launch on August 28, which is a full two weeks earlier than last year. Walmart says it has lowered the price for eligible items to $10 with a $50 minimum basket. There is no opening fee for customers to start a layaway account, and they only need to put down 10 percent. The last day to pick up layaway items is December 14.
Also, as part of its holiday season kick-off, Walmart announced its Holiday Toy List, which was chosen by hundreds of kids ages 18 months–12 years old. This year's top picks fell into four distinct categories, which were chosen by Walmart.
Future Foodies—Food-themed toys:
Hasbro Pie Face
Skyrocket Toys Chocolate Pen
Wicked Cool Toys Girl Scout Cookie Oven
Moose Toys Shopkins Scoop Ice Cream Truck Playset
Veterinarians in Training—Animal-themed toys:
Fisher-Price Little People Zoo
Fisher-Price Imaginext Ultra T-Rex
Spin Master Paw Patrol Mission Chase
Just Play Doc McStuffins Vets 'n Pets Care Center
Moose Toys Little Live Pet Clever Keet
Hasbro Furreal Unicorn
Adventure-Seekers in the Making—Action-packed toys
VTech Ultimate Raceway
MGA MC2 Deluxe Lab Kit
Mattel Hot Wheels Ultimate Garage
Fisher-Price Thomas Shipwreck Rails Playset
Jakks R/C Hulk Smash Vehicle
Mattel Hot Wheels Terrain Twister
Jakks Max Tow Truck
New Bright R/C Pro Reaper
Fisher-Price Beatbo
Hasbro Nerf Rotofury
Blip Toys Hovertech Battle FX
Alpha Voice Command Helicopter
Dreaming Design Stars—Create and decorate:
Mattel Frozen Ice Castle
Hasbro My Little Pony Canterlot Castle
Mattel Barbie Dream House
For more information on Walmart's Holiday Toy List as chosen by kids, visit www.walmart.com/chosenbykids.
Francis Steps Down from DreamWorks Animation
DreamWorks Animation (DWA) announced that Michael Francis, the company's chief global brand officer, will step down from his full-time duties in December. DWA expects to retain Francis' services as an external consultant.
DWA also announced that Jim Fielding, head of global consumer products, will oversee its licensing and franchise management businesses going forward and report directly to DWA president Ann Daly.
Since 2013, Francis has overseen the company's branding, licensing, consumer products, and franchise management efforts, and going forward he plans to work closely with DWA. He will also serve as a board member for AwesomenessTV.
Before joining DreamWorks Animation in 2013, Francis was the founder of Farview Associates, LLC, a global brand agency representing a diverse slate of retail, design, and celebrity partners. Previously, he was president of J.C. Penney, where he oversaw marketing, merchandising, design, and global sourcing. Francis spent more than 26 years with the Target Corporation, ultimately serving as global CMO. Francis says he plans to resume his own business in addition to working with DWA.
Daron, Toys and Models Corp. to Merge
Daron Worldwide Trading and Toys and Models Corp. announced that they are merging as of September 1. The new company will operate under the Daron name from the Daron offices in Fairfield, N.J. Ronald Marx, president of Daron can be reached at rmarx@daronwwt.com and Jan Halvorsen, founder of Toys and Models Corp. can be reached at jhalvorsen@daronwwt.com
What's New in Radio Control Toys on TTPM
TTPM is showcasing the newest items in Radio Control Toys. For the latest in Toys, Tots, Pets, and More as well as what's trending, visit TTPM.com.