Mattel Partners with Tongal for Content Creation
Mattel is partnering with Tongal, the creative content platform for brands, studios, and creators, to create a wide variety of video content for brands across its core portfolio including American Girl, Barbie, Hot Wheels, Monster High, and Thomas & Friends. The content debuts on each brand's respective YouTube channel.
One highlight of the Mattel and Tongal collaboration is a 30-minute documentary that celebrates the 70th anniversary of the Thomas & Friends brand. Titled Thomas & Friends: 70 Years of Friendship, the documentary premiered on YouTube on July 14.
TIA Celebrates 100 Years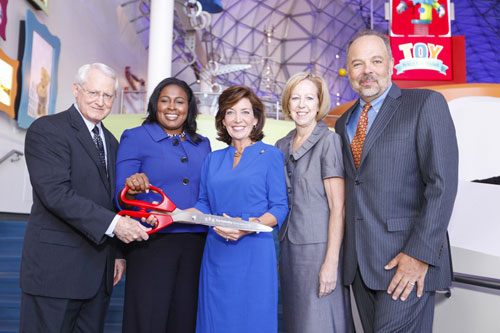 The Toy Industry Association (TIA) kicked off its 100th anniversary celebration last week during a ribbon cutting ceremony for the new Toy Halls of Fame exhibit at The Strong National Museum of Play in Rochester, N.Y. The Strong's President and CEO Rollie Adams, Rochester Mayor Lovely Warren, Lieutenant Governor Kathy Hochul, Monroe County Executive Maggie Brooks, and Toy Industry Association President and CEO Steve Pasierb unveiled the state-of-the-art exhibit. Visit The Strong—National Museum of Play.
What's New on TTPM
TTPM is showcasing the newest items now available at retail. TTPM will announce its Most Wanted List on Tuesday (Sept. 29) during the annual Holiday Showcase. For the latest in Toys, Tots, Pets, and More as well as what's trending, visit TTPM.com.