PuppyMonkeyBaby Licensed to Commonwealth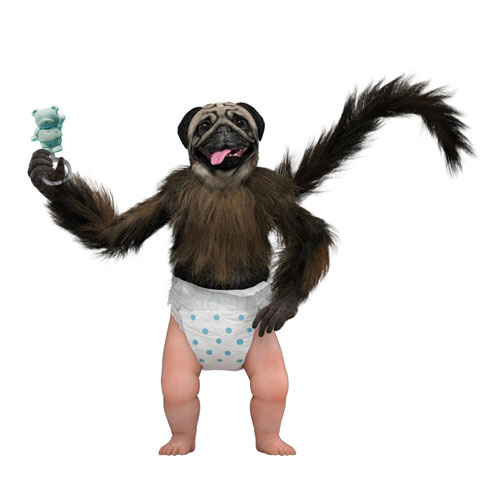 Mountain Dew has granted Commonwealth Toys & Novelty the North America rights to PuppyMonkeyBaby for a novelty line including plush, bobble heads, and key chains, in a deal brokered by Mountain Dew's exclusive licensing agency, The Joester Loria Group. When the MTN Dew Kickstart PuppyMonkeyBaby ad debuted February 7 during the big game, it immediately started trending worldwide, and since airing has had more than 20 million views.
MTN Dew Kickstart launched in 2013 and has been dubbed one of PepsiCo's most successful beverage product launches in the past decade, generating annual retail sales of more than $300 million. There's only 60 calories per 12 oz. serving and it comes in a variety of flavors.
Jazwares Relaunches Weebles
Jazwares is relaunching Hasbro's Weebles, the iconic children's toy that wobbles but doesn't fall down. Revitalized to resonate with the preschoolers of today, the new Weebles have been redesigned with sculpted features, bringing the characters to life. The Weebles product line will be available this fall in stores nationwide. Follow six main characters, Wendy, Wally, Willie, Winnie, Willow, and Winston on adventures in Weeblesodes debuting this summer on YouTube. Each episode features stories of wonder and humorous sharing lessons for today's preschooler.
Thames & Kosmos to Create Barbie STEAM Kits
Mattel has signed Thames & Kosmos to create a line of STEAM-themed products based on Barbie. The first kit in the line includes plastic building pieces and science experiment materials, as well as a Barbie doll, to create a complete experience based on the concept, "You Dream It, You Make It!". From math and science to biology and chemistry, each kit is built to "Barbie-scale" and meant to be compatible with the original Barbie Dreamhouse.
Lincoln Logs Celebrates 100 Years

Developed in 1916 by the son of famous American architect Frank Lloyd Wright, Lincoln Logs celebrates its 100th anniversary this year. Licensed by Hasbro, K'NEX's assortment of new and classic products will be part of this year's line. The 100th Anniversary Tin, made in the U.S., includes 111 real wood logs. It is now available.
Guidecraft Celebrates 50 Years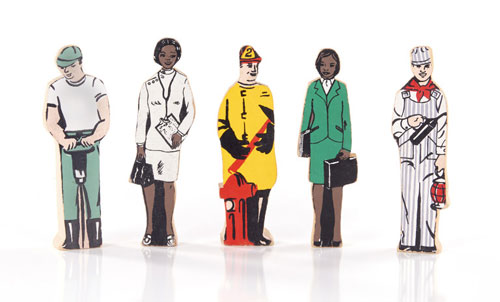 Guidecraft began in 1966 selling Wedgies, which are solid-wood, wedge-shaped characters. The characters depicted women and people of color in careers, which was rare in the late 1960s. (Shown here is an image of characters from the original set.) Today the Wedgies have become even more inclusive with a Special Needs Children Set, Multicultural Family Set, and additional Career Set.
Founder Fred Fein said about his launch in 1966, "There was one area where I worked with machinery and another area for silkscreen painting and an area for final packaging. I did the quality control myself as well!"
Today, Guidecraft is a global company with operations in North America, South America, Europe, and Asia.