TIA Identifies Industry Trends
Leading up to Toy Fair, the Toy Industry Association (TIA) says it collaborates with hundreds of global toy companies to identify the products and trends that will drive consumer spending on play. Here is what the TIA identified as the top five trends in toys for 2016:
• Tech: Drones, Robots, and Toys-to-Life
This segment includes robots/robotic pets, RC that interacts with smartphones, apps that allow kids to play with physical toys in new and different ways, smart tablets for toddlers, augmented reality, wearables, and flying nanodrones.
• Family Matters
Millennial parents are nostalgic for their own childhood board games, puzzles, and other traditional toys, and want to share in those unplugged experiences with their children. There are also toys that incorporate technology while also promoting socialization, face-to-face interaction, and family bonding. Whether online or offline, these toys bridge the gap between generations by helping families create lasting memories through play. This segment includes family and board games, craft activities, and outdoor games.
• Ultimate Creator
Elaborate culinary concoctions, Pinterest-worthy designs, and stop-motion movies are just a few of the many creative projects that the "Ultimate Creator" wants to work on. Examples include stop-motion technology and videography sets, food and baking sets, jewelry making, and building sets.
• Brain Booster/STEAM
This segment includes classic toys with an educational twist; infant/preschool learning toys; science and engineering kits that teach coding and advanced mathematical concepts; activity-based books and educational board games that teach language and culture; and toys that encourage parental/educator involvement and teaching.
• Coveted Collectibles
This segment includes novelty toys, high-quality miniature versions of existing lines, and franchise collectibles.
Moose Toys Brings SelfieMic to the U.S./Canada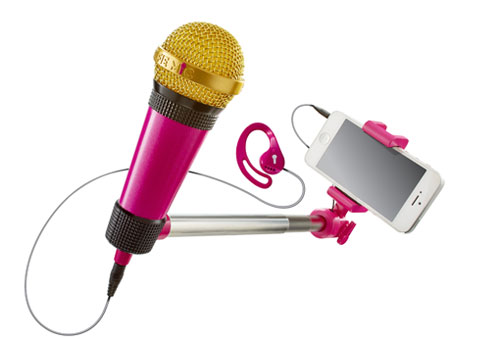 SelfieMic allows kids to create their own music videos and become a pop star right from their own home. Created by UK-based Worlds Apart, the product features a selfie stick with a working karaoke microphone, ear piece, and music app. Kids can stream their own voice or lip sync to their favorite songs and create music videos on their smart phone, which they can share with their friends.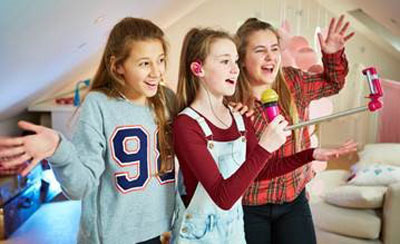 Using the free included partner app, StarMaker, kids can sing along to favorite songs from a catalogue of more than three million fully licensed songs with updates daily, including Justin Bieber, Taylor Swift, One Direction, and more. Voice and video effects make you sound and look like a star. Moose Toys is the official distributor in the U.S. and Canada. It is for ages 8 and up, available this fall for $24.99. Watch TTPM's Chris Byrne (The Toy Guy) and Laurie Leahey demo it.
Images from Toy Fair
Check out where the aNb Media team has been this week. Here are some images from Toy Fair. Here are some videos from TTPM.