Sesame Street Debuts First Afghan Muppet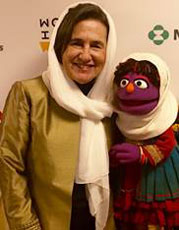 Sesame Workshop unveiled its first Afghan Muppet, Zari, a curious and eager 6-year-old girl, who will make her debut in season five of Baghch-e-Simsim—the local co-production of Sesame Street. Zari, whose name means "shimmering," will be featured in new, locally produced segments that focus on curriculum topics like girls' empowerment, national identity, physical health, and social and emotional well-being. Season five of Baghch-e-Simsim can be seen on Tolo TV. For a behind-the-scenes look at Zari, click here.
Zari will be featured in three formats: speaking directly to viewers, interacting with children in person, and interviewing a variety of Afghan professionals.
New radio episodes of Baghch-e-Simsim will also debut later this month in all 34 Afghanistan provinces on national FM station Radio NAWA as well as 38 local and regional stations.
What's New in Toys for The Jungle Book Movie on TTPM
TTPM is showcasing the newest The Jungle Book Toys on TTPM. The film opens this Friday, April 15. For the latest in Toys, Tots, Pets, and More as well as what's trending, visit TTPM.com.