IMG Launches Football Greats Alliance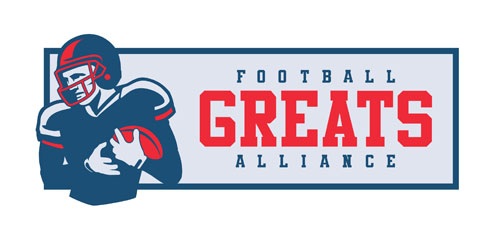 IMG unveiled the Football Greats Alliance (FGA), a first-of-its-kind agency created to manage the collective marketing and licensing rights of retired players. Operated by IMG, the FGA creates, develops, and manages the strategic execution of rights for more than 22,000 retired NFL players, offering a one-stop shop for marketing rights, approvals, contracting, and financing for a group that includes 160-plus hall of famers, 50-plus Heisman winners, 225-plus broadcasters, and 35 NFL MVPs. Through relationships with authentic sponsors, partners, and licensees, the FGA will help solidify and preserve the legacy of former NFL players.
"The FGA will provide opportunities for retired players to band together for a wide variety of partnerships," said Jim Brown, Cleveland Browns legend, Pro Football Hall of Famer, and chairman of the board, FGA. "These deals will have direct financial benefits to the players involved, and more importantly, will provide revenue for the Greater Good Fund, which will benefit the health and welfare of retired players."
The NFL will play a role in supporting the FGA, providing access to NFL sponsors, club marketing personnel, and hospitality space for events including the 2017 Super Bowl and Pro Bowl. The NFL is underway on projects to sell retired players' jerseys online in tandem with nflshop.com licensees, and to cross-promote the FGA on NFL digital platforms.
In March 2013, NFL Commissioner Roger Goodell announced the settlement of the NFL's image/likeness lawsuit with retired NFL players. As a part of the $50 million resolution of the case, the Pro Football Retired Players Association (PFRPA) was created to administer the terms of several new ventures. The two major initiatives born out of the PFRPA are the FGA and The Greater Good Fund, a 501(c)(3) charitable foundation. The FGA is governed by a board of directors including Jim Brown (chairman), Ron Mix (vice-chair), Dave Robinson, Jack Youngblood, Irv Cross, Billy Joe Dupree, and Darrell Thompson.
Hasbro Reports Q1 2016
Hasbro reported financial results for the first quarter 2016. Net revenues for the first quarter 2016 increased 16 percent to $831.2 million versus $713.5 million in 2015. Excluding a negative $28.6 million impact from foreign exchange, first quarter revenues increased 20 percent. Net earnings for the first quarter 2016 increased 83 percent to $48.8 million, or $0.38 per diluted share, compared to $26.7 million, or $0.21 per diluted share, in 2015.
"The momentum with which we ended last year has continued throughout the first quarter 2016, delivering revenue and earnings growth," said Brian Goldner, Hasbro's chairman, president, and CEO. "Our focus on executing our Brand Blueprint continues to drive strong retail and consumer demand for our brands, while enhancing overall profitability of Hasbro. Hasbro Franchise Brand revenue increased behind continued double-digit growth in Nerf and Play-Doh, overcoming expected difficult quarterly comparisons in Transformers as well as a digital streaming deal in the Entertainment and Licensing segment recorded last first quarter. Demand for Star Wars: The Force Awakens products continued to be high and we benefited from the addition of Disney Princess and Frozen fashion and small dolls. We are very encouraged with global demand and our outlook for 2016."
First Quarter 2016 Major Segment Performance
First quarter 2016 U.S. and Canada segment net revenues increased 28 percent to $443.6 million compared to $345.7 million in 2015. Growth in the Boys, Girls, and Preschool categories more than offset a decline in the Games category. The U.S. and Canada segment reported operating profit growth of 89 percent to $78.3 million, or 17.7 percent of net revenues, compared to $41.4 million, or 12 percent of net revenues, in 2015.
International segment net revenues increased 13 percent to $345 million compared to $305.7 million in 2015. All four product categories posted revenue growth: Boys, Games, Girls, and Preschool. On a regional basis, Europe grew 14 percent, Latin America declined 3 percent, and Asia Pacific was up 25 percent. Emerging markets revenues declined 7 percent in the quarter. Excluding an unfavorable $26.7 million impact of foreign exchange, net revenues in the International Segment grew 22 percent, increasing 19 percent in Europe, 19 percent in Latin America, and 33 percent in Asia Pacific. Emerging markets increased approximately 6 percent absent the impact of foreign exchange. As reported, International Segment operating profit of $2.9 million was up 50 percent, compared to $1.9 million in 2015.
Entertainment and Licensing segment net revenues decreased 30 percent to $42.5 million compared to $60.6 million in 2015. Last year's first quarter benefited from a multi-year digital streaming deal for Hasbro Studios television programming, which was not repeated in 2016. The Entertainment and Licensing segment operating profit declined 67 percent to $5.4 million compared to $16.4 million in 2015.
First Quarter 2016 Product Category Performance
First quarter 2016 Boys category revenues increased 24 percent to $336.9 million. Revenue growth in the quarter was driven by gains in franchise brand Nerf, along with partner brand Star Wars as well as the addition of YoKai Watch. The Boys category grew 28 percent absent the impact of foreign exchange.
Games category revenues declined 2 percent for the quarter to $231.1 million. Pie Face continued to be a strong contributor to growth, along with growth in Yahtzee and Duel Masters. Growth in these brands was more than offset by declines in other gaming brands for the quarter. The games category was flat absent the impact of foreign exchange.
Girls' category revenues increased 41 percent to $165.4 million. The first quarter marked the on-shelf date for Hasbro's line of Disney Princess and Frozen fashion and small dolls. The addition of these brands along with Disney's Descendents and growth in Baby Alive delivered strong quarterly revenue growth for the category. The Girls category increased 48 percent absent the impact of foreign exchange.
Preschool category revenues increased 11 percent to $97.8 million for the first quarter 2016. Revenue growth in franchise brand Play-Doh drove the revenue increase for the quarter. The preschool category grew 17 percent absent the impact of foreign exchange.
Dividend and Share Repurchase
Hasbro paid $57.4 million in cash dividends to shareholders during the first quarter 2016. The next quarterly cash dividend payment of $0.51 per common share is scheduled for May 16, 2016, to shareholders of record at the close of business on May 2, 2016.
During the first quarter, Hasbro repurchased 475,000 shares of common stock at a total cost of $35.8 million and an average price of $75.41 per share. At quarter-end, $443.5 million remained available in the current share repurchase authorization.
ToyFest West Announces 2017 Dates
ToyFest West, hosted by the Western Toy and Hobby Representatives Association (WTHRA), announced that the 2017 show is set for March 5­–7. The show will remain at South Point Hotel and Spa. For more information, click here.
What's New in Hot Wheels Toys on TTPM
TTPM is showcasing the newest Hot Wheels Toys. For the latest in Toys, Tots, Pets, and More as well as what's trending, visit TTPM.com.