Djeco, Hape Partake of ASTRA Exclusives Program
The American Specialty Toy Retailing Association (ASTRA) announced that Djeco and Hape are offering 10 active play products exclusively to independent toy stores that are ASTRA members.
"One strategy for making ASTRA stores a destination in their communities is to offer top-quality products with exceptional play value that their customers cannot find anywhere else," said Kimberly Mosley, president of ASTRA. "The ASTRA exclusives program provides products that kids and parents will love—and retailers will appreciate the fact that these exclusive products prevent shoppers from 'showrooming' ASTRA stores."
The Djeco and Hape products were selected by a committee of ASTRA retailers for their uniqueness and their fit with a typical specialty toy store brand. Additional ASTRA exclusives will be featured at ASTRA's upcoming Marketplace & Academy in Denver, Colo. June 5–8. The June issue of TFE will cover the show's new products.
Happy 50th Birthday, Twister!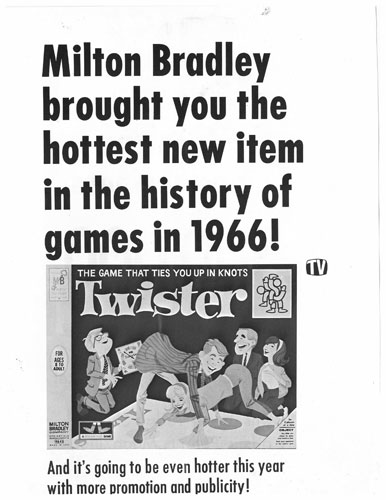 Twister was initially developed in 1964 by Reyn Guyer, a toy inventor who would also go on to develop Nerf. He created a game using people as the playing pieces. It was initially called King's Footsie. It was shopped around, further tweaked, and potentially called Pretzel when it was brought to Milton Bradley. The company changed the name to Twister and launched it in 1966. But it got off to a rough start. It seemed a bit risqué at the time while some consumers simply didn't understand how to play it. It was quickly pulled off shelves. Then, a paid public relations appearance and The Tonight Show changed everything.
On May 3, 1966, The Tonight Show's Johnny Carson challenged his guest, actress Eva Gabor, to a game of Twister, according to Hasbro. The game's debut on The Tonight Show sent consumers rushing to the stores to buy their own Twister game. Abercrombie & Fitch was the only store left with any Twister games in stock and it soon became overwhelmed with customers. Eventually, Sears changed its mind and decided to sell Twister. By early 1967, more than three million Twister games had been sold, according to Hasbro. The rest is history.
Super Wings to Air in Germany
CJ E&M, Asia's leading content and media company, announced that the animated preschool series, Super Wings, is set to broadcast on German speaking children's channel KiKA, the children's channel of ARD & ZDF in Germany, covering Germany, Switzerland, and Austria. KiKA became co-producer from the start and will exclusively air the series in 2017 in these territories.
What's New in Games on TTPM
TTPM is showcasing the newest Games. For the latest in Toys, Tots, Pets, and More as well as what's trending, visit TTPM.com.