TTPM Announces Most Wanted Summer Toys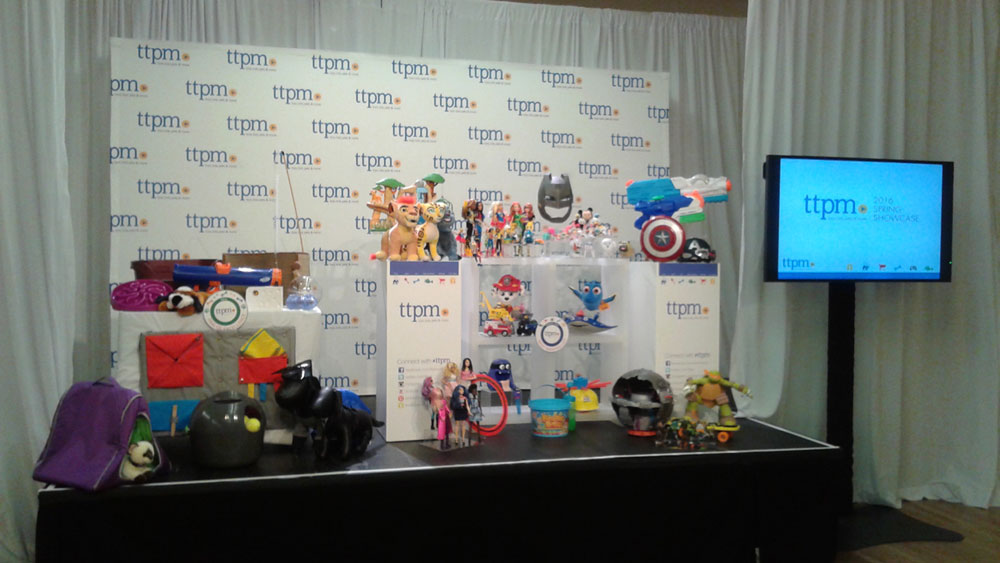 TTPM hosted its annual TTPM Spring Showcase in New York City today. The crowded one-day press event highlighted the top trends and innovations for spring and summer play. With the event falling on Bring Your Child to Work Day, this year's guest list include more than 100 kids who spent the day playing. Here is what's hot this summer:
• Summer Flicks Fill the Toy Aisle
Summer 2016 will feature some of the most exciting and memorable blockbusters of the year. Key movie properties include Captain America: Civil War, Teenage Mutant Ninja Turtles: Out of the Shadows, Finding Dory, Batman v Superman: Dawn of Justice, and The Secret Life of Pets.
• Toys for the Outdoors
Summer is all about fun in the sun. This year, kids will have access to a variety of new, exciting outdoor toys, including edible bubbles, ride-ons, scooters, and more. TTPM experts predict Candylicious Bubbles, the Nerf Super Soaker Breach Blast, Water Warriors Gargantua, Booger Balls, Wet Head, and the Aerobie Pro Flying Ring will be the hottest outdoor toys this summer.
• Hot Brands for Summer Fun
As the weather warms up, several toy brands are predicted to be particularly hot this season, including Shopkins, DC Super Hero Girls, Tsum Tsum, Paw Patrol, The Lion Guard, Play-Doh, and Barbie.
• Summer Play for Pets
From chew toys to apparel and catnip to collars, families will have a variety of new toys, treats, and gear for their four-legged friends this summer.
To see the full Most Wanted List, including reviews on each product, click here. Separately, for TTPM Pets Paw of Excellence winners, click here.
NBCUniversal Acquires DreamWorks
NBCUniversal, a division of Comcast Corporation announced the acquisition of DreamWorks Animation. The studio will become part of the Universal Filmed Entertainment Group, which includes Universal Pictures, Fandango, and NBCUniversal Brand Development.
Under the terms of the agreement, DreamWorks Animation has an equity value of approximately $3.8 billion. DreamWorks Animation stockholders will receive $41 in cash for each share of DreamWorks Animation common stock. The agreement has been approved by the boards of directors of DreamWorks Animation and Comcast, and the controlling shareholder of DreamWorks Animation has approved the agreement by written consent. The transaction is expected to close by the end of 2016, subject to antitrust approvals in the U.S. and abroad, as well as the satisfaction of other customary closing conditions.
Following the completion of the transaction, DreamWorks Animation CEO and co-founder Jeffrey Katzenberg will become chairman of DreamWorks New Media, which will be comprised of the company's ownership interests in Awesomeness TV and NOVA. Katzenberg will also serve as a consultant to NBCUniversal.
The acquisition gives NBCUniversal broader reach to a host of new audiences in the highly competitive kids and family entertainment space, in both TV and film. It includes popular DreamWorks Animation film franchise properties, such as Shrek, Madagascar, Kung Fu Panda, and How to Train Your Dragon. It also includes a thriving TV operation that is a significant supplier of family programming, with hundreds of hours of original, animated content distributed across linear and SVOD platforms in more than 130 countries. Additionally, DreamWorks Classics, a large library of classic characters, including Where's Waldo and Rudolph the Red-Nosed Reindeer, will become part of the NBCUniversal portfolio, along with a successful consumer products business.
Spin Master Launches Australian Subsidiary
Spin Master Corp. announced the formation of an Australian subsidiary Spin Master Australia (Pty) Ltd. Spin Master Australia will begin trading in 2017 and will assume distribution for the majority of the company's brands for Australia.
"Australia presents a strong growth opportunity for Spin Master and we're excited to be expanding our network of regional business offices," said Ben Gadbois, president and COO, Spin Master Ltd. "One of our core growth strategies is to continue to grow our international sales. Our new Australian subsidiary is an important step toward this goal," he added.
Overseeing business operations will be Jacqui Webster, recently appointed as general manager, Australia and New Zealand, reporting into Derek Seidewand, vice-president of international sales. Prior to joining Spin Master, Webster held senior roles with Hasbro, Mattel, Paramount Pictures, and several international consumer packaged goods companies.
Spin Master Australia will be based in Sydney, NSW, and a warehouse location will be finalized in the coming months.