TRU Reports Q1 2016
Toys "R" Us, Inc., reported financial results for the first quarter ended April 30, 2016.
"During this challenging quarter for retail, we remained focused on improved execution and our results reflect those efforts," said Dave Brandon, chairman and CEO, Toys "R" Us, Inc. "We grew our international and domestic same-store sales, while maintaining the financial discipline we have worked to achieve. We have more work to do but this is a positive start as we look to further transform the customer experience whenever, wherever, and however they choose to shop with us."
First Quarter Highlights:
Consolidated same store sales increased 0.9 percent. International grew by 2.5 percent mainly attributable to an increase in the learning, baby, and core toy categories, partially offset by a decline in the entertainment category (which includes electronics, video game hardware and software). Domestic was up 0.1 percent primarily due to an increase in the core toy and learning categories, partially offset by a decline in the entertainment category.
Consolidated net sales were $2,319 million, a decrease of $6 million compared to the prior-year period. The decrease in net sales was mainly attributable to Domestic store closures, which included TRU Times Square and FAO Schwarz flagship stores, partially offset by International and Domestic same-store sales growth.
Gross margin dollars were $846 million, compared to $862 million for the prior-year period, a decline of $16 million. Gross margin rate was 36.5 percent, a decrease of 60 basis points. Domestic and International gross margin rates declined by 60 basis points and 80 basis points, respectively, primarily due to an increase in promotional sales, partially offset by a sales mix away from lower margin entertainment products.
SG&A decreased by $22 million to $805 million, compared to $827 million in the prior-year period. The decrease in SG&A was primarily due to a $22 million decline in occupancy costs, predominantly as a result of the closure of flagship stores.
Operating loss was $7 million, compared to $30 million in the prior-year period. International segment operating earnings improved by $13 million, mainly due to a reduction in operating expenses and improved gross margin dollars. Domestic segment operating earnings improved by $6 million, primarily as a result of SG&A savings. Corporate overhead decreased by $4 million.
Adjusted EBITDA for the quarter improved by $9 million to $79 million, compared to $70 million in the prior-year period.
Net loss was $126 million, compared to $140 million, an improvement of $14 million.
TRU updated the timeline for its new Domestic e-commerce platform to a scheduled launch in 2017. In addition, TRU has recruited and hired a newly created global chief technology officer and a new chief information officer to ensure a successful transition.
As previously announced, the company entered into an agreement to refinance a portion of its outstanding debt that was due to mature in 2017 and 2018. "This represents a significant step forward in our efforts to create a stronger financial foundation," said Brandon.
Liquidity and Capital Spending
The company, including Toys "R" Us-Delaware, Inc., ended the first quarter with total liquidity of $1 billion, which was comprised of cash and cash equivalents of $458 million and availability under committed lines of credit of $582 million. Toys "R" Us-Delaware, Inc., ended the quarter with $571 million of liquidity, which was comprised of cash and cash equivalents of $179 million and availability under its revolving line of credit of $392 million. For the first quarter, capital spending was $50 million, compared to $43 million in the prior year, an increase of $7 million.
TSCA Reform Bill Passes Senate
The U.S. Senate unanimously passed legislation reforming the Toxic Substance Control Act (TSCA) on June 7, shortly after the House of Representatives' passage, says the Toy Industry Association (TIA). This bipartisan action marks Congress' first major update to the legislation in 40 years and represents a major victory for the toy industry. The bill now awaits signature by President Obama.
"This is a major achievement, and the toy industry is one step away from operating under a law with a strong national chemical regulations standard," said Ed Desmond, TIA executive director of external affairs. "Once the president signs the bill and sends it to the Environmental Protection Agency (EPA) for implementation, we are hopeful our members will begin seeing less effort by states and localities to ban chemical use."
TSCA reform will strengthen the federal chemical regulatory system and has been a top policy priority for the toy industry. TIA has advocated for several years for a stronger federal chemical regulatory system so that states and counties will not feel obligated to act in the absence of stricter federal oversight. Once President Obama signs the bill into law, the EPA will begin the process of prioritizing chemicals and taking necessary steps to review them.
TIA will stay engaged with the EPA during this process to find opportunities to participate in the development of future rules and regulations that could impact the toy industry.
AGE, Just Play Partner on Madballs Content
American Greetings Entertainment (AGE) and master toy partner, Just Play, have entered into a co-production and joint venture partnership to relaunch a new series of the 1980s brand Madballs.
All-new Madballs animated shorts are currently in production and set to launch fall 2016 to support a consumer products program already underway with new and digital licensee commitments. Starting in spring 2017, Just Play will launch a variety of products, including classic and mini collectible Madballs, and expand with playsets and accessories at retailers worldwide.
"We know that brand equity just isn't enough these days, so we're proud to partner with Just Play and their strong track record of building great classic and modern brands," said Sean Gorman, president of AGE. "We're excited to re-introduce Madballs to fans, with a launch supported by ultra-fun, super-cool compelling content for a new generation."
For specialty channels, Kidrobot offers vinyl figures, collectibles, soft foam balls, and limited-edition items for holiday 2016. The growing list of Madballs licensees includes Brunswick Bowling Products for bowling balls, Roar Comics (an imprint of Lion Forge) for comics and graphic novels, Mondo Tees for additional collectibles, and Gourmandise for cell phone accessories in Japan.
Rolling out into the digital marketplace, AGE further advances its relationship with Miniclip who will be adding Madballs to its game Agar.io later this month. Las Maquinitas Studios, a subsidiary of Machine Industries, is developing a free-to-play Madballs game for core gamers on iOS and Android mobile and tablet devices worldwide. Neon Mob offers fans digital trading cards and Bare Tree Media offers chat stickers in their Emojitap app, both available now. Babo Invasion, the arena-combat game starring the classic Madballs is also available on Steam and XBLA, produced and developed by Playbrains.
Sony/ATV Music Publishing Names Epic Rights Global Licensing Agent for Lennon-McCartney Song Catalog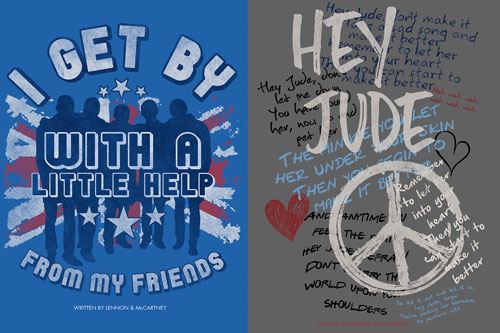 The Northern Songs Lennon-McCartney song catalog, owned by Sony/ATV Music Publishing, has named Epic Rights one of the catalog's global licensing agents. With its Lyrics Written by Lennon & McCartney program, Epic Rights is developing a global licensing program that will incorporate the iconic lyrics of many of the duo's most popular songs into licensed products across multiple consumer goods categories.
From the time of their U.S. television debut in 1964 until their split in 1970, The Beatles topped the Billboard Hot 100 chart a record-setting 20 times. Those chart toppers, mostly written by John Lennon and Paul McCartney, are among more than 180 songs that comprise the Lennon-McCartney music catalog. Among the most popular, according to Rolling Stone, are "Come Together", "Hey Jude", "Let it Be", "In My Life", "Strawberry Fields Forever", "A Day in the Life", and "Yesterday".
What's New in Music Toys on TTPM
TTPM is showcasing the newest Music Toys. For the latest in Toys, Tots, Pets, and More as well as what's trending, visit TTPM.com.