CPSC to Exempt Certain Plastics from Phthalates Tests
The Toy Industry Association (TIA) is reporting that the U.S. Consumer Product Safety Commission (CPSC) is set to vote this week on a Notice of Proposed Rulemaking exempting four plastics from phthalates testing. TIA has led advocacy on this issue for the past few years and says that this rulemaking will likely have a positive impact on the toy industry by reducing testing costs.
The proposed rule determines that polypropylene, polyethylene, high impact polystyrene, and acrylonitrile butadiene styrene (ABS) do not contain specified phthalates prohibited in children's toys and child care articles. Based on this determination, companies would not be required to have these specific plastics tested for the banned phthalates at third-party laboratories, although they must continue to comply with the 0.1 percent limit for each of the six currently restricted phthalates.
Over the past few years, TIA and its members have provided agency staff and lawmakers with comments, data, testimony, and more to encourage the reduction or elimination of unnecessary testing and testing costs.
Once CPSC votes on the rulemaking, a draft rule will be published in the Federal Register with a 75-day public comment period. TIA staff will review and comment on the draft rule to ensure that it provides relief to toy companies.
TIA members will be kept apprised of developments. Questions can be directed to TIA's Autumn Moore, manager of standards and regulatory affairs, at amoore@toyassociation.org.
New Categories for TOTY Awards
The Toy Industry Association (TIA) announced the introduction of several new categories for the 17th Annual Toy of the Year (TOTY) Awards, including Action Figure of the Year, Collectible of the Year, Construction Toy of the Year, Doll of the Year, Rookie of the Year, and Vehicle of the Year. TIA has also announced that a more efficient and transparent judging method will help determine this year's finalists.
Toy companies, inventors, and other industry representatives are invited to submit toys, games, and licenses for consideration across a total of 14 TOTY categories through September 30. The nomination link is available at TOTYawards.org. Twenty-five judges, including toy and play experts, retailers, academics, and journalists, will use an online form to review, comment on, and rank hundreds of submitted products in specific categories that are relevant to their areas of expertise. The judges will then participate in a live discussion to debate any categories that did not draw an undisputed roster of finalists during the online judging period.
In November, the TOTY finalists will be revealed and five ballots will open for consumers, retailers (one each for mass and specialty), media, and TIA members. At that time, public voting will also launch and will remain open at ToyAwards.org through mid-January 2017.
The winners will be announced at the Toy of the Year Awards ceremony on February 17, 2017, at The Intrepid Sea, Air and Space Museum in Manhattan. This event will kick off New York Toy Fair week.
Here are the 2017 TOTY Categories:
Action Figure of the Year (new)
Toys that include action figures, and their playsets/accessories
Active/Outdoor Toy of the Year (formerly Outdoor)
Toys that are designed for active, outdoor play
Activity Toy of the Year
Arts and crafts, construction, and other indoor toys that inspire creative play through various forms of activity.
Collectible of the Year (new)
Toys that compose a set; can include novelty playthings, miniature versions of existing lines, licensed collectibles, etc.
Construction Toy of the Year (new)
Toys that include building & engineering sets
Doll of the Year (new)
Toys that include fashion and plush dolls, and their playsets/accessories
Game of the Year
Children's board, card, electronic, or other physical game formats and puzzles (does not include video games or apps)
Infant/Preschool Toy of the Year (formerly two separate categories)
Toys that are developed for infants/preschoolers (up to 5 years)
Innovative Toy of the Year
Toys that utilize innovative design, technology, or manufacturing processes to enhance play value
License of the Year (formerly Property)
Character or property that has had success spreading its brand throughout the industry
Rookie of the Year (new)
A new company (created within the last two years) that has brought to market an outstanding toy
Specialty Toy of the Year
Toys primarily distributed through specialty retailers
Tech Toy of the Year (formerly e-Connected)
Physical toys that are electronic or interact with a smartphone, tablet, or gaming device
Vehicle of the Year (new)
Powered or non-powered vehicles, and their playsets/accessories
People's Choice Toy of the Year
Toy decided by consumers who vote at ToyAwards.org
Toy of the Year
Overall best toy of the year decided by retailers, consumers, media, and TIA members
LIMA Annual Survey Now Available
The International Licensing Industry Merchandisers' Association's (LIMA) Annual Global Licensing Industry Survey is now available. Commissioned by LIMA and conducted by Brandar Consulting, LLC, the second annual survey provides in-depth analysis and detailed breakdowns of the $251.7 billion global licensing industry. The full report quantifies worldwide royalty revenue and corresponding retail sales by product category, property type, and geographic region. It also covers the latest trends and offers forward-looking analysis and other features that capture the scale of licensing around the world. Topline results from the survey were released in June during the 2016 Licensing Expo.
The full LIMA Annual Global Licensing Industry Survey is available free to LIMA members at licensing.org and priced at $750 for non-members. Click here for more information and to order a report.
STORY Celebrates 1990s Nickelodeon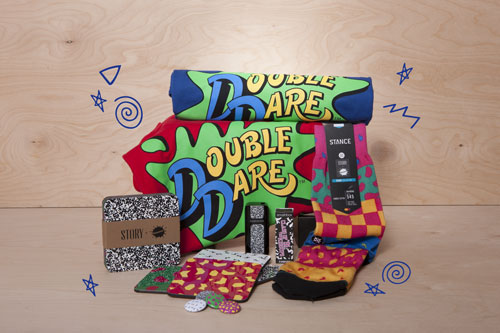 STORY, New York's ever-changing concept store, unveils Remember When, an immersive retro experience that celebrates Nickelodeon's iconic shows and memorable characters from the 1990s, timed to the 25th anniversary of Nickelodeon animation. Open August 5–September 18, Remember When is the 31st installation for STORY and takes a nostalgic look back at the decade that gave birth to the Rugrats and dial-up internet. To bring the 1990s "back to life, back to reality," STORY teamed up with over 25 brands on items that celebrate the spirit of '90s Nickelodeon—from a pair of Double Dare-inspired Keds and a stonewash denim jacket by Gap, to Rolex watches customized by Bamford Watch Department. See it here.
What's New from Elena of Avalor on TTPM
TTPM is showcasing newest toys from Elena of Avalor. The Disney Channel series began airing on July 22. It's the story of teenage princess Elena Castillo Flores who has saved her magical kingdom, Avalor, from an evil sorceress and must now learn to rule as its crown princess. For the latest in Toys, Tots, Pets, and More as well as what's trending, visit TTPM.com.