Back to School Spending Up for 2016
Families are expected to spend more freely and stock up for this back-to-school season, according to the National Retail Federation's (NRF) annual survey conducted by Prosper Insights and Analytics. Total spending for K–12 and college is expected to reach $75.8 billion, up from last year's $68 billion.
"Families are still looking for bargains, but there are signs that they are less worried about the economy than in the past," said Matthew Shay, NRF president and CEO. "Heading into the second half of the year, we are optimistic that overall economic growth and consumer spending will continue to improve as they did in the first two quarters of the year. We fully expect retailers to be aggressive with offering great deals both in stores and online for back-to-school shoppers. And retailers will keep a close eye on inventory levels as families spread out their shopping throughout the summer."
K-12 Spending
Families with children in grades K-12 plan to spend an average $673.57 on apparel and accessories, electronics, shoes, and school supplies, up from last year's $630.36 for a total of $27.3 billion, according to the survey. That's an increase of 9.6 percent from last year's $24.9 billion and compares with a total growth of 54.8 percent over the past 10 years.
The NRF says that these numbers follow a pattern in which spending often increases one year as families stock up on supplies only to drop off the next as they get a second year out of longer-lasting items like backpacks or computers. Spending then increases in the third year once items need to be replaced.
According to the survey, K–12 consumers plan to spend $9.54 billion on clothing (purchased by 95 percent of respondents), $8.27 billion on electronics such as computers or calculators (57 percent), $5.12 billion on shoes (94 percent), and $4.37 billion on school supplies such as notebooks, folders, pencils, backpacks, and lunchboxes (96 percent). Parents say they will spend an average $235.39 on clothing, $204.06 on electronics, $126.35 on shoes, and $107.76 on school supplies.
Consumer confidence in the economy continues to grow and is a significant factor in how families spend for the back-to-school season. A few more families are shopping for sales (43 percent, up from 41 percent) or comparing prices online (32 percent, up from 31 percent). But the number who say they are spending less overall is down at 23 percent compared with 27 percent last year. And the number who say the economy will have no effect on their plans is at 27 percent, up from 24 percent last year and the highest level in the survey's history.
More families are tackling back-to-school lists earlier this year with 73 percent beginning about a month to two months out from the beginning of school, up from 62 percent last year. Only 22 percent are waiting for the last week or two, down from 30 percent. A total of 75 percent of those shopping early say they are trying to spread out their budgets, 63 percent of early shoppers don't want to miss out on back-to-school sales and 51 percent want to avoid crowds.
While discount stores continue to be the choice of the largest share of shoppers at 61 percent, the number is at its lowest level in the survey's history. But 46 percent of parents said they would shop online, a dramatic jump from last year's 36 percent. The vast majority of online shoppers plan to take advantage of free shipping (89 percent of those surveyed) and conveniences such as buy online, pick up in store (54 percent).
College Student Spending
College students and families with children in college plan to spend an average of $888.71, according to the survey. That's down slightly from $899.18 last year, but total spending is expected to be up at $48.5 billion compared with $43.1 billion last year due to an increase of consumers shopping for back-to-college.
The survey of 6,809 consumers asked about both back-to-school and back-to-college plans was conducted June 30–July 6 and has a margin of error of plus or minus 1.2 percentage points.
Summer Infant Reports Q2
Summer Infant, Inc., announced financial results for the fiscal second quarter ended July 2, 2016.
"Although having joined Summer Infant just a few short weeks ago, I am already amazed by the depth of talent and great potential for growth within this organization," said Mark Messner, president and CEO. "Recent achievements reflect the hard work done this past year to execute a strategy which we now intend to take to the next level, leveraging the steps already taken to invest in core product categories, reduce expenses, strengthen the balance sheet and expand margins. So while I personally can't take credit for the greatly improved results this quarter—including solid gross profit, lower G&A, reduced interest expense and our first positive EPS in over a year—I am proud to be part of such an incredible company in the juvenile space. I look forward to working with our team and the board to focus on new product development initiatives while strengthening our retail customer relationships as well as our direct connection with the parents who use and love our products. We will continue to transform Summer Infant into a responsive, nimble, profitable innovator with brands that inspire millennial parents and bring passion to our investors."
Second Quarter Results
Net sales for the three months ended July 2, 2016, were $50.6 million compared with $51.8 million for the three months ended July 4, 2015. Excluding $1.1 million of sales related to the Company's inventory reduction plan in 2015, core branded revenue was flat year-over-year.
Gross profit for the second quarter of 2016 was $16.2 million compared with $13.8 million for the second quarter of 2015, and gross margin was 32 percent in 2016 versus 26.6 percent in the prior-year period. The fiscal 2015 second quarter included $1.8 million in losses on the sale of $2.9 million of inventory below cost related to Summer's inventory reduction plan and $0.7 million of inventory charges tied to exiting the furniture category. Excluding the impact of these charges (which did not occur in the fiscal 2016 second quarter), gross margin for the prior-year period would have been 32.1 percent.
Selling expenses were $3.9 million in the second quarter of 2016 compared with $4.3 million in the second quarter of 2015. General and administrative expenses (G&A) were $10 million in 2016 versus $12 million last year; the second quarter of 2016 included $0.8 million of legal expenses, versus $1.4 million in the first quarter of 2016 and $1.7 million in the second quarter of 2015. Excluding litigation costs, G&A in the second quarter of fiscal 2016 would have been $9.2 million, down 10.5 percent from the prior-year period (also excluding legal expenses). The lower G&A reflects cost-reduction strategies and other operational initiatives, and the Company remains on track to achieve $4 million in annualized savings this year.
Interest expense decreased to $0.6 million in the second quarter of 2016 from $1.3 million last year, reflecting reduced debt levels and lower interest rates on the Company's credit facility. In addition, the second quarter of 2015 included a $0.6 million write-off of unamortized financing fees and termination fees associated with the Company's April 2015 refinancing.
The Company reported net income of $0.3 million, or $0.01 per share, in the second quarter of 2016 compared with a net loss of $3.5 million, or $(0.19) per share, in the second quarter of 2015. Adjusted EBITDA for the second quarter of 2016 rose to $3.4 million versus $2.2 million for the second quarter of 2015. Adjusted EBITDA in the second quarter of 2016 includes $1 million in bank permitted add-back charges compared with $4.4 million in the second quarter of 2015.
Balance Sheet Highlights
As of July 2, 2016, Summer Infant had approximately $1.1 million of cash and $51.7 million of debt compared with $0.9 million of cash and $53.6 million of debt as of January 2, 2016. Given the debt reduction and improved Adjusted EBITDA levels, the Company's bank leverage ratio was 4.5 times the trailing 12 months' Adjusted EBITDA at quarter end.
Inventory as of July 2, 2016, was $36.6 million compared with $36.8 million as of January 2, 2016. Trade receivables at the end of the second quarter were $38.3 million compared with $40.5 million as of January 2, 2016. Accounts payable and accrued expenses were $37.9 million as of July 2, 2016, compared with $39.1 million at the beginning of the fiscal year.
Ja-Ru Acquires Funtastic
Ja-Ru, Inc., announced that it purchased Funtastic Toys in early July. Terms of the deal were not disclosed. Funtastic customers are now being serviced by Ja-Ru. All distribution, order fulfillment, and customer contact are now handled by Ja-Ru's facilities in Jacksonville, Fla.
Trinity Advisory Services, LLC served as the exclusive advisor to Funtastic in the transaction.
Gansett Beer, Banangrams in Mash-Up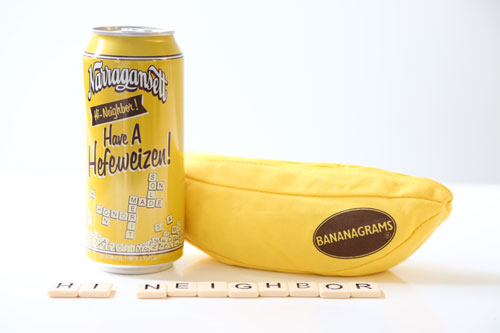 Narragansett Beer and Bananagrams are teaming up for "Hi-Neighbor! Have a Hefeweizen!" for the latest collaboration in 'Gansett's "Hi Neighbor Mash-Up" series.
"When we heard that our neighbors at Bananagrams were turning 10 this year, we wanted to help them celebrate," said Mark Hellendrung, president of Narragansett Beer. "Like 'Gansett, Bananagrams is meant to be shared over good times with family and friends. If I'm gonna keep coming in last while playing games on vacation, at least this beer will take the sting out of it!"
Ten years ago, Rhode Island native Abraham Nathanson was looking for a faster-paced tiled word game to play, and, at age 76, he and his family created Bananagrams at their home in Narragansett, Rhode Island. For Rena Nathanson, president of Bananagrams, "Rhode Island holds a special place in our hearts as the game was invented at our house in Narragansett! My father, Abe, loved to have fun and lived to get a laugh from whoever was around! We can't think of a better way to celebrate our 10th 'Bananaversary' and a decade of laughter, wordplay, and silliness than sharing a toast with our neighbors at 'Gansett, another Rhode Island classic."
"Hi Neighbor! Have a Hefeweizen!" is the fourth installment in the series where 'Gansett partners with an iconic Rhode Island company to create a unique Rhody beer. It will be available in six packs of 16-ounce tallboy cans for $9.49–$9.99 and will be distributed throughout New England, New York, New Jersey, Pennsylvania, Delaware, the District of Columbia, Maryland, North Carolina, South Carolina, Florida, Virginia, Portland, Ore., as well as Nashville and Chattanooga, Tenn. The timing and availability will vary per market.
What's New in Puzzles on TTPM
TTPM is showcasing newest Puzzles. For the latest in Toys, Tots, Pets, and More as well as what's trending, visit TTPM.com.