Southard Communications, Freeman Public Relations to Merge
Southard Communications, Inc., and Freeman Public Relations, Inc., announced plans to merge and form Southard|Freeman Communications, Inc.
The new company expects to begin operations in 2017 with a staff of 25 and will maintain Southard's New York City headquarters and offices in Chicago and L.A. as well as Freeman's New Jersey office, which has recently relocated to Fairfield, N.J.
Bill Southard, president and CEO of Southard, will serve as CEO of the new agency and Bruce Maguire, CEO of Freeman PR, will be president of Southard|Freeman. All current employees, including Southard executives Kelley DeVincentis and Scott Goldberg and Freeman's executives Amy Friedland and Ellie Bagli, will be part of Southard|Freeman.
"Bruce and I have known each other for more than a decade and have periodically discussed the potential of a merger," Southard said in this morning's announcement. "The opportunities to expand digital capabilities as a combined entity and offer a wider range of services to our clients provided the impetus to follow through and merge."
Southard was founded in 1994 and is well known for its launch of the LeapFrog brand, its long relationship with Ohio Art promoting its Etch-a-Sketch brand, and the U.S. Military Academy at West Point for its Bi-Centennial Celebration. Current clients include Para'Kito mosquito repellent, 888/All American Poker Network, Thames & Kosmos, and Green Toys.
Freeman PR was founded in 1986 as the successor company to Gerald Freeman, Inc., which began in 1955. The PR agency behind the Tickle Me Elmo craze, Freeman's current clients include Entenmann's Donuts/Little Bites snacks, Petmate Products, Shedrain Umbrellas, Playmobil, and Zing Toys.
Peter Rabbit Heads to the Big Screen; Voice Talent Announced
Peter Rabbit is heading to the big screen in April 2018. The film will be a live-action/CG motion picture based on the classic book series that was written and illustrated by Beatrix Potter. Production will begin in January 2017. James Corden will voice the lead role of Peter, and Rose Byrne will star in the live-action female lead role of Bea. Daisy Ridley and Elizabeth Debicki have also joined the voice cast.
Columbia Pictures teamed up with Frederick Warne & Co., part of Penguin Random House UK for the film. Sony Pictures Entertainment will create and execute a worldwide licensing and merchandising program for the film, in association with Warne. Frederick Warne has been Beatrix Potter's publisher since its publication of The Tale of Peter Rabbit in 1902 and is the home of Peter Rabbit and the Beatrix Potter brand.
The film will be directed by Will Gluck and made at Animal Logic, the Australian-based animation and visual FX production studio. Animal Logic previously created the animation for the global blockbuster The LEGO Movie. Will Gluck (Olive Bridge Entertainment) and Zareh Nalbandian (Animal Logic Entertainment) are both attached to produce the feature, with Doug Belgrad serving as executive producer. The screenplay is by Rob Lieber with revisions by Gluck. Jodi Hildebrand of Olive Bridge and Jason Lust will also serve as executive producers.
Shopkins Movie Debuts This Fall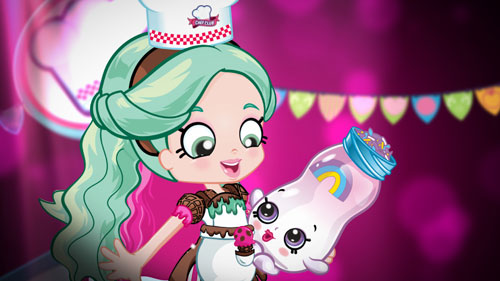 Moose Toys announced that UPHE Content Group, an entity of Universal Pictures Home Entertainment, will distribute the first ever full-length Shopkins movie, which will be available on digital, DVD, and TV in fall 2016.
Based on the colorful world of Shopville, Shopkins tells the tale of inanimate objects coming to life and their adventures with their best friends the Shoppies. Shopkins, made by Moose Toys, launched in 2014 and has an extensive licensing program through the Licensing Shop. Its current animated webisode series has amassed nearly 100 million views on YouTube and the Shopkins 12-Pack was the No. 1-selling toy in the U.S. in 2015 according to The NPD Group.
The DVD will be packaged to include an exclusive Kooky Cookie character. The full-length Shopkins DVD will be available this fall and fans can view the trailer on the Shopkins YouTube channel. To coincide with this release, both the Shopkins Season 6 and Shoppies Dolls line will feature characters showcased within the film.
What's New in Tech Toys on TTPM
TTPM is showcasing newest in Tech Toys. For the latest in Toys, Tots, Pets, and More as well as what's trending, visit TTPM.com.