WIT Announces Panel at New York Comic Con
Women in Toys, Licensing & Entertainment (WIT) announced its first ever WIT panel at the 2016 New York Comic Con (NYCC). The panel, Strong is Beautiful—Empowering Girls through Entertainment, is set to take place on October 9, 2016, at 12:15pm in room 1A02 at the Jacob Javits Convention Center in New York City.
"WIT finds it extremely important to have a presence at this year's NYCC as women's attendance at this event has continued to grow, year over year," said Ashley Mady, WIT president. "We are excited to bring together a group of strong, like-minded women leaders for attendees to learn from, and use this as a forum to further strengthen women's position, not only in the comic world, but in the overall entertainment realm."
Panel moderator, Nancy Zwiers, CMO of Spin Master, will lead a panel of toymakers and brand builders who are paving the way in encouraging girls to harness their strength and realize their full potential. The panel will touch upon the topics of strong female leads, change makers in the toys and entertainment space, and breaking gender stereotypes. Panelists will include:
Bisma Ansari, senior vice-president and global brand GM, MEGA Brands at Mattel
Liz Grampp, senior director brand management, Bandai America
Anne Mullen, EVP, creative and marketing, franchises and preschool, Nickelodeon
Tracy Barash, VP global franchise management, Cartoon Network
For more information about attending NYCC, visit www.newyorkcomiccon.com.
Wicked Cool to Relaunch Teddy Ruxpin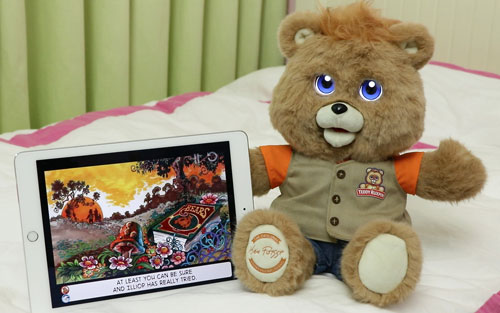 Wicked Cool Toys announced this week that is it relaunching Teddy Ruxpin in fall 2017. Originally released in 1985, the bear told stories through a rear-loading cassette-based system that was synced to the bear's speech pattern and included a motorized mouth and eyes. There were 60 original stories with 10-15 new stories released each year over a five-year period. Now, after more than 30 years, the new soft and cuddly 14-inch tall Teddy Ruxpin will still have the core features that parents and grandparents remember, and will read stories to children with a motorized mouth. However, in this new version, fans of all ages will benefit from Bluetooth technology, LCD eyes with over 40 animated expressions that are synched to the stories, and touch sensors in the hands that allow the child to start, pause, and fast-forward.
There are two modes of play—with or without the free app. Connecting to the free app will allow kids to read along to the story Teddy is telling on their smart device. The app is in-sync with Teddy, flipping the pages as Teddy reads. This is designed for ages 3 and up, MSRP $99.99.
Earlier this year, Wicked Cool Toys announced a deal with Alchemy II for this relaunch.
2017 Fall Toy Preview Dates Announced; Show May Open on Monday
The Toy Industry Association (TIA) announced that Fall Toy Preview 2017 is Monday, October 2 through Thursday, October 5, 2017, in the Dallas Market Center.
TIA is exploring the possibility of extending Fall Toy Preview in 2017 with an extra, optional half-day, allowing for a "soft" opening on Monday afternoon, October 2. TIA's Trade Show Committee will make a final determination in the coming months.
"We are thrilled that next year we will not have the same overlap in dates with the Los Angeles previews, conducted by many Association members in September, as we will experience this year," said Jay Foreman, president of The Bridge Direct and chair of TIA's Trade Show Committee. "Out of consideration for many of our members, the show moved to the last week of September this year to avoid a conflict with the Jewish High Holidays. We have been communicating directly with the key players in L.A. to ensure the previews there will be completed by the last week of September 2017, thereby freeing up all retail accounts to continue their preview activity in Dallas the following week."
What's New at the Disney Store on TTPM
TTPM is featuring all of the latest Disney Store exclusives. See them here. For the latest in Toys, Tots, Pets, and More as well as what's trending, visit TTPM.com.