Cra-Z-Art Acquires Lafayette Puzzle Factory
Cra-Z-Art announced the acquisition of Lafayette Puzzle Factory. Cra-Z-Art says this deal gives the company exposure in the rapidly growing puzzle segment. The company says that puzzles were one of the fastest growing categories last year increasing by 10.8 percent per the NPD Group.
Lafayette Puzzle, established in 2008, has offices in Indiana and Hong Kong. They specialize in the design and marketing of puzzles ranging from 24-piece kids' puzzles to 2,000-piece puzzles for adults. Lafayette has seen double-digit sales increases over the last few years, according to this morning's announcement from Cra-Z-Art.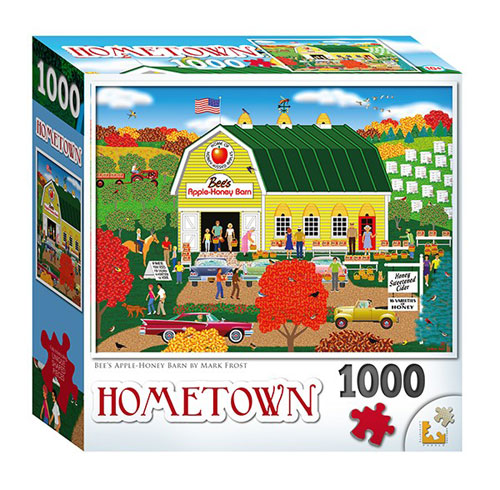 "Cra-Z-Art is very excited to be acquiring Lafayette Puzzle Factory," said Cra-Z-Art chairman, Lawrence Rosen. "They make a truly quality product and it's a perfect fit for our company, alongside our arts and crafts, activities, and adult coloring lines. It brings us back to our heritage when we successfully competed in this segment. Puzzles are also an increasingly vibrant and growing area and we hope to continue to build on that."
Lafayette's puzzles are sold globally in retailers such as Target, Walmart, and Hobby Lobby.
"We are delighted to be joining the Cra-Z-Art family and look forward to seeing our extensive line of great puzzle products grow with the help of their design and marketing expertise," said J.P. Clauson, president of Lafayette Puzzle Factory.
Terms of the deal were not disclosed.
TIF Collecting Toys at Fall Toy Preview
The Toy Industry Foundation (TIF), the official charity of Fall Toy Preview, will be collecting product from exhibiting toy companies at the close of this week's show, which is Thursday. These toys and games will be distributed to thousands of underserved children within the Dallas area during the holiday season.
In partnership with World Vision, all donated toys will be delivered to carefully vetted local children's charities. Toys and games will benefit children fighting poverty, abuse, neglect, and illness, among other forms of adversity.
At the close of Fall Toy Preview, volunteers in orange Toy Bank shirts will be circulating the show floor promptly at 5pm. on Thursday to pick up donated products. If interested, fill out a donation form and return to the TIF Booth #12-2300 at the Dallas Market Center during show hours.
For questions or comments, contact Elizabeth Max, TIF program manager, by email or call (518) 396–8210.