Theater Distribution for Yu-Gi-Oh!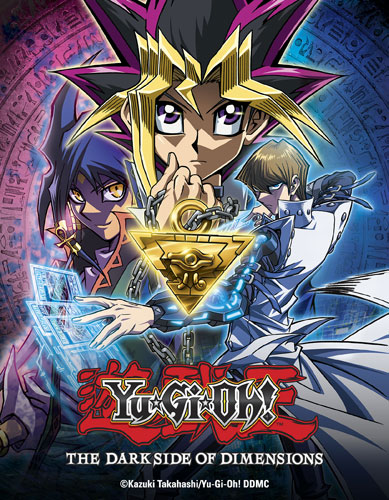 Screenvision Media, a national movie advertising leader, has formed an alliance with 4K Media to distribute Yu-Gi-Oh! The Dark Side of Dimensions to more than 500 theaters across the United States and Canada. The feature film will be released on January 20, 2017, and will run as a limited-time theatrical engagement.
"Fans of the iconic Yu-Gi-Oh! series have been anxiously awaiting the release of Yu-Gi-Oh! The Dark Side of Dimensions in the U.S. and Canada, and we are delighted to have the exclusive opportunity to share it with them through this special theatrical engagement," said Darryl Schaffer, executive vice-president, operations and exhibitor relations, Screenvision Media. "Our robust exhibitor network and storytelling capabilities before, during, and after the movie promises to maximize the impact of this exciting launch for both 4K Media and moviegoers alike."
Specific ticketing information will be announced this winter. More information about the film can be found at www.yugiohmovie.com.
Events at ChiTAG Announced
The Chicago Toy & Game Group announced its lineup of ChiTAG events for this year's show. ChiTAG takes place at the Navy Pier in Chicago, November 17–20.
Here is this year's event lineup:
Innovation Conferences—November 17-18: This year's keynote speakers include Kathleen Campisano (VP GMM Toys, Games, Hobby & Collectibles at Barnes & Noble), Andy Roo Forrest (Partner, Forrest-Pruzan Creative), Jim McCafferty (Owner, JMP Creative), Tim Walsh (Chief Playmaker, The Playmakers), and Michelle Thaller (Assistant Director of Science, NASA Headquarters). The conference is held on Thursday, November 17 and Friday, November 18 at Navy Pier. Both days kick off with a Continental Breakfast at 7am with speakers beginning at 8am.
TAGIE Awards Gala—November 18: The 9th Annual Toy and Game Inventor of the Year (TAGIE) Awards Gala is an elegant evening taking place at the Navy Pier Grand Ballroom in Chicago on Friday, November 18 from 6–11pm. The gala ends with the playCHIC Fashion Show. Tickets are $250 (includes playCHIC ticket).
playCHIC Fashion Show—November 18, 2016: Haute couture fashion designers team up with playful toy and game brands to create delightfully stunning and fresh runway looks. The playCHIC Fashion Show takes place Friday, November 18 at 8pm directly following the TAGIE Awards Gala.
ChiTAG Fair—November 19-20: The 14th annual Chicago Toy and Game Fair (ChiTAG) is a fun event for the entire family to celebrate play, right before the holidays. The ChiTAG Fair is the largest toy and game fair open to the public in North America on November 19 from 10am to 6pm and November 20 from 10am to 5 pm. The fair will open one hour early both days for families with special needs.
Blogger and Media Breakfast Event—November 19: Media and Social Media Influencers from around the country bring their families to be entertained, hear presentations, try products, receive product samples directly from sponsors as well as enjoy early access to the Fair.
Play in Education—November 19: The Play in Education Conference is on Saturday, November 19 from 9am to 2pm. This year's keynote speaker is Leslie Scott, the inventor of Jenga.
Young Inventor Challenge—November 19: Children from the ages of 6–18 are encouraged to use their creativity to make and showcase their own original toy and game inventions. Winning inventors will take home prizes and have the opportunity to get their invention produced and sold at retail. Registration for the Young Inventor Challenge is now open through November 1. The event takes place at Navy Pier in Chicago on Saturday, November 19, 2016 from 10am to 2pm. Sponsorship opportunities are available.
Young Tech Challenge—November 20: Chicago Toy & Game Week adds a new challenge to its lineup this year for young creators called the Young Tech Challenge. Inventors from the ages of 8–22 are encouraged to bring together imagination, play, and tech to create an original tech idea. Registration for the Young Tech Challenge is now open through November 1. The event takes place at Navy Pier in Chicago on Sunday, November 20 from 10am to 2pm.
For more information, visit www.chitag.com.
Fox's Chris Wallace to Speak at PLMA
The Private Label Manufacturers Association (PLMA) announced that Chris Wallace, the Fox television network's popular host and anchor of Fox News Sunday, will headline the slate of speakers for PLMA's 2016 Private Label Trade Show, which takes place November 13–15 in Chicago. Following so closely on the heels of the presidential election, PLMA invited Wallace to share his view of what a new administration taking up residence in the White House could mean for the country moving forward.
The keynote breakfast, which takes place prior to the PLMA show floor opening on Monday, November 14, is part of a full program of speakers, seminars, and workshops that will focus attention on the most significant market trends affecting the private label industry, the latest consumer research, and new store brands opportunities. Wallace is scheduled to speak at 8am in the Grand Ballroom on Monday, November 14. For more information on this year's show and a full list of speakers and seminars, click here.
ABC to Air Competition Series The Toy Box
Variety is reporting that, "ABC has ordered toy-making reality competition series The Toy Box, hosted by Modern Family star Eric Stonestreet. The Toy Box, a partnership between ABC and Mattel Creations that is set to air sometime in the 2016-17 season, will feature contestants from around the world." To read the full Variety story, click here.
What's New in Baby Bed & Bath on TTPM
TTPM is showcasing newest Bed & Bath Toys and Gear for Baby. For the latest in Toys, Tots, Pets, and More as well as what's trending, visit TTPM.com.