Aterian Investment Partners Acquires Step2
Aterian Investment Partners announced that one of its affiliates has acquired Step2. Together, with Aterian's affiliate, Backyard Discovery, the combined entity creates the largest outdoor toy company in North America, with leading market share positions in swing sets, playhouses, activity tables, play kitchens, and ride-ons as well as outdoor home and garden products, according to yesterday's announcement from the company.
"We are excited to acquire Step2, not only for its leadership position in the branded toy market, but also for creating a market leader through the combination with Backyard Discovery," said Michael Fieldstone, principal at Aterian. "We look forward to partnering with the management team in the next stage of growth. We will support the team in coming up with fresh and innovative products and services, always emphasizing safety, innovation, quality, and durability."
Terms of the deal were not disclosed. Backyard Discovery was acquired by Aterian Investment Partners in August 2015.
Candy Crush Becomes a CBS Game Show
CBS has ordered Candy Crush, a new one-hour, live-action game show series based on the global mobile game franchise. CBS, Lionsgate, and King will join together on the new format created and executive produced by Matt Kunitz that will be distributed domestically by CBS Television Distribution and internationally by Lionsgate. A host for the game show and the air date have yet to be announced.
In the game Candy Crush Saga, players match colorful candies in combinations of three or more to win points, defeat obstacles, and progress through more than 2,000 levels. Candy Crush Saga and its sister title, Candy Crush Soda Saga, are two of the top 10-grossing mobile games in the U.S. In the series, the game comes to life as teams of two people use their wits and physical agility to compete on enormous, interactive game boards featuring next-generation technology to conquer Candy Crush and be crowned the champions.
Striker Entertainment is King's licensing agent in the U.S., and worked with the teams to help facilitate licensing the Candy Crush IP for this game show.Candy Crush will be produced by Pulse Creative in association with Lionsgate Television, King Ltd., and CBS Television Studios. Matt Kunitz (CBS), Peter Levin (Lionsgate), Russell Binder (Striker Entertainment), Nicki Sheard (King), and Sebastian Knutsson will serve as executive producers. Knutsson is King's chief creative officer and is one of the founders of the company. He created Candy Crush Saga.
Peanuts to Expand Location-Based Entertainment with Bay Laurel Advisors
Peanuts Worldwide, the licensor of the Peanuts brand based on the comic strip created by Charles Schulz, has retained Bay Laurel Advisors to strategically plan and execute the expansion of the Peanuts Intellectual Property for the creation of high-quality guest experiences in theme parks, family entertainment centers, and other location-based entertainment venues.
The Peanuts characters and themes have been adapted over the decades in movies, stage shows, social media, merchandise, product endorsements, animated cartoons, games, e-books, and more. In 2015 Peanuts celebrated the 50th anniversary of A Charlie Brown Christmas and The Peanuts Movie (2015) brought in $250 million in worldwide box office. Short-form programming airs daily on Boomerang, as well as Cartoon Network.
"Peanuts Worldwide is strategically looking to expand its location-based entertainment presence for the Peanuts brand to other territories around the globe beyond what already successfully exists in the U.S. and Japan. Partnering with a category expert like Bay Laurel sets us on a clear path to achieve this goal," said Rosalind Nowicki, executive vice-president Peanuts Worldwide and Iconix Entertainment.
The Peanuts family is already popular at the Cedar Fair Theme Parks in the U.S. and Universal Studios Japan.
Hasbro Launches HASCON in September 2017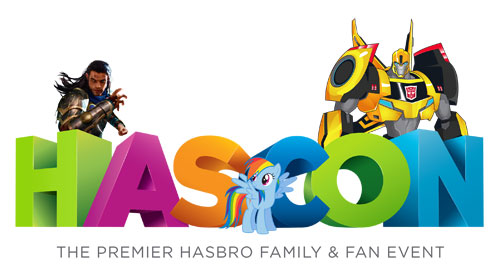 Hasbro announced that it is creating the first-ever HASCON fan and family convention in September 2017. It will be held in Providence at the Rhode Island Convention Center and Dunkin Donuts Center from September 8-10, 2017. Hasbro's top properties, including Transformers, My Little Pony, Nerf, Magic: The Gathering, Play-Doh, Monopoly, G.I. JOE, and others will be part of the three-day event through live, interactive experiences, exclusive products, talent appearances, panels, and much more.
"Hasbro is home to many of the world's most recognizable brands, each of them with their own group of passionate and engaged fans," said John Frascotti, president of Hasbro Brands. "HASCON will deliver an extraordinary peek behind the curtain of our brands, storytelling, and iconic characters while giving us the opportunity to invite fans and families to our hometown for the most memorable, unified Hasbro experience ever."
For all of the latest information on HASCON 2017, visit hascon.hasbro.com.