Enforcement Delayed for "Toxic-Free Toys Act" in N.Y.'s Suffolk County
The Toy Industry Association (TIA) has learned that enforcement has been delayed for the Toxic-Free Toys Act of 2015, a law banning and criminalizing the sale of federally compliant toys and children's products within Suffolk County, New York.
On November 29, the county's Federal District Court ordered a stay of enforcement of the law, pending a court decision regarding a lawsuit filed by the Safe to Play Coalition in September. Due to the stay, there cannot be any enforcement leveled against federally compliant products—and the Suffolk County retailers that sell them—unless allowed by the court. The County Attorney has also indicated that they are in discussions with the Department of Health Services to ensure that Consumer Product Safety Commission (CPSC) accredited laboratories are used for future enforcements, as stated in the lawsuit and required under federal law.
The Coalition's lawsuit alleges that the Toxic Free Toys Act of 2015 is unnecessary, ineffective, and illegal because it bans and criminalizes the sale of toys and children's products that meet federal safety laws under the Federal Hazardous Substances Act (FHSA) and the Consumer Product Safety Act (CPSA), including the heavy metal limits already set forth in the federally-mandated ASTM F963 Toy Safety Standard. The law also violates the Supremacy Clause of the United States Constitution. The Coalition's lawsuit reaffirms the safety of toys sold in the county—and across the country—and asks for the law to be declared unconstitutional.
The Suffolk County Health Department previously indicated that it would enforce the Toxic-Free Toys Act by educating local retailers and conducting planned spot-check inspections of 10 local businesses. The suit was filed in order to ensure that the county a) fully adheres to federal and state requirements, exclusions and test methods, b) will only rely upon CPSC-accredited laboratories, and c) will not arbitrarily pull safe, federally compliant toys and children's products off store shelves.
The Safe to Play Coalition is an alliance representing hundreds of small U.S.-based sellers of toys and children's products that meet stringent U.S. safety standards. A similar lawsuit was filed by the Coalition last year against Albany County, which resulted in a court-stipulated stay of enforcement by the county as it seeks to comply with federal requirements.
Episode of Masha and The Bear Tops Adele's "Hello" Video on YouTube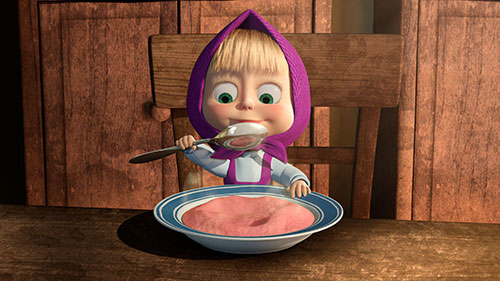 Animaccord Animation Studio announced that a recent episode of Masha and The Bear called "Recipe for Disaster" received more than over 1,804,252,394 views beating Adele's "Hello" video, which received 1,799,219,691 views. The episode reached sixth place on the list of the most viewed videos on YouTube of all time.
The "Recipe for Disaster" episode has been translated into English, German, French, Spanish, Portuguese, Chinese, and Ukrainian languages and is broadcasted on local channels.
Masha and The Bear, which launched in 2009, has become an international phenomenon. It is now broadcast in almost every country by such media giants as Netflix, Turner (UK and Latin America), KIKA (Germany), France TV, Sony Music, NBC Universal, Televisa, and others.
PJ Masks Expands Across Italy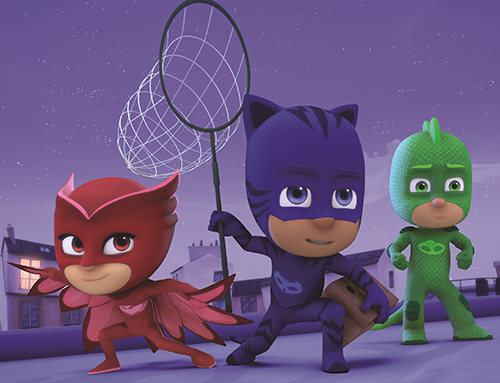 Entertainment One announced that PJ Masks began airing on RAI Yoyo, Italy's free-to-air broadcast partner. PJ Masks debuted in Italy in January 2016 on Disney Junior and is a top-rated show for the channel. Exposure for PJ Masks will significantly increase across Italy as the broadcast is extended to terrestrial channel RAI Yoyo, airing four times a day.
In addition, eOne is now readying the launch of PJ Masks licensed merchandise and has appointed ETS Italy to manage the brand's consumer products program in the region. Leading toy firm Giochi Preziosi will distribute Just Play's master toy line, which includes action figures, playsets, vehicles, plush, dress-up and roleplay items from mid-2017. Prior to the toy launch, Italian publisher La Coccinella is on board to publish an extensive line of book formats in spring 2017. In addition, Gedis has been signed for sticker albums and the apparel, games, back-to-school, and stationery categories are currently in negotiation and will be announced soon.
The news follows eOne's recent announcements about consumer products launches in the UK and France in early 2017. The first wave of PJ Masks consumer products debuted in the U.S. earlier this fall exclusively at Toys "R" Us.
What's New in Seasonal Items on TTPM
TTPM is showcasing the newest Seasonal Items on TTPM. For the latest in Toys, Tots, Pets, and More as well as what's trending, visit TTPM.com.