PlayMonster Acquires License for Wonder Crew
 PlayMonster, LLC announced this morning it has acquired the worldwide license for Wonder Crew, a toy line that mixes doll and action figure play to empower boys to connect, nurture, and build empathy through friendship, imagination, and adventure.
Wonder Crew is shifting the conversation about gender stereotypes and toys, which has largely been focused on presenting more options for girls to play. Combining the adventure of an action figure with the emotional connection of a stuffed animal, the 15-inch Wonder Crew buddies have coordinated roleplay accessories for their kid owners.
"We are thrilled to bring Wonder Crew into the PlayMonster portfolio," said Bob Wann, chief PlayMonster of PlayMonster, LLC. "We know from consumer research that boys ages 2-5 are already playing with dolls, yet there is a distinct hole in the marketplace for them. We believe it's the perfect time to introduce this important toy line to mass market as big retailers and our industry are together breaking down gender stereotypes to help boys develop their emotional maturity including compassion and kindness.
Laurel Wider, a psychotherapist and mom, created Wonder Crew. Launched on Kickstarter in March 2015, Wonder Crew quickly drew praise from parents and media alike, and earned Wider an invitation from the White House to speak during a conference on breaking stereotypes in media and toys.
"As Wonder Crew reaches market scale and the industry redefines stereotypes on dolls and other toys, I feel fortunate to have PlayMonster as a partner," said Wider. "PlayMonster's full commitment to the brand, combined with the company's resources and our shared values, promises to deliver amazing adventures."
The line will be available on retail shelves early 2017. Wonder Crew, targeted to boys ages 2-5, includes four buddies of different races each wearing Superhero gear, and packaged complete with a matching cape and mask for the child. Adventure Packs in the themes of builder, explorer, and snuggler (for bedtime) will be sold separately and also come with matching gear for the child.
Peppa Pig In UK and Australian Theaters in Spring 2017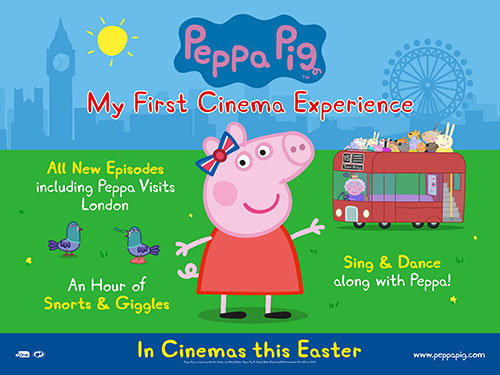 Entertainment One (eOne) announced plans for a big screen release for Peppa Pig in both Australia and the UK on March 16, 2017, and April 7, 2017, respectively.
EOne has created a new hour-long film format called Peppa Pig My First Cinema Experience, which is specifically timed for preschoolers. This will offer fans nine all-new Peppa Pig episodes, which will be connected with never-before-seen interactive entertainment, featuring live-action Peppa and George characters and their friend Daisy in her colorful new world.
In Australia, the theatrical release of Peppa Pig My First Cinema Experience: Peppa's Australian Holiday will mark the property's first big screen debut in the country when it premieres on March 16, 2017. The Australian release will be led by a four-part Australian special, which will see Peppa and family head down under on holiday to visit old friend Kylie Kangaroo and will feature the voices of a real Australian family. To promote the film's release, eOne has partnered with the Australian Tourist Board and Peppa and George costumes have taken part in a promotional photoshoot at Australian landmarks Hickson Bay Wharf Reserve and Taronga Zoo.
Following closely behind the Australian release, Peppa Pig My First Cinema Experience will be screened in theaters nationwide in the UK opening on April 7, 2017, offering family entertainment for both the Easter holidays (April 16) and May half term. The UK release leads with new episode "Peppa Visits London" where the Queen will make her long-awaited return to Peppa Pig, as she takes Peppa and friends on an unforgettable sight-seeing tour around London on a double-decker bus. Eight additional episodes will see a trip to the zoo, a cruise along a canal, and some advice from the police. The release will include special appearances from new characters including Policeman Panda voiced by David Mitchell and Mrs. Crocodile voiced by Jo Brand.
To coincide with the theatrical release, a collection of London- and Australia-themed Peppa Pig merchandise will be released at retail in the spring across categories including toys, accessories, and publishing.
Free Shipping Day This Friday
The annual online shopping event known as Free Shipping Day is set for this Friday, December 16. Click here for a list of participating retailers. Specific deals will be announced on Friday.
Rogue One: A Star Wars Story Opens Friday
Rogue One: A Star Wars Story opens in theaters on Friday, December 16. TTPM is already showcasing the newest Rogue One Toys on TTPM. For the latest in Toys, Tots, Pets, and More as well as what's trending, visit TTPM.com.