Toy Competition Series The Toy Box Announces Mentors, Young Judges, Air Date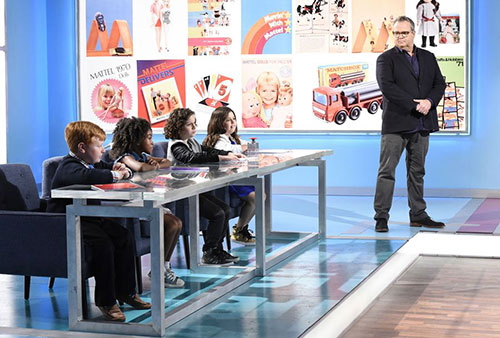 ABC's The Toy Box announced the mentors and judges who will select the winning toy to be made by Mattel and sold exclusively at Toys "R" Us after the series finale.
In each episode, inventors present their toy concepts to a group of mentors that include TTPM's own Jim Silver, Dylan's Candy Bar owner Dylan Lauren, and Pixar Creative Director of Consumer Products Jen Tan. If the toy maker gets past the mentors, they will move on to The Toy Box where a panel of young, no-holds-barred judges that include Sophia Grace Brownlee (The Ellen Degeneres Show), Aalyrah Caldwell (Uncle Buck), Toby Grey (The Unexpected John Cena Prank) and Noah Ritter (The Ellen Degeneres Show) decide which toy moves on to the finals and is eventually crowned the winner. The eight-episode series, hosted by Eric Stonestreet (Modern Family), premieres on Friday, April 7 (8–9 p.m. EST) on ABC. For more information, visit www.disneyabcpress.com.
LEGO Unveils LEGO BOOST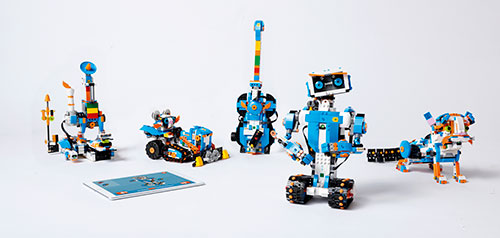 The LEGO Group unveiled LEGO BOOST, a supercharged building and coding set that lets children bring their LEGO creations to life by adding movement, sound, and personality. LEGO BOOST will be previewed to members of the global media at Digital Experience! and will be demonstrated to CES attendees as part of the Kids@Play Kids & Technology Marketplace from January 5-8, 2017. At MSRP $159.99, LEGO BOOST will be available in the second half of 2017.
Powered by a Move Hub, a LEGO stud-covered brick with built-in tilt sensor upon which children can add LEGO elements, motors, and a sensor that combines color and distance detection, LEGO BOOST brings movement LEGO creations.
LEGO BOOST introduces children to coding through a free downloadable app that contains the guidance, building instructions, and simple coding commands to bring to life five LEGO creations, Vernie the Robot, Frankie the Cat, the Guitar 4000, the Multi-Tool Rover 4 (M.T.R.4), and the Autobuilder. Each is designed to give children the basic building and coding skills needed to express their creativity by personalizing whatever they build. Children build behaviors and actions by linking digital coding blocks in an easy-to-understand horizontal layout, then add voice recordings to their creations. The app also includes more than 60 activities to inspire additional building, coding, and play.
The LEGO BOOST app also includes basic building instructions for three simple base models that children can use to customize their LEGO creations. The three bases available at launch include: a walking base for making animals; a driving base for building vehicles; and an entrance base so children can make their own castle, fort, or even a futuristic space station. Once children are comfortable with building and coding the various LEGO BOOST models, they can use the kit to "boost" any LEGO creation.
Mattel Debuts Aristotle, a Do-It-All Kids Room Platform
Mattel's nabi brand introduces its latest innovation at CES, Aristotle, a first-of-its kind connected kids room platform that essentially operates like a kid-friendly Amazon Echo. The product was developed together with Microsoft, Qualcomm Technologies, Inc., and Silk Labs. Aristotle is designed to aid parents and use the most advanced AI-driven technology to make it easier for them to protect, develop, and nurture their children. Mattel will debut the Aristotle voice-activated kids connected room hub and camera bundle at retail this summer. It will retail for $299.
Aristotle is designed to evolve with a child as their needs change from infancy to adolescence. Mattel's nabi designed Aristotle with security top of mind, paying special attention to COPPA compliance measures and how data is collected, transferred, and stored. The platform's Artificial Intelligence will utilize three distinct AI engines, including Microsoft Cognitive Services and the Silk Intelligence Platform. These multi-levels of AI enable Aristotle to learn patterns and autonomously act upon user habits to aid in child development and learning. Aristotle's AI will also have a unique personality to appeal to parents and kids, and will be presented as the great descendent of Aristotle himself.
Current IoT platforms activate a series of disaggregated devices that must be purchased separately, set up individually, and may or may not be compatible with one another. Aristotle incorporates AI, voice, sight, and sounds into its hub and camera to provide an all-in-one solution that works together. Its built-in LED multiple color lighting system and companion Wi-Fi camera also allow Aristotle to deliver more enhanced AI capabilities that enable it to do more specialized functions autonomously, including helping sooth a crying baby, purchase diapers or find online deals, reinforce good manners in kids, and even help kids learn a foreign language.