Spin Master Acquires Perplexus Brand
Spin Master has acquired the global rights to the Perplexus brand, after distributing Perplexus since 2013. Perplexus was co-invented in 2001 by teacher and artist Michael McGinnis and Klitsner Industrial Design Group of San Francisco (KID Group), and manufactured by Busy Life LCC.
Spin Master closed the acquisition of Perplexus on November 30, 2017 at a purchase price of just over $9 million plus annual performance-based payouts over the next five years.
The announcement comes on the heels of Spin Master's recent expansion of its games and puzzle-related inventor relations team, which welcomed Ben Rathbone and Scott Brown and builds on the company's increased presence in the super-category. In recent years, Spin Master has grown its games and puzzles business segment through the acquisitions of Cardinal Games, EG Games, and Marbles. 
YouTube Buckles Down on Platform Abuse, Plans to Hire 10,000 New Content Moderators in 2018
Susan Wojcicki, CEO of YouTube, announced in a statement on the YouTube blog the platform's plans to further buckle down against violent and extremist content.
As part of that plan, YouTube will add more human reviewers to monitor content. "Human reviewers remain essential to both removing content and training machine learning systems because human judgment is critical to making contextualized decisions on content," says Wojcicki. Since June, YouTube's trust and safety teams have manually reviewed nearly 2 million videos for violent extremist content, helping to train its machine-learning technology to identify similar videos in the future. The company is also taking aggressive action on comments, launching new comment moderation tools and in some cases shutting down comments altogether.
In the last few weeks YouTube has used machine learning to help human reviewers find and terminate hundreds of accounts and shut down hundreds of thousands of comments. Its teams also work closely with NCMEC, the IWF, and other child safety organizations around the world to report predatory behavior and accounts to the correct law enforcement agencies.
YouTube plans to bring the total number of people across Google working to address content that might violate its policies to more than 10,000 in 2018, while also expanding its network of academics, industry groups, and subject matter experts to help better understand emerging issues.
Tackling Issues at Scale
YouTube also plans to use its machine learning more widely to quickly and efficiently remove content that violates guidelines. In June, it deployed this technology to flag violent extremist content for human review and, since then, has removed more than 150,000 videos for violent extremism. Machine learning is helping its human reviewers remove nearly five times as many videos than they were previously, says YouTube.
Today, 98 percent of the videos removed are flagged by machine-learning algorithms and allow YouTube to take down nearly 70 percent of violent extremist content within eight hours of upload and nearly half of it in two hours.
For more information on these ongoing initiative and to read Wojcicki's full statement, click here.
Facebook Unveils Its First Kids' App
Facebook announced its new Messenger Kids app in the U.S. earlier this week. The app aims to make it easier for kids to safely video chat and message with family and friends.
Messenger Kids is a standalone app that lives on kids' tablets or smartphones but can be controlled from a parent's Facebook account. The preview is currently available on the App Store for iPad, iPod touch and iPhone.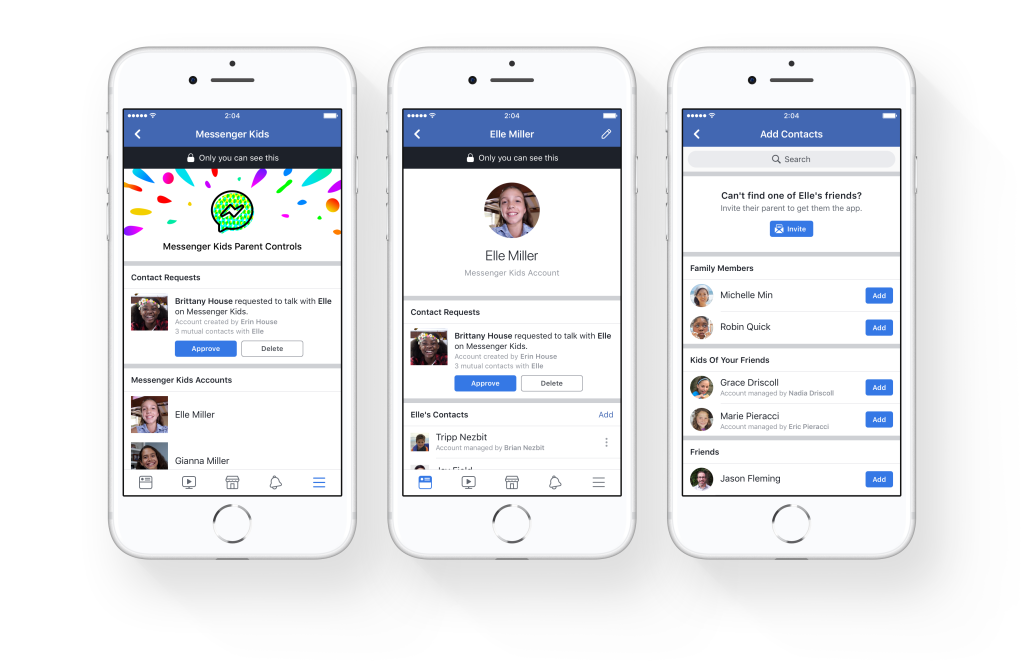 Co-Developed With Parents, Kids and Experts
In addition to Facebook's research with thousands of parents, the company engaged with more than a dozen expert advisors in the areas of child development, online safety, and children's media and technology who've helped inform its approach to building its first app for kids. The company also had conversations around topics of responsible online communication, parental controls, and more with organizations such as National PTA and Blue Star Families.
More Fun For Kids, More Control For Parents
Once their account is set up by a parent, kids can start a one-on-one or group video chat with parent-approved contacts. The home screen shows them at a glance who they are approved to talk to, and when those contacts are online.
Playful masks, emojis, and sound effects bring conversations to life.
In addition to video chat, kids can send photos, videos, or text messages to their parent-approved friends and adult relatives, who will receive the messages via their regular Messenger app.
A library of kid-appropriate and specially chosen GIFs, frames, stickers, masks, and drawing tools lets them decorate content and express their personalities.
Messenger Kids seeks to give parents more control. Parents fully control the contact list and kids can't connect with contacts that their parent does not approve. Parents control kids accounts and contacts through the Messenger Kids Controls panel in their main Facebook app.
There are no ads in Messenger Kids and a child's information isn't used for ads. It is free to download and there are no in-app purchases. Messenger Kids is also designed to be COPPA compliant.
A preview of Messenger Kids is only available in the U.S. at this time on the Apple App Store, and will be available to Amazon App Store and Google Play Store in the coming months.
For more specific information about the app, visit messengerkids.com.
Toys 'R' Us UK to Shutter a Quarter of Stores
As part of the company's ongoing financial restructuring efforts and "to meet the evolving needs of customers in today's UK retail market", Toys "R" Us' UK operation (TRU UK) announced plans to close at least a quarter of its UK retail locations. By instigating a Company Voluntary Arrangement (CVA), the company will seek creditor approval to reposition its real estate portfolio for future growth and profitability.
There will be no disruption for customers shopping through the Christmas and New Year period, according to the company.
During 2018, the proposed plan will entail changes to the store estate as it moves to a new business model.
Under the CVA process, TRU UK has submitted a comprehensive operational restructuring plan to its creditors and will solicit their approval of this plan over the next 17 days. If approved by the creditors, the CVA plan would substantially reduce the UK company's rental obligations and allow the business to move to a new, viable business model. The process is likely to involve the closure of at least 26 stores. The company intends to commence store closures in spring 2018.
The business currently employs 3,200 people, and as part of the CVA process, it anticipates a requirement to make redundancies. All efforts will be made to redeploy team members where possible.
A detailed CVA proposal document (with voting procedures) is available to creditors securely via a dedicated website page at: https://ips-docs.com and other interested parties will be able to access the proposal at: www.toysrusinc.com/cvaprocess. The creditors will vote on the CVA on December 21, 2017.
Alvarez & Marsal is serving as restructuring advisor to Toys"R"Us UK and Kirkland & Ellis LLP is serving as principal legal counsel to the company. Over the coming days, the company will hold talks with creditors to ensure they understand the full detail of the proposal.
Walmart Changes Legal Name
Wal-Mart Stores, Inc. has updated its legal name to Walmart, Inc.
"Most of us, and I'd guess all our customers, refer to our company as Walmart and still will," said Doug McMillon, president and CEO, in a statement. "Changing our corporate name from Wal-Mart Stores, Inc., to Walmart Inc. is just a symbol of how customers are shopping us today and how they'll increasingly shop us in the future. Whether it's in our stores, on our sites, with our apps, by using their voice or whatever comes next, there is just one Walmart as far as our customers are concerned. When they shop with us, they expect it to be an easy and seamless experience."
The name change is also a return to the company's roots; when the retailer first opened shop in 1962, the name on its storefront was "Walmart." The name changed over time with it being amended to Wal-Mart Stores, Inc. in 1970 when the company went public.
"Now, we are focused on strengthening stores and clubs around the world to make sure customers continue to have a great experience every time they walk through the door" said McMillon. "At the same time, we're also building our eCommerce and digital capabilities, and we're putting them together in a way that makes every day easier for busy families. Sam Walton said, 'To succeed in this world, you have to change all the time.' He wouldn't have known that customers in the future would shop on their smart phones or with their voices, but he did know that retail would continue to change. He taught us that, and that for a company to succeed, it has to be agile and innovative."
The announcement follows the news of the company's acquisitions of online retail destinations to better position itself to compete in the digital space. These acquisitions include Jet.com, men's wear retailer Bonobos, online sporting goods retailer Moosejaw, online indie women's wear retailer ModCloth (under Jet.com), online furniture retailer Hayneedle.com (under Jet.com), and Shoebuy.com. The company also announced plans to house Lord & Taylor digital flagship store on Walmart.com.