Walmart Invites Kids to be Digital Toy Testers
Walmart introduced The Walmart Toy Lab at www.WalmartToyLab.com, an all-new digital playground where kids can play with 20 of the toys on the retailer's Top Rated by Kids top toy list right from their computer or tablet.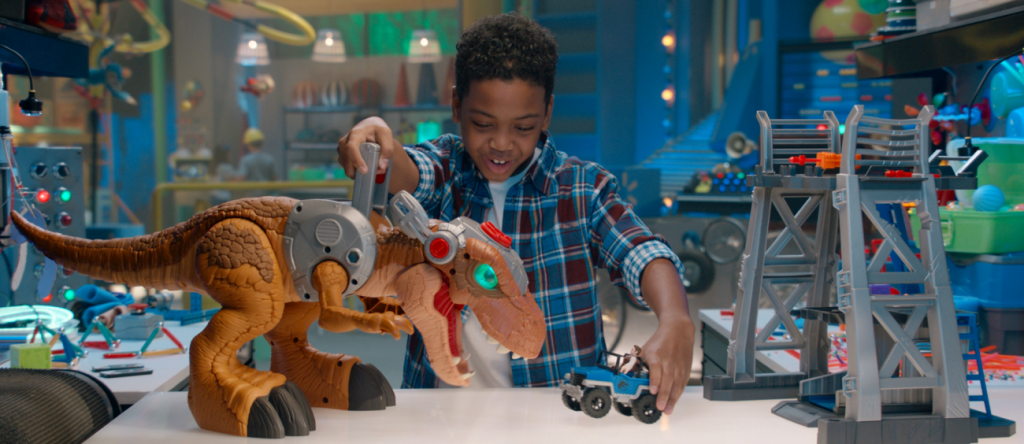 Like stepping into an interactive unboxing video, The Walmart Toy Lab lets kids take on the role of an official Walmart Toy Tester. Kids can virtually play with 20 of Walmart's top holiday toys in a colorful space and share their favorites on a digital wish list. The experience is produced through an exclusive partnership with Walmart and Eko, a leader in interactive video entertainment.
Using the "Funtroller," kids select toys to test and can choose to take a closer look, play with their main features and watch other children play with them too. For an unexpected surprise, kids can hit the "Don't Push" button and see what unfolds with their host, Burt. After testing, they can add the toy to their digital wish list, the Toy Box, and share with Santa or their parents for gifting inspiration.
The Walmart Toy Lab features the following toys:
Barbie Dreamhouse
Imaginext Jurassic World Jurassic Rex
STEM Jr. Wonder Lab
Sing & Spin Scooter Minnie
Air Hogs Supernova
Terra Sect RC
Nerf Laser Ops 2 Pack
Hot Wheels Ultimate Garage
Fingerlings Hugs
Rideamals Scout Interactive Pony
Peppa Pig Fun Fair Playset
Incredibles 2 Jack Jack Doll
Zoom Tubes Car Trax
PikMi Pops Surprise
Harry Potter Wizard Training Wands
Little Live Pets Rollie My Kissing Puppy
Really Rad Robots Mi-Bro
Treasure X Single Pack
LEGO Creator Pirate Roller Coaster
Power Wheels Barbie Dream Camper
The Walmart Toy Lab is just one of the ways the retailer is expanding its toy business. Earlier this year, Walmart unveiled America's Best Toy Shop – its destination for toys in stores and on Walmart.com. This season, the America's Best Toy Shop features 30 percent new toys in stores and 40 percent more toys online, with hundreds of new toys.
This is one of the first collaborations since the recently announced joint venture between Walmart and Eko, demonstrating how Eko's technology creates unique shopping experiences for customers. The Walmart Toy Lab is one of many new enhancements made to Walmart.com this year to offer shopping solutions via curated editorial content that helps customers discover and shop for items online.
Cartoon Network to Distribute Transformers: Cyberverse in EMEA, Latin America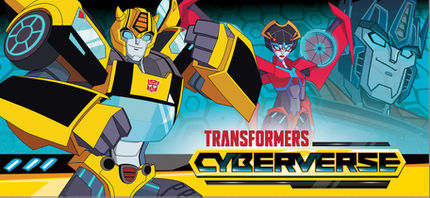 Hasbro Studios, the Los Angeles-based entertainment distribution division of Hasbro, announced an international deal with Cartoon Network to distribute season one of the animated series Transformers: Cyberverse to Europe, the Middle East, Africa and Latin America. The deal includes both linear and digital distribution to bring the show, which is already a hit on Cartoon Network in the U.S., to the rest of the world.
"We're very excited to continue to grow our relationship with Cartoon Network," says Finn Arnesen, senior vice-president, global distribution and development at Hasbro Studios. "They're the perfect partner to bring Transformers: Cyberverse to an international audience and allow fans around the world to enjoy a new Transformers saga that's truly More Than Meets the Eye."
In Transformers: Cyberverse, Bumblebee is on a critical mission where lives are at stake. Only, he can't remember what it is. It's a good thing his best friend Windblade has found him to help repair his damaged memory chips. With each recovered memory, Bumblebee rediscovers his past adventures on Cybertron before coming to Earth. He relives fun moments when he played Cybertronian sports with his friends, and even tragic ones that would change his life. His past will shape him into becoming the hero we know today. As each memory is repaired, another clue comes to light that will lead them both to complete their shared mission to save their friends and Earth… however, the Decepticons are hot on their heels and time is running out.
CHITAG Reveals Winners of 2018 TAGIE Awards
The winners of the 11th annual TAGIE Awards honoring innovation and excellence in the toy and game industry were announced at a gala on Navy Pier in Chicago last Friday night. Attended by members of the industry and sponsored by toy companies and organizations including Hasbro, Oxford Games, Mattel, The Michael Kohner Corporation, and ASTRA. The evening's events included a keynote address by Nancy Zwiers, executive vice-president and chief marketing officer of Spin Master, and culminated with Lifetime Achievement Awards being given to industry legends, David Small and Paul Rago of Shoot the Moon.
Here are the 2018 Toy & Game Innovation Award (TAGIE) winners, nominees and honorees:
GAME INNOVATOR OF THE YEAR
Don Ullman and Bob Driscoll for Don't Step In It by Hasbro
Bang Zoom for Chow Crown from Hasbro
Jeff Foxworthy for Relative Insanity from PlayMonster
Rob Daviau and Justin D. Jacobson for Fireball Island: The Curse of Vul-Kar by Restoration Games
Seven Towns for Greedy Granny by Goliath Games
TOY INNOVATOR OF THE YEAR
David Fuhrer, Richard Kimbrough, DiscoNifty​ for Twisty Petz by Spin Master
Bang Zoom for Lil' Gleemerz by Mattel
Latham Gaines – Power Dough by Canal Toys
Shoot The Moon for NERF Laser Ops by Hasbro
Sydney Wiseman for Fingerlings by WowWee
RISING STAR OF THE YEAR
Nick Metzler of Spin Master for Hail Hydra
Adam Borton for Flushin' Frenzy by Mattel
Art, Joe & Jim Seymour for Circuit Blox, Power Blox and Story Blox by eblox
Daryl Andrews for The Oregon Trail by Pressman Toy/Goliath Games
Jeff Lai for Maki Stack by Blue Orange
Jillian Lakritz for Yoee Baby Original Line: Puppy, Kitty, Fox, Lion, Monkey, Bunny
Krissa Watry for playPORTAL by Dynepic
Marissa Louie for Animoodles: Iris Unicorn, Hazel Sloth, Randy Orangutan, Brady Lion, Miguel Frog, Sophie Elephant
INNOVATIVE ARTS & VISUALS OF THE YEAR
Elan Lee and Matt Inman of Exploding Kittens for Bears vs Babies
Geizi Guevara, Mike Freeth, Patrick Murray, Chris Wickman of Spin Master for The Cat Game
Jakks Pacific for Fan Heads
Prospero Hall for Disney Villainous by WonderForge
Sabrina Miramon (Illustration), Chris D'Angelo, Greg Stata, Kelly Miele (Graphic/Packaging Design) and Kathy Beyerle (Product Design) of ThinkFun for Shadows in the Forest
INNOVATIVE MARKETING TEAM OF THE YEAR
Sydney Wiseman for Fingerlings by WowWee
JMP Creative's Social Media Team for Orbeez Wow World Campaign with Maya Toys
PlayMonster 5 Second Rule Marketing Team for 5 Second Rule
Lee Parkhurst, Jennifer Jens, Sunny Choi, Nicole Younger of Educational Insights for Sculptapalooza's Online Campaign
Hasbro Marketing and Rhett and Link for their online influencer video campaign
YOUNG INVENTOR OF THE YEAR (Sponsored by Mattel)
Harper Miller for The Dream Pillow by Architec® Brands
Ethan Klein for House Architecture Set by 3duxdesign
Michael Nixon for The Amazing Annoyatron by EduKits International
In addition to the winners determined through nominations and public voting, honors were given in the following closed categories:
INVENTOR ADVOCACY HONOREE
Mike Meyers (Sponsored by Hasbro)
LIFETIME ACHIEVEMENT AWARD
David Small and Paul Rago of Shoot the Moon (Sponsored by Mattel)
HASSENFIELD FAMILY HUMANITARIAN AWARD
#MyShotAtEpilepsy Challenge (Sponsored by Hassenfeld Family Initiatives)
START-UP OF THE YEAR
Jochem van Rijn and Thijmen de Schipper of YULU Toys
MOST INNOVATIVE TOY STORE
Leslie & John Chiaverini of Adventure Toys & Teachers' Supplies (Sponsored by ASTRA)
The 2018 TAGIE Awards and Gala were presented by Hasbro, Oxford Games Ltd., The Michael Kohner Corporation, Mattel, ASTRA, Hassenfeld Family Initiatives, The Playmakers, Peggy Brown Creative, Longshore Limited, McGill and Associates and Cartamundi.
The annual TAGIE Awards are the preeminent awards program honoring innovation and excellence in the toy and game industry. The awards program gala is held annually the Friday evening before Thanksgiving as the kickoff to the Chicago Toy and Game Week Fair, which hosted more than 30,000 consumers and industry players this past weekend on Navy Pier.