FAO Schwarz NYC Flagship Store is Now Open
FAO Schwarz opens its doors today with a new flagship location in New York City. The toy store spans two and a half levels with more than 20,000 square feet of signature toys, interactive experiences, and shop-in-shops.
"FAO Schwarz was built on in-store experiences, which has made it a global destination over the years," said David Conn, CEO of ThreeSixty Brands, owners of the FAO Schwarz brand. "We are bringing back the wonderment of toys and a deep nostalgia for the larger than life experience that FAO Schwarz has offered to parents and children alike for over 150 years."
With a nod to the history of the brand in New York and a wink to its future, the new store designed by Chute Gerdeman capitalizes on the Art Deco architecture of its new home in Rockefeller Plaza and amplifies memorable FAO experiences from years past. FAO Schwarz toy soldiers are stationed outside of the 49th street entrance, outfitted in new uniforms designed by international supermodel Gigi Hadid.
The new uniform, which will be worn at all FAO stores internationally, draws from Gigi's own nostalgia of childhood visits to the toy store and incorporates whimsical elements, including a special "Medal of Honor" that's worn on the left pocket adorned with the words "Celebrate, Wonder, Discover, Share, Together."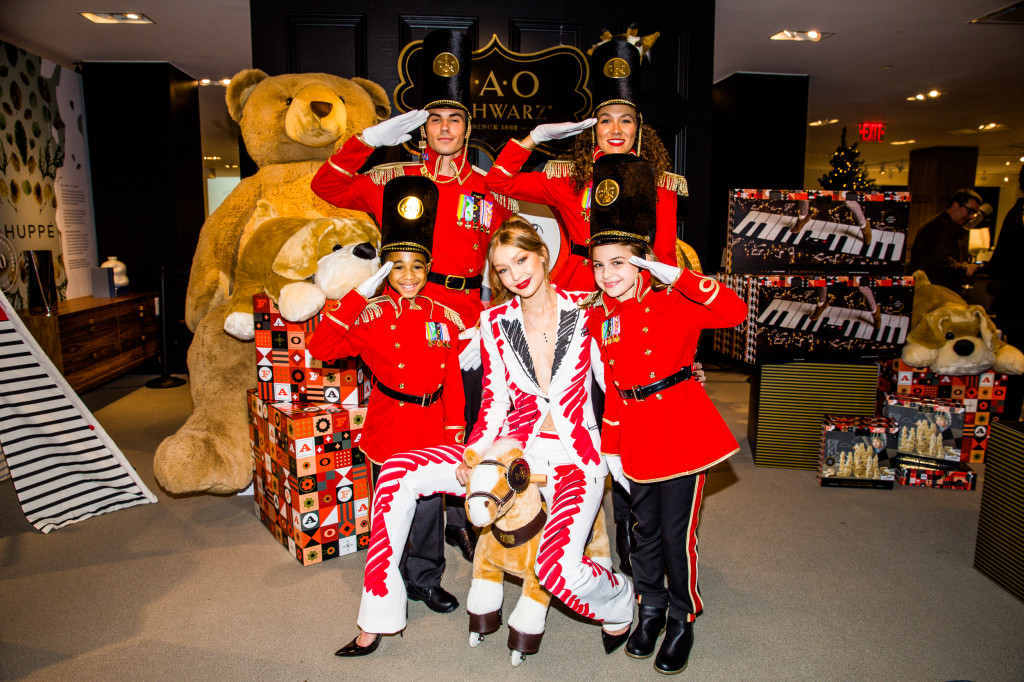 Guests who enter at Rockefeller Plaza are transported to another world with FAO Schwarz's newest icon, the rocket ship. Surrounded by classic plush creations, the 27-foot tall rocket ship—sponsored by Build-A-Bear Workshop—showcases teddy-bear astronauts and is the first cue that there is more to discover upstairs. From the 49th Street entrance, guests are greeted by FAO's iconic three-story, three-dimensional clock tower. Beyond the clocktower and rocket ship, the store features more than 200 FAO Schwarz-branded toys as well as products from more than 15 toy brands come to life with unique experiences.
FAO Schwarz's hand-selected toy ambassadors and product demonstrators provide a 360 shopping experience. The famous FAO Schwarz dance-on piano, sponsored by Hape, returns and is featured on the second floor. The new and improved Piano is reflected on the ceiling above and guests can overlook the ice-skating rink below at Rockefeller Plaza. Piano dancers, performing grand shows throughout the year, will be on hand to teach visitors of all ages and skill levels how to dance and play songs.
Shoppers are invited to work alongside trained mechanics at FAO Raceway, where they can build remote-control cars piece-by-piece by picking out their individualized body style, color, wheels, and designs. Also new to the store is the FAO Schwarz Baby Doll Adoption Experience, in which nurses and doctors walk children through the adoption process and teach them how to properly love and care for their baby dolls. Once a prospective parent adoption form is completed, children are able to select the doll of their choosing. The baby dolls are then taken for a "checkup" before they are sent home with their very own FAO "certificate of adoption."
FAO Schweetz, operated by specialty candy retailer IT'SUGAR, also returns encompassing more than 2,150 square feet in candy installations and merchandising. Life-sized versions of classic toys such as a space ship, fire truck, and toy train serve as bulk candy containers and design elements such as a toy soldier and a subway subway car will be at the checkout counter. A new FAO Schweetz-branded product line includes giant gummy bears and unicorns, make-your-own gummy worm kits, and mega chocolate bars among other sweets.
Additional one-of-a-kind experiences and other retail partners include:
Alex Spa – Get primped and pampered, and express your personal style at the Alex Spa with hair color and nail polish treatments.
Bunnies By The Bay – Welcome to the wonderful world of Cricket Island where Bunnies By The Bay creates delightful gifts for babies and kids of all ages. Shop from charming, super soft, and hand-crafted plush toys, blankets, clothing, and accessories. New Bunnies By the Bay dolls are also available at FAO Schwarz and we invite you to shop with us, where Bunnies are our Best Friends, they Do Delight, and Give Glad Dreams.
Build-A-Bear Workshop – Guests can take part in the signature Build-A-Bear Workshop Make-Your-Own experience, featuring a selection of exclusive FAO Schwarz furry friends and accessories, on the Second Floor.
Discovery #mindblown – Talk to our STEM Professor in his custom #mindblown lab about everything science. With a giant video wall and in-person demonstrations, every child interested in STEM will flock to this 520 square-foot kiosk.
Hape Music – In addition to sponsoring the famous dance-on piano, Hape will offer musical instruments of all types for infants, preschoolers and beyond.
Hasbro – A full Transformers shop that's More Than Meets the Eye, complete with an awesome fully-automated, speaking 9ft. 2in. Optimus Prime, will be filled with everyone's favorite toys,
collectibles, and everything in-between from scooters to apparel!
Marvin's Magic – Audiences will be delighted, amazed and amused to witness Marvin's Magic Live and close-up! Their professional magic made easy sets and tricks continue to inspire magicians of all ages. Just make sure you keep the secrets!
Barbie/Mattel – FAO Schwarz was one of the first places Barbie premiered almost 60 years ago and she is back, encouraging kids to "be anything" and inspire their limitless potential through play.
Melissa & Doug – Kids can shop the full-service Melissa & Doug FAO Mart grocery store, where they can fill their carts with fun play food and grocery ingredients before heading into the Melissa & Doug FAO Home to purchase cook time sets, kitchen equipment, housewares, and more.
Ravensburger/BRIO – For more than a century, these two companies have been making classic wooden trains, today's most popular board games like Disney Villainous or Bugs in the Kitchen, and keepsake puzzles featuring iconic imagery like the Rockefeller Center and the Empire State Building.
Spin Master – A global leader in children's toys and entertainment brings the magic of beloved brands like Hatchimals, PAW Patrol, Erector and Gund in a fun, interactive experience where fans of these collectibles and characters can visit the PAW Patrol Lookout Tower in Adventure Bay or Hatchtopia, where you never know who you'll find.
Steiff – Steiff, the legendary plush toy company, is bringing an exciting new line to FAO Schwarz with their contemporary "Soft Cuddly Friends" collection of attractively priced toys for everyday play. The Steiff department wouldn't be complete without a full line of "button in ear" collectibles, including their legendary life-like studio animals, each exquisitely designed and world-renowned.
Swarovski – FAO offers an exclusive line of gifts and collectables all adorned with sparkling crystals from Swarovski, ranging from keepsake ornaments to nutcrackers to key chains. Also on display are two 12ft. tall toy soldiers, created with over 3 million hand-applied Swarovski crystals, flanking a floor-to-ceiling Swarovski crystallized curtain at the store's check-out.
FAO Schwarz will have more than 140 employees, all which were hand-picked to bring the magic of FAO Schwarz to every customer. Housing one-of-a-kind items and specialty toys from around the globe, Personal Shoppers are on hand for any guest need, and coming in early 2019, events and additional programming will be available in-store.