PBS KIDS joined First Lady Jill Biden to kick-off the holiday season at the White House, and families across the country are invited to join in the celebrations with a trio of festive videos streaming free on PBS KIDS beginning December 16th.
A special behind-the-scenes tour with the First Lady and D.C. Army National Guard Captain Maryanne V. Harrell and her family, who visit the decorated rooms throughout the White House, meeting favorite friends – including the beloved Kratt Brothers of Wild Kratts, fan-favorites Daniel Tiger and Miss Elaina of Daniel Tiger's Neighborhood, the intrepid Molly of Molly of Denali, everyone's favorite aardvark from the hit series Arthur, and vibrant Rosita of Sesame Street – at each stop is now available on PBS KIDS.
A read-along with Dr. Biden of "Winter is Here" (HarperCollins) by Caldecott Medalist and Newbery Honor author Kevin Henkes and illustrator Laura Dronzek, celebrating the sights, sounds, and smells of the season, will debut on December 17.
In addition, an engaging Donkey Hodie sing-along performance, featuring Donkey Hodie, Grampy Hodie, and Purple Panda from the popular series from Fred Rogers Productions and Spiffy Pictures, will stream free beginning December 18.
All three videos will be available to stream free on pbskids.org and the PBS KIDS Video app (available on mobile and connected-TV devices), Facebook, and YouTube.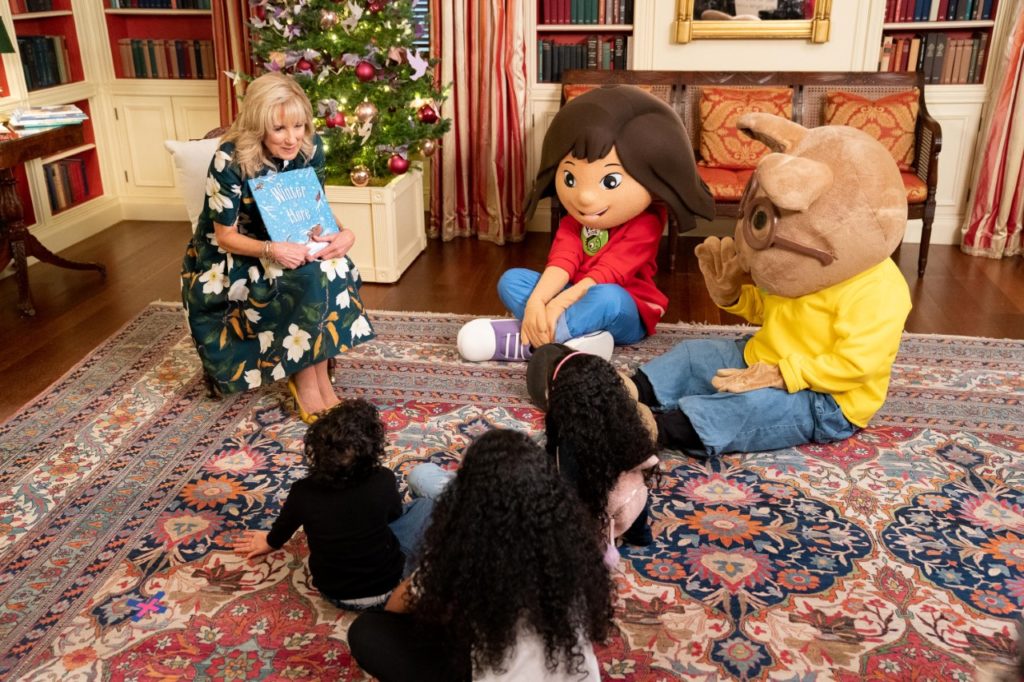 About PBS KIDS
PBS KIDS believes the world is full of possibilities, and so is every child. As the number one educational media brand for kids, PBS KIDS helps children ages 2-8 learn lessons that last a lifetime. Through television, digital media, and community-based programs, PBS KIDS wants children to see themselves uniquely reflected and celebrated in lovable, diverse characters who serve as positive role models, and to explore their feelings and discover new adventures along the way. Families can watch PBS KIDS anytime on the free PBS KIDS 24/7 channel and the PBS KIDS Video app, available on mobile and connected-TV devices, no subscription required. PBS KIDS' large collection of mobile apps and pbskids.org provide accessible content, including digital games and streaming video to spark kids' curiosity. PBS KIDS and local stations across the country support the entire ecosystem in which children learn and grow – including their teachers, parents, and community – providing resources to support children's learning, anytime and anywhere. For more information, visit pbs.org/pressroom, or follow PBS KIDS on Twitter, Facebook and Instagram.