In celebration of
Minions: The Rise of Gru
, in theaters Summer 2022, the collection is available now exclusively on
HBX.
Joya
, the chic New York-based design studio and scent specialist, collaborates with Illumination's iconic Minions to launch a limited-edition candle collection in time for the holidays, available exclusively on 
HBX
 now.
Based around the concept of 'Inner Minion', Joya Studio transforms Minions Bob, Stuart and Kevin into Zen art designs that function as candles. Porcelain vessels shaped like their signature overalls feature the Minions in tranquil poses, in a sophisticated, all-white color palette.
Collection Details: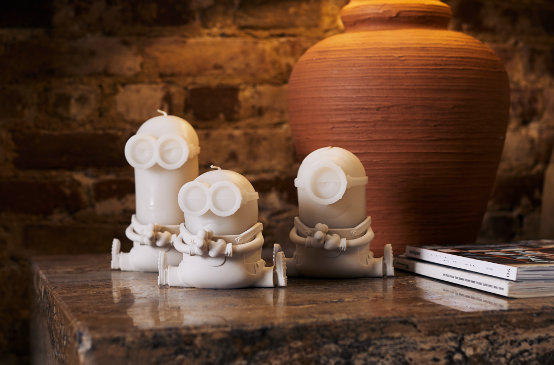 Bob Candle

SRP: $250
Measurements

Candle – approx. 3″ x 4″ x 4.75″
Box – approx. 7.5″ x 6″ x 13.75″

SRP: $260
Measurements

Candle – approx. 3.25″ x 4″ x 5.5″
Box – approx. 7.5″ x 6.125″ x 14.5″
SRP: $270
 Measurements

Candle – approx. 3.25″ x 4″ 6.5″
Box – approx. 8″ x 6.125″ x 16″
About MINIONS: THE RISE OF GRU
The latest installment of the most successful animated franchise of all time, Minions: The Rise of Gru takes us back to bad as we explore the origin story of young Gru and his Minions, giving us a first-hand look at how they became the world's most despicable team.
Teeming with Illumination's signature subversive humor, pop-culture sophistication, full-hearted emotion, bold music sensibility, and over-the-top action, Minions: The Rise of Gru stars Oscar® nominee Steve Carell, returning in the role of Gru, and features a thrilling new cast of stars including Oscar® winner Alan Arkin, Taraji P. Henson, Jean-Claude Van Damme, Lucy Lawless, Dolph Lundgren and Danny Trejo. The film also features Russell Brand, Michelle Yeoh and Oscar® winner Julie Andrews.
Steered by the franchise's original creators, Minions: The Rise of Gru is produced by Illumination founder and CEO Chris Meledandri and his longtime collaborators Janet Healy and Chris Renaud. The film is directed by returning franchise filmmaker Kyle Balda (Despicable Me 3, Minions), co-directed by Brad Ableson (The Simpsons) and Jonathan del Val (The Secret Life of Pets films), and features the iconic voice of Pierre Coffin as the Minions and a killer '70s soundtrack courtesy of legendary Grammy-winning music producer Jack Antonoff. www.minionsmovie.com
About JOYA
Joya is a scent brand and design studio based in Clinton Hill, Brooklyn.
Established in 2006 by Frederick Bouchardy, the company produces perfumes, candles, diffusers, soaps, art objects and environmental scent creations dispersed into the air through gas atomization technology.
Joya is known for its own selectively distributed collections and for collaborations with emerging artists and established global brands—crafted in-house from beginning to end—utilizing modern ingredients and processes alongside time-honored fragrance recipes and manufacturing techniques.
The studio houses all of the company's operations—design and development, production, warehousing and an award-winning flagship storefront—and has been featured in Vogue, The New York Times, WWD and Wallpaper*. The space is also a Prix Versailles Special Prize for an Interior North America winner, a Building Brooklyn Award winner, an honoree in the Interior Design Best of the Year and NYCxDesign Awards—and received an honorable mention from the American Architecture Prize. Joya was the first perfume ever available on Net-A-Porter, and a scented cast wax Air Max 90 limited edition molded candle produced in collaboration with Nike is stored in the Nike Archives in Beaverton, Oregon. Past and present project highlights include Zaha Hadid, Daniel Arsham, McDonald's, Sunset Tower Hotel, Thomas Keller and A24.