With a mission to provide a platform to uplift, promote and remind children of color how unique, divine and magical they truly are, Afro Unicorn entrepreneur, innovator & founder April Showers has announced the expansion of her lifestyle brand for kids (ages 2 – 12), with new licensing partners signed and a retail launch planned this year.
Afro Unicorn was established in 2019 with the mind frame of 'representation matters' and incorporates the brand values—unique, divine, magical–that every child of color needs to be reminded of! Showers launched her concept with a direct-to-consumer program of apparel and accessories, featuring the characters, Unique (the leader), Divine (the motivator) and Magical (the persuader).
With a rapidly growing awareness across social media, Showers has organically grown a solid young fan base for Afro Unicorn, eager to engage with her brand and messaging. Most recently, Showers has signed multiple licensing partners for Afro Unicorn, including H.E.R. Accessories (accessories), Jay Franco (bedding), MAD engine (apparel), Unique (party supplies), Handcraft (underwear), Silver Buffalo (drinkware) and Centric (sleepwear). In the party supply category, Afro Unicorn will be one of the first (if not the first) from a Black Woman-owned brand. A range of products will begin rolling out this year with holiday-themed products also planned for Q4 2022. Additional key categories in the works for the brand include publishing, toys, and animated content, among others.
"Our goal from the beginning has been to give girls of color a unicorn that represents them and encourages them to embrace their uniqueness, love themselves, and be empowered to go out into the world and trailblaze," stated Showers. "We have been so fortunate to holistically create a buzz around Afro Unicorn early on, catching the eyes of such accomplished black women as Tiffany Haddish and Alicia Keys, who have all promoted Afro Unicorn because of its authenticity. We want all of our products to speak directly to the underrepresented black woman and child, and we are thrilled to work with our licensing partners to create products that accomplish that mission."
Afro Unicorn Characters include:
UNIQUE, "the leader," loves to dance and sing. She is a problem solver who prefers to reason with opposition instead of fight. Her superpower is the ability to heal and protect through the vibrations of song and dance.
DIVINE, "the motivator, is physically and mentally strong who uplifts and empowers others to act. Divine's superpower is incredible strength–and knowing when to use force and when not to.
MAGICAL, "the persuader," is all-knowing and the first Afro Unicorn with a supernatural power that enables her to read minds and thus stay two steps ahead of the game.
Two years prior to launching Afro Unicorn, a close male friend of April kept referring to her as a unicorn. "At the time I did not understand why I was being referred to as such. I truly just thought I was just doing what every woman would do in my position. It wasn't until I suffered a rather significant upset and bounced all the way back that I realized I was indeed a unicorn the entire time. Looking at the current unicorn emoji I really couldn't relate. I wanted a unicorn that represented me and all the fierce women that I knew. I reached out to a graphic artist, and shared with him the vision I had for a unicorn of color," commented Showers. After about five sketch revisions Afro Unicorn, with all of her vanilla, caramel, and mocha complexion, was born.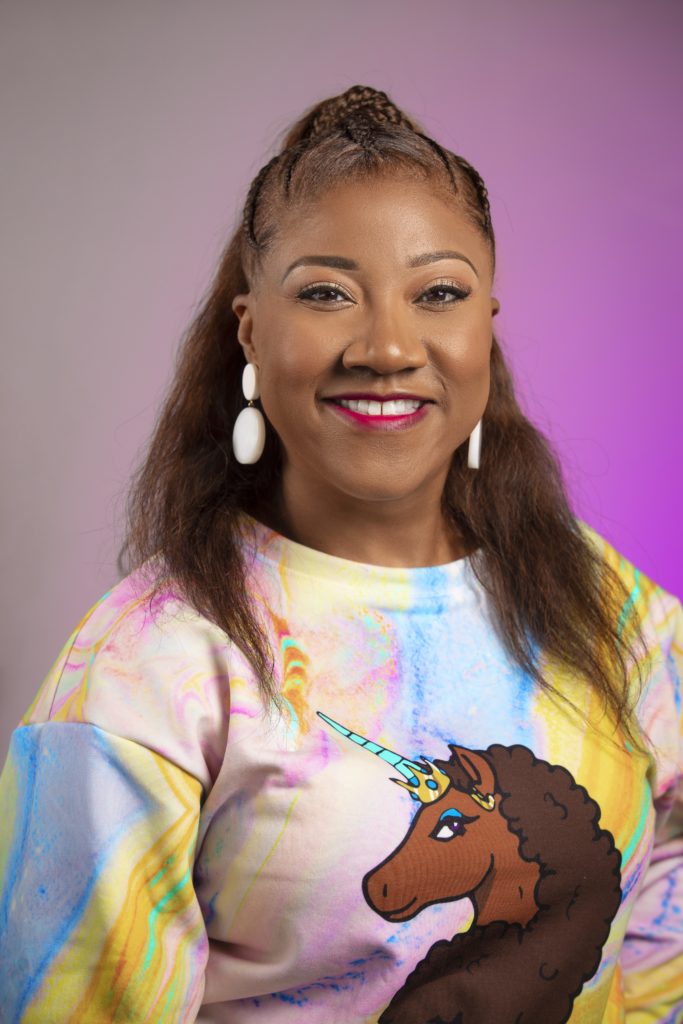 April Showers – Founder, Afro Unicorn