Emily the Strange Partners with Plastic Cash International
Gator Group announced that Cosmic Debris, the creators of Emily the Strange, and Plastic Cash International, the largest teen-branded prepaid card company, have partnered to create exclusive Emily the Strange MYPLASH Prepaid MasterCard cards for teens and young adults.
The cards can be used for online purchases and anywhere Debit MasterCard is accepted and offers Emily-fan cardholders exclusive access to Emily the Strange merchandise discounts and promotions.
Gator Group has announced the MYPLASH deal as part of an aggressive, multi-year global licensing strategy for Emily the Strange to span numerous product categories and distribution channels. New licensing deals from Gator Group include apparel, accessories, room décor, electronics, and stationery partners as well as a few announcements to be made at San Diego Comic Con, which begins July 22.
Gund, Squaredy Cats in Licensing Deal
Gund has signed a licensing deal for the viral internet property Squaredy Cats. Created by Monkey Doodle Dandy, Squaredy Cats combines the expression "Scaredy Cat" with brightly-colored, fanciful cats that are square in shape.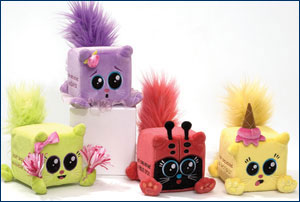 Each cat is branded with catchy phrases designed to foster creativity and individuality, such as "Not Squared to Be Sweet" or "Not Squared to Dance." The essence of the property is to encourage self-expression and empower young people to take pride in who they are and what they believe in.
Gund will unveil the Squaredy Cats plush line later this year. The initial introduction for the line will feature nine plush cats, including Cheeri (Not Squared to Show Spirit), Twirl (Not Squared to Dance), Scarlett (Not Squared to Bug You) and Giggles (Not Squared to Be Silly).
Squaredy Cats is represented for licensing by Redasign Studio, the boutique agency run by Robert Reda and Kim Winkeleer.
Sanrio and MEGA Brands in Hello Kitty Deal
Sanrio, Inc., and MEGA Brands, Inc., announced that they have entered into a two-year North American licensing agreement to develop construction toys based on the Hello Kitty brand. The line will make its debut in U.S., Canada, and Mexico in the spring of 2011.
Yak Pak Luggage from Randa Accessories
Stone America Licensing recently announced that Randa Accessories has been appointed the exclusive licensee for Yak Pak luggage.
Licensed products will include men's, women's, and children's luggage; duffels; garment bags; and trunks. There will be additional accessories including grooming sets, travel kits, passport cases, etc. This Yak Pak line will be sold at department store and specialty retailers where Yak Pak is currently sold.
Yak Pak is currently looking to expand its newly implemented licensing program into categories such as home décor/bedding, social expressions, apparel, footwear, and accessories, sporting goods, etc. This agreement marks the third license for Yak Pak in 2010.
Thomas & Friends Cards from Upper Deck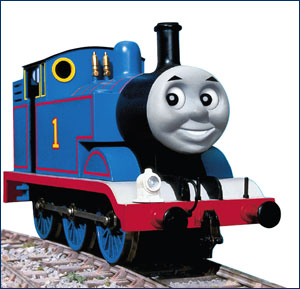 HIT Entertainment and The Upper Deck Company announced the release of Thomas & Friends Sodor Adventures Collectipak. The 18-card set includes stickers, tattoos, and pop-up cards of the most popular characters including Thomas, Percy, James, Emily, Sir Topham Hatt, and more. The first installment of Thomas & Friends Collectipak is an easy-to-learn activity based on the travels of Thomas and his engine friends on the Island of Sodor.
In future releases, Upper Deck will offer stand-up trading cards and sticker trading cards. The second Thomas & Friends trading card release is scheduled to hit the market in November.