WBCP Signs Pressman for Happy Feet 2 Games and Puzzles
Warner Bros. Consumer Products and Pressman Toy Corp., announced a line of board games and puzzles based on Warner Bros. Pictures' computer-animated family film Happy Feet 2. The film, scheduled to be in theaters November 18, 2011, will be shown in 3-D and 2-D and IMAX. Pressman's line will be available at mass and specialty retailers nationwide in the fall.
Thomas & Friends Fruit Snacks from Betty Crocker
HIT Entertainment announced a deal with Betty Crocker to produce fruit-flavored snacks based on Thomas & Friends. The Thomas & Friends Fruit Flavored Snacks will be available in June at grocery and mass market retailers nationwide. The products come in six different fruit flavored snack characters with strawberry, grape, orange, and cherry flavors. They are 80 calories per pouch, fat free, and a source of vitamin C.
Wild Creations Signs Nick Jr's Dino Dan
Wild Creations announced that it will bring Dino Dan toys to the U.S. market in fall 2011. The Dino Dan licensed products will include excavation kits, prehistoric playsets, fossil replica kits, action figures, and even Dino Dan outdoor adventure gear.
Produced by Sinking Ship Entertainment, each episode of Dino Dan takes viewers on a journey with Dino Dan and his friends as they encounter incredible computer-generated dinosaurs and learn about dinosaurs, their surroundings, and the importance of the scientific method.
The show premiered on Nick Jr. in October 2010.
Walking Dead from McFarlane Toys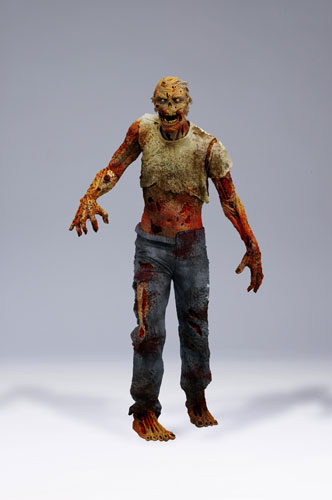 McFarlane Toys announced two separate deals for the licensing rights to The Walking Dead. The first is with AMC to create action figures based on the original series that premiered on AMC in October 2010. The second is with Robert Kirkman to also create action figures based on the comic book series he created. This is the first time action figures have been produced and both lines are expected to be available at retail this fall.
"Kirkman has created a world that is macabre and suspenseful with deeply drawn characters: both human and zombies," said Todd McFarlane, McFarlane Toys CEO, in a statement. "Working with the creative talents of Kirkman and AMC, we have planned figures lines that authentically represent both the television and comic series—including mind-blowing details, likenesses, and play action. We want to push the envelope so that the true essence of The Walking Dead series is captured."
The first series of deluxe 6-inch figures is expected to release in September 2011. The second series of deluxe 6-inch figures is slated for release in November 2011.
Striker Entertainment's Marc Mostman and Russell Binder brokered the rights to the action figures. Striker Entertainment is AMC's licensing agency for The Walking Dead series.