Spin Master's Redakai will Air on Cartoon Network
Redakai: Conquer The Kairu, which is a co-production between Spin Master and global TV production company Zodiak Kids/Marathon Media, will debut on Cartoon Network in the U.S. in the second half of 2011. Spin Master will roll out a product line after the series' debuts.
Cartoon Network Enterprises, the licensing and merchandising arm of the network, will serve as the exclusive licensing agent for Redakai in the U.S. and Canada. Zodiak Kids/Marathon Media holds worldwide television distribution rights to the series and all licensing and merchandising rights, excluding North America.
The animated series starring Ky, a 15-year-old student of ancient martial arts who embarks on an incredible quest to find the Kairu, a primordial alien energy force. Helped by his friends Maya and Boomer, Ky travels the globe looking for the Kairu to protect it from his extraterrestrial teenage opponents, with the hope that one day he will become the greatest Kairu warrior of them all—a Redakai.
New Licensees for Power Rangers
Saban Brands announced the signing of a host of licensees for the Power Rangers Samurai television series. Saban Brands has signed LF USA, Jem Sportswear, and Mighty Fine for apparel; MEGA Brands for a line of construction toys; Jay Franco and Sons, Inc., for bedding; Disguise for costumes; Brown Shoe for footwear; and Berkshire and MZ Berger for various accessories.
The series debuted February 7 on Nickelodeon and features a new cast of Rangers and never-before-seen villains, as well as action, martial arts, and advanced special effects. Bandai, the previously announced master toy licensee, has been presenting an extensive product line at this week's Toy Fair.
Voltron Video Game Expected from THQ
Classic Media announced that it has signed an agreement with World Events Productions (WEP) and THQ, Inc., for Voltron. WEP, a television production company, and its representative, Classic Media will work with THQ to produce video games based on the Voltron franchise.
The video games from THQ will join a previously announced toy line produced under a separate agreement between WEP and Mattel, which plans to release toy lines based on classic Voltron in 2011 and new Voltron Force in 2012.
The Voltron video games from THQ are expected to debut this fall, following the premiere of the all-new 2-D/CGI animated Voltron Force series, which is set to launch in the U.S. on Nicktoons, and with other key broadcasters worldwide, this year.
PBS Kids Introduces Toy Line
PBS announced the introduction of its PBS Kids toy line for ages 3 and up. The line, which will be available this spring, will consist of more than 20 wooden toys for preschoolers. Happy Kid Toy Group has been named the master toy licensee to manufacture and distribute the line, which focuses on PBS Kids core educational message. Many of the PBS Kids toys will retail for under $20, with some under $10.
Mega Bloks Halo Vehicle on Tour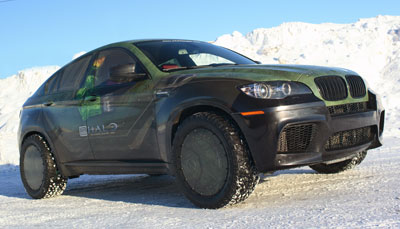 Inspired by the Halo's Warthog, the Mega Bloks Halo Vehicle will be travelling across Canada and the United States making appearances at toy shows, convention centers, and retail stores in addition to other locations. The vehicle's first stop is this week's Toy Fair.
Chorion to Air Shows on Disney Junior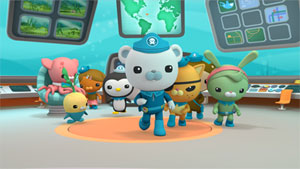 Chorion has sold two of its new animated series for preschoolers Octonauts and Gaspard and Lisa to Disney Channel U.S. for premiere on Disney Junior next year. The program acquisition deal will complete the international roll-out, which started in the UK and France in fall 2010 and is continuing through 2012 across major global territories. Chorion will manage consumer products programs for both properties globally.
Schleich's Display Contest Winner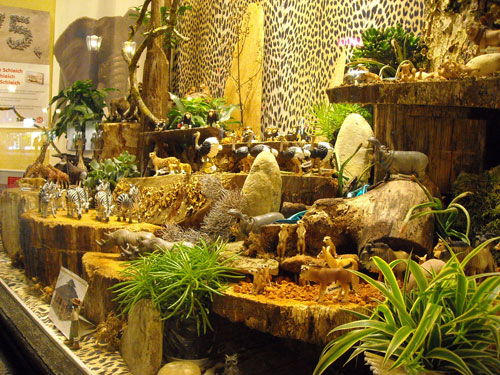 Schleich unveiled the winning store of its best window display contest, which celebrated the company's 75th anniversary. The winner is Die Murmel Toy Shop of Würzburg, Germany.
In September 2010 more than 550 stores in more than 20 countries took part in the competition to create a Schleich Wildlife window, based around the signature anniversary piece; the Schleich Plane. Stores applied for the free display kits and committed to create displays that would raise the awareness with consumers across the globe.
More than 5,000 separate images were judged by an international panel, which included many toy magazine editors.
The owners of Die Murmel Toy Shop won a trip to Africa and a chance to see the wild animals that are represented by Schleich in figure form. Runners up and regional winners received valuable product voucher packages.
The runner's up are:
Second Place
Outback Toys—Litiz, Pennsylvania
Mrs. Tiggy Winkles—Ottawa, Ontario
Third Place
Foothill Mercantile—Grass Valley, California
The Toy Shop of Concord—Concord, Massachusetts
Terra Toys—Austin, Texas
Thinker Toys—Honolulu, Hawaii
Tremont Enterprises—Portage, Michigan
Watch Me Grow—New Liskeard, Ontario
Fun To Grow On—Mississauga, Ontario
Jester's Fun Factory—Fergus, Ontario
A Child's Place—Winnipeg, Manitoba
Creative Learning—North Bay, Ontario