New Music Deal for Elvis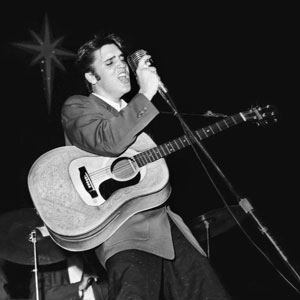 Imagem Music USA and Elvis Presley Music/Gladys Music announced a worldwide music publishing deal for representation of the Elvis Presley catalog, effective January 1, 2012. The catalog, co-owned by Elvis Presley Enterprises, Inc., and the families of the late, publishers, Jean and Julian Aberbach, includes more than 1,000 songs that have been recorded by Elvis Presley, Peggy Lee, Nat King Cole, and other legendary entertainers. The timeless hits in the catalog include "All Shook Up," "Love Me Tender," "A Little Less Conversation," "Jailhouse Rock," "Return to Sender," and "Can't Help Falling in Love," among many others.
Songs from the catalog include some of the most sought-after for commercials, television shows, movie trailers, and soundtracks around the world.
Recently, "A Little Less Conversation" was included in the DreamWorks animated film Megamind; "Can't Help Falling in Love" is featured in the current film, Like Crazy; "Jailhouse Rock" was utilized for a television commercial for Fiat; and "Fever" could be heard in a spot for Brazil's leading fashion retailer C&A, just to name a few.
In a joint statement, André de Raaff, CEO of Imagem Music Group and Richard Stumpf, president of Imagem Music USA said, "Elvis Presley defines rock 'n' roll, and his songs are loved all over the world. We are thrilled and honored to represent such a legendary body of work on a global basis, where we will ensure the songs are promoted and managed in a manner suitable for the King."
Mad Engine Signed for Redakai Apparel
Cartoon Network Enterprises announced that it has signed Mad Engine as its lead apparel partner for Spin Master's boys action property, Redakai. Through this first deal between the two companies, a full range of boys' T-shirts, fashion tops, tank tops, pullover, and zip fleece in all print applications and fabric techniques is expected to launch across all tiers of retail in spring 2012. The addition of the upcoming Mad Engine apparel line builds on the launch of Spin Master's trading card game, as well as the debut of the Redakai: Conquer the Kairu television series on Cartoon Network.
The Licensing Shop Signs The Calgary Stampede
The Calgary Stampede announced the appointment of The Licensing Shop, Inc., to assist in the development and launch of a Calgary Stampede branded merchandise program to mark its 100th anniversary in July 2012.
The Calgary Stampede is a volunteer-supported, not-for-profit community organization that preserves and promotes western heritage and values, according to the organization. The Stampede contributes to the quality of life in Calgary and southern Alberta through its 10-day Stampede, year-round facilities, western events, and several youth and agriculture programs. All revenue is reinvested into Calgary Stampede programs and facilities.
Deals from Creative Minx Marketing
Creative Minx Marketing announced that it will represent Epic Weapons for licensing acquisition and retail development opportunities for several of Epic Weapon's key franchises.
Creative Minx will secure brand extensions through merchandising across multiple categories and genres such as weapons prop replicas, novelty items, and collectible accessories by partnering with key gaming publishers and entertainment studios.
In addition, Creative Minx Marketing announced that it's client, Major League Gaming (MLG), the world's largest competitive video game league announced new MLG-branded merchandise. In working with SteelSeries, the company offered MLG-branded mousepads at the Pro Circuit National Championships in Providence, Rhode Island, last week. Next year, during the 2012 MLG Pro Circuit season, a co-branded family of keyboard and mouse peripherals will also be introduced. MLG will also be offering a robust suite of MLG-branded apparel by J!NX in the coming months, which will be available at retail locations and at JINX.com.
C3 Signs "Grizzly Adams"
C3 Entertainment, Inc., announced the exclusive representation of Dan Haggerty, best known for his starring role as Grizzly Adams in the television show The Life and Times of Grizzly Adams, for worldwide licensing and merchandising. The series ran on NBC for two years and was based on a book and movie from the early 1970s.
A Grizzly Adams movie is in development that will star Haggerty and bring the character into modern times.