Happy Thanksgiving to our U.S. readers. The next alert will be sent out on Tuesday, November 29.
Eckert to Leave Mattel; Stockton Named Successor
Mattel, Inc., announced yesterday that Robert A. Eckert, 57, has informed the board of directors of his decision to retire as CEO, after 11 years with the company, effective December 31, 2011. The board has named Bryan G. Stockton, 58, who has held the position of COO for the past year, to succeed Eckert as CEO, effective January 1, 2012. Eckert has agreed to continue in his role as chairman of the board, and the board has elected Stockton as a member of the board, effective January 1, 2012.
"The board respects Bob's decision to step back at this time, and wants to recognize the superb job he's done the past 11 years in building a high performance culture at Mattel and delivering truly superior shareholder returns. He leaves behind a remarkable legacy of integrity and success," said Christopher A. Sinclair, independent presiding director for Mattel, in a statement. "We're also grateful that Bob has agreed to serve as non-executive chairman and support Bryan in a seamless transition. Finally, we are delighted to have an experienced and proven leader like Bryan assume the CEO position. He's been a key architect behind Mattel's rapid international growth and has also helped to shape many of the company's recent growth initiatives. We're confident that he'll build on Bob's record of innovation and success."
In May 2000, Eckert joined Mattel as chairman and CEO from Kraft Foods, Inc. Under his leadership of disciplined financial focus, Mattel delivered against its long-term performance targets of delivering growth, building operating margins, and generating and deploying significant cash flow. Through year-end 2010, the company generated $8.2 billion in cash, which was used to strengthen the balance sheet and return about $4.6 billion to shareholders in the form of dividends and share repurchases, according to the company.
"Simply stated, I have loved working at Mattel, and it has been my privilege to work alongside the most talented and dedicated people in the toy business. Our employees have built this company into what it is today. While my decision to retire has not been an easy one, I am confident that we have the momentum in the marketplace and the leadership in place to take the company to the next level," said Eckert. "Bryan has a proven track record as not only a great operational leader, but also as a seasoned strategist. Under Bryan's leadership, I am confident that the company will realize its strategic vision to truly create the future of play."
"I want to thank the board and Bob for this incredible opportunity to advance the Mattel legacy. And on behalf of the 30,000 employees of Mattel, I want to thank Bob for his 11 years of leadership marked by financial discipline, global expansion, and a commitment to employee development," said Stockton. "As we move forward today, we remain focused on four keys to delivering success: developing strategies to grow our business; optimizing our structure to move forward; developing our people; and creating an innovative culture. This is an exciting time to be working at Mattel, as we evolve the company from toy to play; from product management to franchise management, and from worldwide leader to a global leader."
For the past year, Mr. Stockton has served as COO with responsibility for the day-to-day operations of the company.
Duracell Partners with Time to Play and Others for Magical Holiday Season
Duracell has partnered with TimetoPlayMag.com (that's us!) along with many others to create a Holiday Insurance Program.
To kick off the program, Grammy-Nominated artist Chris Daughtry is introducing the Holiday Insurance Program together with other industry experts to provide parents with everything they need to navigate the holiday season with ease.
The Duracell Holiday Insurance Program offers parents the following:
Free and unique content on Facebook.com/Duracell
Advice from toy experts, Jim Silver and Chris Byrne of TimetoPlayMag.com
Free hourly giveaways of the season's most wanted toys with help from TimetoPlayMag.com
Access to toy reviews from real kids
Duracell has partnered with Grammy-Nominated artist Chris Daughtry to spread the word about the program.
"As a dad of four, I understand the importance of creating holiday memories for my kids but know how overwhelming the task can be," said Daughtry. "That's why Duracell and I are teaming up to prepare parents during this stressful time of year while also helping to create a magical Christmas morning for kids in need."
To help celebrate the holiday season, Duracell is hosting a special concert on Facebook with Chris Daughtry on December 14. In order to watch the concert, all consumers have to do is "like" Duracell's Facebook page for access. Here's what else the program encompasses:
Tips from Toy Industry Experts
Duracell has partnered with the nation's best-known toy experts: TimetoPlayMag.com's Jim Silver and Chris Byrne (aka The Toy Guy). These industry veterans will guide parents on how to prepare for those unforgettable moments by offering toy advice from an insider's perspective.
Toy Advice from Real Families
Duracell wanted to find real kids who had experienced truly magical Christmas mornings and identify the parents who successfully created them. The brand turned to YouTube to find the Duracell Holiday Helpers, a team of real kids and parents who will offer their advice to other families on how to create an unforgettable Christmas morning.
Free Hourly Giveaway of the Hottest Holiday Toys
The hottest holiday toys are often hard to find, so Duracell's Facebook page is making social media history with a season-long "hot" holiday toy giveaway, sponsored by Time to Play. Beginning November 25 and running through December 23, one free toy will be given away every hour on the Duracell Facebook page. Toys from brands such as Fisher-Price, Mattel, LeapFrog, Hasbro, Spin Master, Jakks Pacific, and Mega Brands will be featured. With toys being the centerpiece of holiday gift giving, Duracell also offers a battery guarantee to provide parents with extra peace of mind. The company is so confident of battery quality that if a toy doesn't work due to a Duracell battery defect, Duracell says it will repair or replace it.
To learn more about the Duracell Holiday Insurance Program and details for the concert, visit Duracell's Facebook page (Facebook.com/Duracell).
Giving Back
Duracell will donate 30,000 batteries to the Toy Industry Foundation (TIF) to power holiday toys for kids in need. TIF is the charitable arm of the Toy Industry Association.
Who is the Black Friday Shopper?
The Black Friday bonanza is just days away. As retailers open their doors on Thanksgiving night, today we ask: who is the Black Friday shopper? The International Council of Shopping Centers (ICSC) says that 34 percent of consumers will shop on Black Friday, which is about 81 million people ages 18 and over. Forty-eight percent of them have children in their household, compared with 43 percent in last year's poll. This year, 34 percent of Black Friday shoppers live in the Midwest; 32 percent live in the South, while 29 percent are in the Northeast and 29 percent are in the West.
Annoying Orange Gets TV Show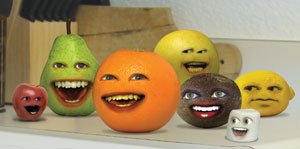 Cartoon Network announced that it has acquired the television rights to The Annoying Orange for a new half-hour television series that will premiere in 2012 as part of Cartoon Network's original programming block.
A product line from The Bridge Direct is currently in stores.