Grateful Dead Snowboard Deal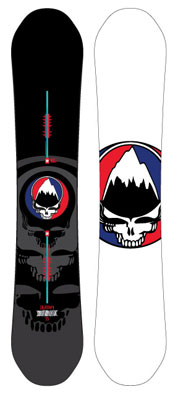 Grateful Dead Productions and Rhino Entertainment announced that they have partnered with Burton, the world's leading snowboard manufacturer, on an exclusive line of snowboards.
The newly designed Burton Grateful Dead snowboards made their debut recently at the annual SIA Snow Show in Denver, Colo. The line is expected to be in stores in August.
KISS Action Figures Launching
Figures Toy Company is introducing KISS action figures, reminiscent of the action figures first released in 1977–1978 by the Mego Toy Company. These figures will have rooted hair, cloth clothing, 16 points of articulation, and for the first time will be available in 8 inch as well as a re-release of the 12-inch version.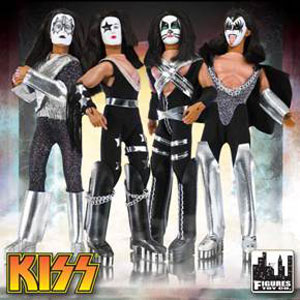 The first release is expected to have the retro look of the 1970s, but future releases will cover all time periods in the 40-year musical career of KISS from 1972–2012. Collectors will be able to find these at toy stores, comic shops, music stores, and online retailers starting in March 2012.
The deal was brokered by Live Nation Merchandise, the global licensing agent for KISS.
CBS Consumer Products in Fragrance Deal for America's Next Top Model
Hatch Beauty has joined with CBS Consumer Products to license a series of exclusive fragrances for The CW's reality program America's Next Top Model (ANTM) and will collaborate with future winners as part of every grand prize package going forward. The first-ever ANTM fragrance is named Dream Come True.
The fragrance officially launched last week at Target stores nationwide and select Regis stores throughout the country.
As part of the on-air integration, Hatch Beauty's creative director, Ben Bennett collaborated with producers to create a Fragrance Challenge, in which each contestant developed and marketed a unique scent that conveyed her personality. Hatch Beauty then worked with Cosmo International and perfumer Arnaud Winder to develop the fragrance for the show.
The new fragrance was revealed on ANTM's finale episode in which host Tyra Banks announced that the winner, Lisa D'Amato, would be made the official spokeswoman of Dream Come True.
PGA, Cartoon Network Launch PGA Jr. Line
The PGA of America and Turner Broadcasting's Cartoon Network Enterprises (CNE), the licensing and merchandising arm for the children's television network, have announced the launch of the PGA Authentic Jr. line of licensed products.
The first products from the line will include youth apparel consisting of shirts, outerwear, shorts, skorts, and hats for boys and girls. This line was created and distributed by Garb, a leading manufacturer of children's golf apparel. The products, which will retail for the suggested retail price range of $13–$55, were officially unveiled to the golf industry at the PGA Merchandise Show, at the Orange County Convention Center, in Orlando, last week. The line is expected to be in stores in May.
In 2009, Turner's CNE was named the exclusive youth licensing agent for The PGA and charged with creating a line of consumer products that appeal to the sport's youngest fans and also creates a broader and more accessible entry point to the sport.
The licensing deal is one part of a larger, long-standing relationship that exists between Turner Sports and The PGA and will continue through 2019, as the two companies previously extended their broadcasting and interactive media agreements, covering the PGA Championship, PGA Grand Slam of Golf, and PGA.com.
New Licensees for Smurfs
Sony Pictures Consumer Products announced two new licensing deals for Smurfs. Newco has been signed for children's upholstered furniture: beanbags, foam fold-out sofas, and chairs. These items are expected to be available at Toys "R" Us for back to school 2012.
Exhart has been signed to create Smurfs garden stakes, chimes, blow-molded night lights, plug-in night lights, nylon wind spinners, garden accessories, and garden tools. These items are expected to be in stores in spring 2013.
Muhammad Ali Enterprises Signs New Licensees
Muhammad Ali Enterprises announced the following licensing deals. Boxercise, via agent IMG, has been signed for a Muhammad Ali boxing training module within the current "Boxercise" training program. These items will be available across Germany, Italy, and the UK.
IWC Schaffhausen has been signed for IWC Big Pilot Ref 5004 stainless steel watch specially designed for Ali's 70th. This will be available worldwide at the IWC flagship stores and its boutiques.
Open Road Integrated Media, via agent IMG, has signed an eBook agreement for Muhammad Ali—His Life and Times to be published in digital format globally.
Dynomighty has been signed for Tyvek wallets, which are eco-friendly, tear-resistant, and water resistant wallets. The line will be available worldwide.
More licensees for Cody Simpson

Atlantic recording artist Cody Simpson has a series of newly announced licensing agreements, which will bring a wide array of products and merchandise to consumers. Some of the items listed below are now on-shelf at Claire's, FYE, and Toys "R" Us. The rest will be introduced into the market throughout 2012.
Cody Simpson licensees include the following:
Accessory Innovations, LLC (bags, socks, and wallets)
Accutime Watch Corporation (watches and other timepieces)
Added Extras, LLC (cosmetics)
Advanced Graphics, Inc. (cardboard stand-ups)
C&D Visionary (novelty items)
Central Mills, Inc. dba Freeze (T-shirts)
Concept One Accessories (headwear, cold weather accessories, flip flops, and slippers)
FAB Starpoint, LLC (stationery and novelty gifts)
Fathead, LLC (wall graphics)
H.E.R. Accessories, Ltd. (costume jewelry)
Kalan LP (novelty items)
Lady Sandra Home Fashions, Inc. (home textiles and room décor)
Power Play Group, Inc. (lenticular items)
Roxo LLC (collectible charms and rubber bracelets)
Trends International, LLC (posters and calendars)
The Wish Factory, Inc. (toys)