CopCorp Signs Fifty Shades of Grey Licensees
CopCorp Licensing announced the first three licensees for the best-selling book franchise Fifty Shades of Grey in North America.
Freeze Clothing will create a line of licensed T-shirts, fashion knit tops, and hoodies in the U.S. and Canada. Products will be available in adult sizes for both men and women.
Hyp has securing the rights to manufacture and market a Fifty Shades hosiery line including stockings, garter sets, printed tights, and more, to be sold across the U.S. and Canada.
Briefly Stated, a division of Li & Fung USA, has been granted the rights to produce Fifty Shades branded Women's daywear, loungewear, and sleepwear (including sets, pajamas, sleep shirts, sleep pants, robes, and underwear) for U.S. and Canadian markets.
Kislevitz's JLK Branding to Represent Roxx in U.S.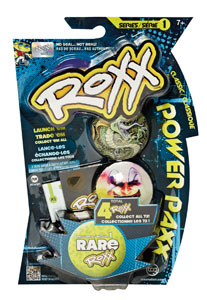 TCG (formerly The Canadian Group) has appointed JLK Brand Licensing Group as its licensing and merchandising agent for the Roxx brand in the U.S. Roxx is the newest collectible, playable, game of skill for tween boys.
"JLK Brand Licensing has had tremendous success in developing licensing programs for numerous high-profile brands. It's a terrific opportunity for TCG to have them on board as our partner for the U.S.," said Michael Albert, partner of TCG, in a statement.
Under terms of the deal, JLK Brand Licensing Group will represent Roxx for all licensing and merchandising efforts across the United States. Roxx will roll from collectibles into apparel, hats, back-to-school products, footwear, stationery, and sporting goods. In addition, JLK Brand Licensing will implement Roxx promotions in packaged goods and at fast food chains.
"Roxx is a hip and innovative collectible that lends itself to many merchandising categories beyond the toy aisle," said Joshua Kislevitz, president of JLK Brand Licensing, in a statement.
Roxx has been making regular licensing announcements over the past few months. Katalyst Licensing & Promotions, Inc., was named as the licensing and merchandising agent for the Roxx brand in Canada. Lisle International Licensing was named as its licensing and merchandising agent for Europe (including UK), Australia, New Zealand, and emerging markets including Russia and the Middle East. TCG partnered with Prima Toys to launch Roxx in South Africa.
Wish Factory in Deal with 1D
The Wish Factory, Inc., has been named a licensee for boy band 1D, through a licensing agreement with Global Merchandising Services. The Wish Factory will manufacture a broad offering of 1D-licensed novelties and accessories with initial rollout in September, all within a price range of $5–$15. The licensing deal includes fashionable wristbands, 3-D clip-ons, key chains, dog tags, dioramas, and more. The Wish Factory will also be producing a collection of 1D-licensed product for the company's Pop Grrl brand.
1D rose to fame after competing on Britain's The X Factor.
Additional Licensing for Pac-Man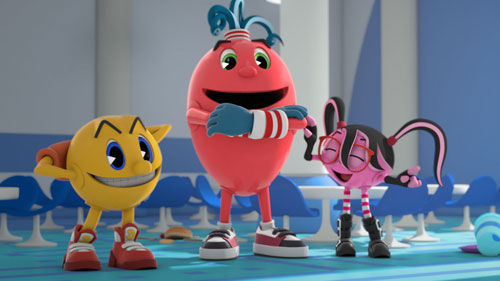 41 Entertainment (41e) announced that it has appointed new licensing and merchandising agents in all key Latin markets including Spain and Portugal, Mexico, Brazil, and Latin and Central America for the Pac-Man and the Ghostly Adventures TV series slated to begin broadcast in fall 2013 and spring 2014.
BRB Internacional will handle all licensing and merchandising activity in Spain and Portugal; Tycoon Enterprises is charged with Mexico; Redibra Licensing will manage the same in Brazil; and Televix will oversee all licensing and merchandising activities in Costa Rica, El Salvador, Honduras, Nicaragua, Panama, Columbia, Dominican Republic, Venezuela, Peru, Chile, Uruguay, Paraguay, Argentina, and Bolivia.
French Toast, Planet Sox in Deal
As the new legwear licensee for French Toast, Planet Sox is offering a collection of both basic and fashion uniform socks and legwear.
"Today, more and more schools are opting for school uniforms, as it allows both parents and students to keep the focus on education, not wardrobes," said Elie Levy, president and CEO of Planet Sox, in a statement. "Our new French Toast Official School Wear collection will make stocking up on essentials as easy as can be."
Planet Sox will also expand the fashion line for French Toast. The new French Toast Fashion legwear by Planet Sox will debut in September Market for spring 2013 and the school line will be available to review and buy in October Market for back-to-school 2013.
505 Games Signs on for Puppy in My Pocket
Global video game publisher 505 Games and toymakers M.E.G. and Giochi Preziosi announced a new deal for multi-platform videogames featuring Puppy In My Pocket. The Italian and U.S. toy companies are producers, along with Mondo TV S.p.A., of the new animated television series Puppy In My Pocket: Adventures in Pocketville, which airs worldwide on Cartoon Network. The kids' show will provide inspiration for a world of exciting adventures and content for handheld platforms as well as mobile games for iOS and Android.
"505 Games joins Jakks Pacific, our North American toy distribution partner and franchise licensees like Scholastic Publishing to provide lots of entertaining options for Puppy In My Pocket fans," said Joe Morrison, CEO of M.E.G., in a statement.
Licensing Works! brokered the deal on behalf of M.E.G. and Giochi Preziosi, while Creative Minx Marketing, Inc., licensing agent for 505 Games, managed negotiations on behalf of their client.