Interview with Travel Channel's Toy Hunter
The Travel Channel launched the TV series Toy Hunter last night. Earlier this week, Toy Hunter Jordan Hembrough stopped by the offices of aNb Media for a one-on-one interview with Chris Byrne, The Toy Guy. Watch the interview here.
Watch the new series, Toy Hunter on Travel Channel every Wednesday. For more information on the series click here.
TRU Expands in China
Toys "R" Us, Inc., announced its continued expansion across China with the opening of its first stores in Beijing scheduled for this weekend. The company will make its debut in Northern China with two new stores on the eastern side of the capital city. Two additional locations are slated to open in September in Tianjing Galaxy Mall in Northern China and Nanning Mixc in Southern China. These four new locations add to the company's presence in the country, including stores in Guangzhou, Shanghai, and Shenzhen. By the end of September, Toys "R" Us will operate 30 stores across 21 cities throughout China.
On Saturday, August 18, the company will celebrate the official grand opening of its second Toys "R" Us/Babies "R" Us side-by-side store in China, which combines both brands under one roof to create a one-stop shopping destination. The 19,000-square-foot store is located at CapitaMall Taiyanggong in Beijing.
Grand opening simultaneously is a 14,000-square-foot Toys "R" Us location in Chaoyang Joy City. Two stand-alone Toys "R" Us locations in Tianjing Galaxy Mall and Nanning Mixc will follow in September.
Last October, Toys "R" Us, Inc. acquired the majority stake in its business in Greater China and Southeast Asia from Li & Fung Retailing. With this agreement, the existing licensed operations in this region became 70 percent majority owned and controlled by Toys "R" Us and 30 percent owned by Li & Fung Retailing.
Since then, the company has continued to expand across the region, opening 10 new stores across Brunei, China, Hong Kong, Malaysia, Singapore, Taiwan, and Thailand. It now operates more than 100 locations in Southeast Asia and Greater China. In addition, 14 stores in the Philippines and Macau continue to be operated under a license agreement.
WWE Joins Vortexx
WWE and Saban Brands announced a new, weekly half-hour show, WWE Saturday Morning Slam, that will debut on Saturday, August 25 at 10 a.m. WWE Saturday Morning Slam will be part of the television premiere of Vortexx on The CW, a Saturday morning kids' television block, reaching 114 million U.S. television households. This marks the first time, since 2001, WWE will have a program in a kids' time slot.
"WWE has a long history on Saturday mornings, and we're thrilled to make our action-packed return on Vortexx with WWE Saturday Morning Slam," said Vince McMahon, WWE Chairman and CEO, in a statement. "The new program enables us to further engage kids and families, a vital component of WWE's passionate and multi-generational fan base."
Additional shows in the Saturday morning lineup include Cubix, Rescue Heroes, Power Rangers: Lost Galaxy, Yu-Gi-Oh! Zexal, Iron Man: Armored Adventures, Justice League Unlimited, Dragonball Z Kai, and Yu-Gi-Oh! Classic.
PlaSmart Named North American Distributor for DoodleArt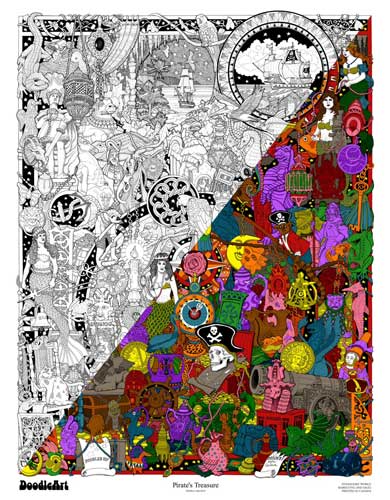 PlaSmart, Inc., has been signed as the North American distributor for mass and specialty retailers for the color-it-yourself poster kit brand The Original DoodleArt, which was popular in the 1970s and 1980s.
DoodleArt posters will be rebranded in new plastic tubes with large label inserts. Each poster kit comes with 12 felt pens each with a calligraphy tip on one end and a fine tip on the other end and are filled with environmentally friendly vegetable-dye inks. Twenty of the original DoodleArt posters have been digitally recreated with 10 currently in print including Flowers, Jangle, Butterflies, Fairy Tales, and Prehistoric designs.
Playmobil Gets an App
Gameloft, a global publisher of digital and social games, and Playmobil have announced a worldwide exclusive partnership for the development of the Playmobil Pirates game for smartphones and tablets. Gameloft is the first publisher to develop a game based on the Playmobil brand on mobile devices.
Immersing in the original world of Playmobil Pirates, players can meet up with the most iconic toys from the pirates range, from the classic figurines to the newest additions. Users must build their own pirate camp and recruit crew members while completing quests and mini-games. The modeling will remain faithful to the Playmobil characters, and the pirate universe will delight fans of the franchise and a wide audience of gamers alike.
Playmobil Pirates will be available for free on iOS and Android smartphones/tablets by the end of 2012.