Jane Packer, Marriott Partner on Style Guide
Jane Packer Ltd. and JW Marriott Hotels & Resorts have partnered to develop a JW Marriott Botanical Guide as part of the hotel brand's experiential program. Together, Jane Packer and JW Marriott will redefine the concept of memorable guest experiences. The new JW Marriott Botanical Style Guide will serve as the inspirational floriculture standard for JW Marriott hotels worldwide and as a reference for their local partner florists.
The Licensing Company represents Jane Packer for brand licensing.
Artist Jane Wooster Scott Available for Licensing
Artist Jane Wooster Scott has joined Porterfield's for exclusive international licensing representation. Over the past 30 years the artist has created an extensive portfolio of Americana landscapes.
Now Jane Wooster Scott's extensive portfolio is available for all categories of licensed products, including quilting and bolt fabrics, apparel, wall décor of all types, home décor and accessories, kitchen and bath, tabletop and giftware, stationery, and related paper products.
HBA's UEC Signs Building Q to Developing Licensing Program
UEC, a company in the private label health and beauty aids (HBA) category, has retained Building Q to develop its initial licensed brand acquisition and additional opportunities. Building Q will help guide the HBA supplier as it seeks to expand its product line using licensing.
"We have been seeking to grow our program through licensing for quite some time and Building Q understands our approach as we begin this endeavor. Based on the reactions from licensors, there are a number of opportunities on the table," said Eugene Choi, president, UEC, in a statement.
UEC, based in Los Cerritos, Calif., currently produces a complete line of HBA products, including pain care, oral care, beauty and hair care products, household items, personal and baby wipes, and pet products. It has extensive distribution to more than 30,000 retail locations across the United States.
Deals for Planeta Junior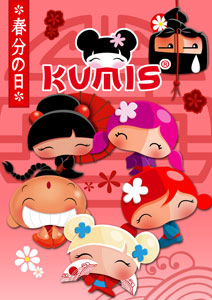 Sesame Workshop has named Planeta Junior as its licensing representative for Italy.
"We are looking forward to working with Planeta Junior Italy on developing a full-scale licensing program featuring a wide range of preschool products and retail promotions," said Marie-Cecile Girard-Jones, Sesame Workshop's assistant vice-president, international licensing.
Separately, Spain's Imira Entertainment has appointed Planeta Junior as licensing and merchandising agent in France and French-speaking Europe for Kumis, a Japanese-inspired property created by Spain's La Habitacion de Nekane.
Launched in Spain in 2000, Planeta Junior, owned 100 percent by Planeta and De Agostini Groups, is the leading distributor in Southern Europe in entertainment content for kids.
Global Toy Deal for The Jungle Book
DQ Entertainment International (DQE) has appointed The Sun-Mate Corporation as the master global toy partner for the 3-D, CGI TV series The Jungle Book. Sun-Mate will design and manufacture a large variety of toys for The Jungle Book such as playsets, figurines, plush, electronic toys, walkie-talkies, roleplay, and outdoor adventure sets. Sun-mate will preview the new toy line at the 2013 Hong Kong Toy Fair, New York Toy Fair, Nuremberg Toy Fair, and Australian Toy Fair. The company is also expected to announce appointments for regional distributors shortly.
This newest deal follows Sun-Mate's appointment, earlier this fall, by SMC Entertainment Group, Inc., (SMC) to be the North American master toy licensee for the brand. SMC holds the North American rights for home entertainment, licensing, merchandising, and promotional rights for The Jungle Book. SMC also secured the master toy rights for The Jungle Book for Australia and New Zealand and all licensing and merchandising for South Africa. DQ Entertainment (DQE) is the producer and global rights owner of The Jungle Book animated TV series. It is airing in 165 countries and currently has more than 100 licensees worldwide.