New Deals for Downton Abbey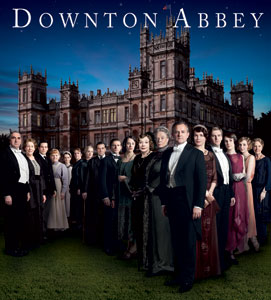 Knockout Licensing (the joint venture between Carole Postal and Tamra Knepfer) announced that it has added Cryptozoic Entertainment to the Downton Abbey licensing program in North America. Cryptozoic Entertainment will produce and distribute a line of Downton Abbey collectible trading cards and trading card binders.
In extended deals, Workman Publishing has been granted rights to offer 2014 engagement diaries and 2014 page-a-day calendars. Rizzoli has signed an extension for 2014 wall calendars.
BabyFirst, Premier Digital in eBook Deal
BabyFirst, a network for toddlers and moms and digital publisher Premier Digital Publishing, Inc., have joined to launch a series of eBooks under the BabyFirst imprint featuring the network's child development entertainment brands including Harry the Bunny, Peekaboo, Shushybye, and VocabuLARRY. The BabyFirst eBooks are available through Amazon Kindle and Barnes & Noble Nook.
Premier Digital Publishing produces multi-feature eBooks optimized for iBooks, Kindle Fire, Nook Kids, and more. The BabyFirst eBook line will initially feature six individual titles, with two separate stories contained within each title, at a suggested retail price of $3.99.
BabyFirst reaches 80 million homes in 35 countries around the world, and offers four-screen integration on television, web, mobile apps, and film.
Qualcomm, Sesame Workshop in App Deal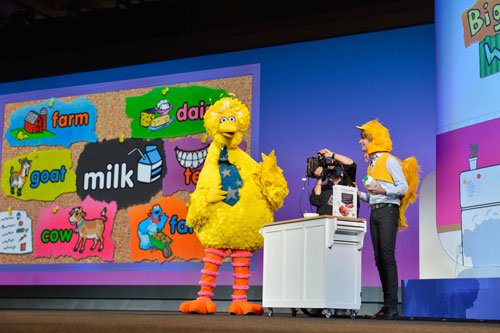 Qualcomm and Sesame Workshop announced that they are collaborating on innovative mobile learning applications. As part of the agreement, Qualcomm will perform research and development activities with Sesame Workshop to create and deliver new innovations in mobile educational content.
An app called Big Bird's Words will feature the first-ever use of Qualcomm Vuforia augmented reality (AR) platform's text recognition capability. Within the app, children are guided, via the use of a virtual 'wordoscope,' to search for and find new words in their environment.
Abby's Fairy Rock (a working title) introduces preschoolers to the building blocks of music by allowing children to turn a tablet into a guitar and learn about musical concepts.
In addition, Qualcomm and Sesame Workshop are continuing their collaboration in China and India through Qualcomm's Wireless Reach initiative to bring educational information to underserved children. In India, Sesame Workshop's Galli Galli Sim Sim, the Indian version of Sesame Street, is using 3G mobile technology to distribute radio content, videos, and fun lessons about healthy living and good hygiene habits, as well as literacy and math, to migrant children ages 5–8. In China, a project launching later this year, will provide tips, activities, and other tools to help families with young children prepare for emergencies.
Jazwares to Create So So Happy Toy Line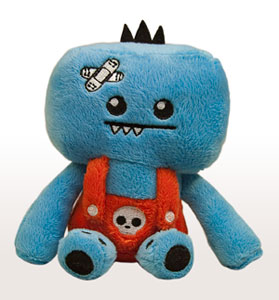 Jazwares announced a licensing partnership with Art Impressions (AI) to create So So Happy figures, plush, and accessories. The line, which will be available in the United States, Canada, the UK, Latin America, and EMEA this spring, will feature the property's offbeat characters including Lucky, Ozzie, Taco, Mad Dog, and Tribe.
The line will include five-inch bean bag plush, 12-inch plush, plush character backpacks, and figures.
New Deals for Muhammad Ali
Muhammad Ali Enterprises, LLC recently granted the following licenses for a variety of product categories. The following products will be available in the U.S. and Canada: Deckdaq is creating a virtual goods platform on Facebook; Global Edge Brands for producing headwear, accessories, and porcelain giftware; Mosley Road for an illustrated book about Ali's life and career; X-treme Worldwide for shirts; Sunset/Bioworld for apparel, accessories, gift, and novelty; Iconicfuture as master licensee for virtual goods in social games, virtual worlds, and mobile applications.