Cartoon Network's New Licensees for Adventure Time, Regular Show
Cartoon Network Enterprises (CNE) has signed additional licensees for Adventure Time in the softlines category. Fruit of the Loom has signed on to create and market a line of packaged underwear separates and sets for kids, which is scheduled to be available in spring 2014. Bentex/Dreamwave, which recently launched swimwear and board shorts for adults featuring some of the series' most popular characters will introduce products for kids slated for release in spring 2014. Pan Oceanic will launch new eyewear (sunglasses) this spring. Xtreme Time introduced a line of watches for adults and kids, which is now available.
Renewing licensees are: Bioworld (T-shirts and fashion tops for boys and girls, bags, headwear, and accessories for adults and kids); Buckle Down (seatbelt-fashioned belts, keychains and suspenders); Changes (young men's T-shirts and tops and accessories); High IntenCity (jewelry, hair, and novelty items); Hot Properties (magnets and key chains); Mighty Fine (T-shirts, knit tops, and fleece for junior and tweens); PS Brands/Planet Sox (hosiery for both kids and adults); and Underboss-Undergirl (juniors and young men's underwear, sleepwear, and robes). Existing partners Li & Fung and Mad Dog round out the Adventure Time softlines program with sleepwear and underwear for adults (Li & Fung) and kids sleepwear (Mad Dog).
In a separate announcement, CNE has signed three new apparel and accessories licensees for Regular Show.
Accessory Innovations will debut a line of kids' backpacks, bags, luggage, small leather goods, and cold weather headwear this fall. Underboss-Undergirl launches junior's underwear and sleepwear later this year. Additionally, High IntenCity will release a line of jewelry and hair accessories.
Each of these new partners add to the existing line of products such as Bioworld (adult bags, small leather goods and accessories, headwear, cold weather, and men's sleepwear); Buckle Down (seatbelt-fashioned belts and key chains); Fifth Sun (apparel for all ages with new designs being introduced regularly); Hot Properties (accessories); Hyp (hosiery for both kids and adults); Mad Dog (kids' sleepwear); Mighty Fine (licensed T-shirts and tops for its welovefine.com retail channel); and Whatever Company (buttons, stickers, wristbands, patches, and stationery).
SO SO Happy Signs Colorbok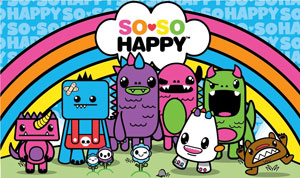 The SO SO Happy lifestyle brand from Art Impressions is expanding into crafts and activities through a new partnership with Colorbok. The SO SO Happy collection will be centered around activities such as sewing, painting, iron-ons, jewelry-making, and plaster/clay crafts. The collection is expected to launch in the fall and will be available to retailers in the U.S., UK, and Scandinavian countries.
The brand's message of positivity revolves around core values: embracing your individuality, being kind, spreading love, and believing in yourself no matter what is standing in your way.
G&W Signed for Eric Carle Apparel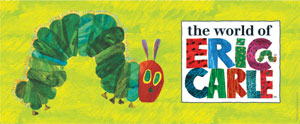 The Joester Loria Group announced that it has brokered an apparel deal for The World of Eric Carle with the signing of G&W Industries. The company will create a line for newborn to 4T, which includes layettes, playwear, active wear, swimwear, and more.
Newborn and infant apparel and accessories consisting of knits, plush, fleece, and velour will launch this fall. Toddler apparel will be added to the collection in 2014.
The Hobbit Stratego
Spin Master Games and Warner Bros. Consumer Products have teamed up to create Stratego The Hobbit: The Desolation of Smaug Game based on The Hobbit Trilogy, including The Hobbit: An Unexpected Journey, as well as the second and third films, The Hobbit: The Desolation of Smaug and The Hobbit: There and Back Again, which are productions of New Line Cinema and MGM.
Despicable Me 2 for iOs, Android
Gameloft and Universal Partnerships & Licensing (UP&L) announced a partnership to exclusively develop and publish a Despicable Me game for iOS and Android for smartphones and tablets. Despicable Me 2 is expected in theaters on July 3, 2013.
CAA Signs Miss O & Friends
Creative Artists Agency (CAA) has signed young girls socialization brand Miss O & Friends and Juliette Brindak, co-founder of Miss O & Friends. CAA will manage and develop a range of Miss O & Friends licensed consumer products across various categories and create opportunities for the brand and Brindak in television, motion pictures, video games, publishing, and speaking, among others.
Miss O & Friends is a lifestyle and socialization brand. Ranked as one of the world's top, "Girls Only" websites, with a comScore ranking in the top 200, Miss O & Friends is managed by girls for girls, ages 8–17+, reflecting what girls want and helping girls realize their dreams, while building self-esteem. The company's largest investor is the Procter & Gamble Company's PGP unit.
WonderForge Signs with Nick, Disney
WonderForge has signed a multi-year licensing agreement to develop games based on Nickelodeon's Teenage Mutant Ninja Turtles series. The new line of Wonder Forge games will be available at retail beginning spring of 2013.
In a separate announcement, WonderForge announced it has signed a deal with Disney for preschool games featuring Mickey Mouse, Doc McStuffins, Sofia the First, and others.
Jakks in Deal with Nintendo for Toys and Costumes
Jakks Pacific, Inc., announced that it has been granted rights in major toy categories by Nintendo of America, Inc., to manufacture, market, and distribute a line of toys and related consumer products based on the library of Nintendo characters.
In addition, Jakks' Halloween costume division, Disguise, Inc., has been given rights to offer Halloween costumes and accessories based on Nintendo properties. Some of the characters expected to be featured are Mario and Luigi, Donkey Kong, Princess Peach, and Zelda.
The licensing agreement allows Jakks Pacific to manufacture, distribute, and market toys, games, playthings, novelties, plush, key chains, and costumes worldwide (excluding Japan and Korea). Jakks is expected to launch the line at retailers nationwide in spring 2014. Disguise plans to launch Halloween costumes and accessories for the 2013 Halloween season.
Jakks Adds to Monsuno Toy Line
Pacific Animation Partners announced the launch of a full range of new Monsuno toys in the U.S. and internationally in 2013 that reflects season two of the animated action-adventures series, Monsuno Combat Chaos. The animated series will debut in the U.S. later this year on Nicktoons and internationally on Nickelodeon international channels and free-to-air networks in 140 markets.
The new Monsuno Combat Chaos toys will include new larger transforming action figures, cores, accessories, and battle sets that complement the existing Monsuno products. Jakks says that this Combat Chaos battle game is easy to learn with immediate payoff for faster and more fun play, with the ability to expand by adding more figures, players, or both.
The Monsuno series is co-produced by Pacific Animation Partners LLC, a joint venture between Jakks Pacific, Inc., and Dentsu Entertainment USA, Inc., with FremantleMedia Kids & Family Entertainment and The Topps Company, Inc. Jakks Pacific is the creator of the underlying Monsuno property and master toymaker for the Monsuno toy line. The Topps Company produces Monsuno trading card games, confectioneries, and related products.