HGTV Home Teams with Jo-Anne Fabrics for New Collection
Jo-Ann Fabric and Craft Stores is partnering with HGTV Home for an exclusive line of contemporary, trend-forward home décor fabrics and trims. The HGTV Home line of fabrics will be available in stores and at Joann.com. The line will feature an assortment of 30 fresh, colorful prints and patterns in stores with an expanded assortment of 74 exclusive designs available at Joann.com. The entire assortment of home décor fabrics is now available, and outdoor fabrics and trims will be added by April 13. The deal was brokered by Beanstalk, HGTV's exclusive licensing agent.
Daily News Signs Mobile App Partnership with MyCityWay
The Daily News has partnered with mobile information and technology company MyCityWay to launch the Daily News mobile app. The app features Daily News editorial content plus MyCityWay's comprehensive signature city guide information, providing readers with a personalized, real-time, interactive experience for local information. A QR code reader built into the app encourages users to interact with advertisers as well as with editorial content, video, and photo galleries directly from the newspaper's print edition. Advertisers will also be able to geo-target their advertising on the app.
This is the first time MyCityWay's local platform, which has been incorporated in BMW DriveNow vehicles and at large scale events such as the Macy's Thanksgiving Day Parade, will be integrated into a U.S. media property. It is also the first time that a U.S. newspaper has partnered with a mobile tech company to offer a comprehensive local experience on mobile. The free app can be downloaded at nydailynews.com and is available for iOS and Android.
Sportiqe to Launch Grateful Dead, NBA Collection
Rhino Entertainment, a division of Warner Music Group, has entered a deal with apparel brand Sportiqe to launch the first Grateful Dead by Sportiqe collection, featuring vintage-inspired designs with Grateful Dead-inspired artwork. Another component of the partnership will include the release of a capsule collection with the National Basketball Association (NBA). The line will merge Grateful Dead imagery with NBA team logos. For its retail debut, Sportiqe will offer the Grateful Dead by Sportiqe collection with the following teams represented: Los Angeles, New York, Brooklyn, Boston, Chicago, Miami, and Golden State.
Marvel Super-Heroes Land on Funky Monkey Snacks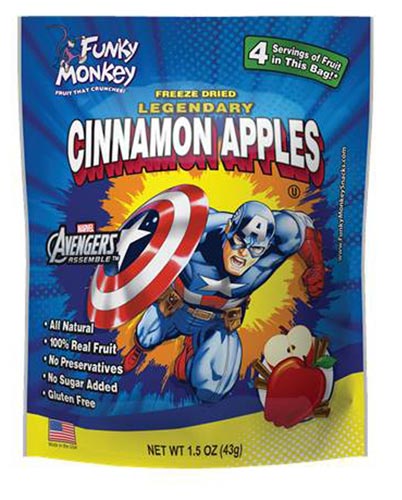 Funky Monkey Snacks has joined forces with Marvel for a new line of kid-friendly freeze-dried fruit snacks. The lineup, available April 1, features five mainstream fruit varieties packaged in larger, resealable bags. Themed after some of Marvel's most popular and renowned superhero franchises, products include Ultimate Strawberries featuring Spider-Man, Incredible Pineapples featuring the Hulk, Mighty Bananas featuring Thor, Legendary Cinnamon Apples featuring Captain America, and Invincible Strawberry Bananas featuring Iron Man.
All Funky Monkey Snacks in the Marvel line are made of 100 percent real fruit. Each is 100 percent all natural, fat free, and gluten free, with no additives. The products are vegan, kosher, made in peanut-free facilities, and packed exclusively in the U.S.
NECA, WizKids Signed for Yu-Gi-Oh
4K Media, Inc., the newly formed, wholly owned subsidiary of Konami Digital Entertainment, Inc., announced that it has signed NECA and its WizKids division for its Yu-Gi-Oh! property.
Under the agreement, NECA will produce action figures, headknockers, collectible replicas, puzzles, jewelry, posters, calendars, and accessories utilizing artwork from the Yu-Gi-Oh! trading card game.
The product is expected to launch in time for Comic-Con International: San Diego in July and will continue to roll out through the end of the year at specialty, hobby, and comic book stores worldwide excluding Asia.
In addition, the WizKids HeroClix and Dice Building Game platform, Quarriors has been signed to feature the Yu-Gi-Oh! classic animated library. Under the agreement, WizKids will produce a line of games based on the animated series that first aired 11 years ago. The product is expected to hit the market later this year with additional sets being released throughout 2014. Yu-Gi-Oh! HeroClix and Dice Building Games will be available at specialty, hobby, and comic book stores worldwide excluding Asia.
Fifty Shades of Grey Official Pleasure Collection Launches in the U.S.
The Fifty Shades of Grey Official Pleasure Collection will be available in the U.S starting April 8 from the UK's Lovehoney. It is the only official licensed line of Fifty Shades of Grey sex toys and bondage items. The line was developed by adult retailer and manufacturer Lovehoney in the UK, in association with the trilogy's author E. L. James. The line is already for sale in Lovehoney in the UK. The initial range of 20 products is expected to have an MSRP of $12.99–$69.99. U.S. retailers that will carry the line are expected to be announced shortly.
Caroline Mickler Ltd. is the master licensing agent for the Fifty Shades of Grey trilogy and CopCorp Licensing is the North American agent for the property.