WWE, Kmart in Apparel Deal
WWE and Kmart announced their first-ever exclusive children's apparel line called Never Give Up by John Cena, which will debut this fall in Kmart stores nationwide as well as on Kmart.com and ShopYourWay.com. Customers can purchase merchandise, including shirts, hoodies, pants, shorts, outerwear, headwear, and accessories all inspired by WWE Superstar and current WWE Champion John Cena.
Maxim, Hasbro in Toy Deal
Maxim Enterprise, Inc., announced that it has entered into an agreement with Hasbro to manufacture a new range of products under the Playskool, Mr. Potato Head, and Tonka brands. The product offering will span from basic preschool items, room décor, storage, collectible toy replicas, to developmental activities, vehicles, and furniture items across the three brands. The first round of product will be available at retail this summer.
Rubie's Signs Man of Steel
Rubie's Costume Company announced its partnership with Warner Bros. Consumer Products, on behalf of DC Entertainment, to produce officially licensed costumes and accessories inspired by the film Man of Steel, from Warner Bros. Pictures and Legendary Pictures.
Available in infant, children, tween, and adult sizes, the Man of Steel Costume Collection includes: Superman; his Kryptonian father, Jor-el; the villainous General Zod; and his second in command, Faora.
Man of Steel stars Henry Cavill in the role of Clark Kent/Superman, which opens on June 14.
Licensees Named for Legends of Oz: Dorothy's Return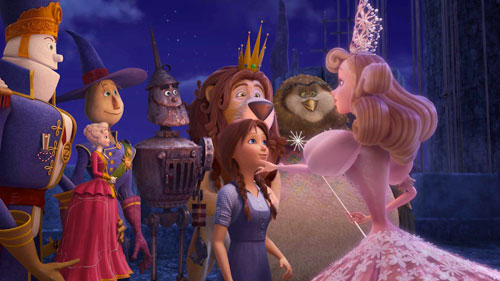 Evolution unveils its new licensing program for Summertime Entertainment's upcoming theatrical, animated 3-D musical feature Legends of Oz: Dorothy's Return.
Based on the original book series written by Roger Stanton Baum (the great grandson of Oz franchise creator L. Frank Baum) the Legends of Oz: Dorothy's Return CGI-animated family film features a celebrity cast, including Lea Michele as Dorothy and Kelsey Grammer, Martin Short, Jim Belushi, Dan Aykroyd, Megan Hilty, Patrick Stewart, Hugh Dancy, Oliver Platt, and Bernadette Peters, with all new original music by Bryan Adams.
Slated for a theatrical release in May 2014 in the U.S. and Canada, it will be accompanied by the release of the movie's soundtrack by Sony Music and a DVD/Blu-Ray release will follow from 20th Century Fox Home Entertainment in fall 2014.
The CDM Company has been hired to represent Summertime Entertainment for promotional and partnership campaigns. Key categories include QSR/family dining, CPG, pet retail and pet care, insurance, hospitality, and cause related tie-ins.
The roster of U.S. licensees currently onboard include master toy licensee Bandai America, Added Extras (cosmetics/beauty), Attraction Media & Entertainment (3D/4D film attractions), Culturenik (novelty), DecoPac (cake decorating), Housewares International (housewares), Hybrid/JEM (apparel), Hypnotic (hosiery/socks), KidDesign/SDI (music/electronics), Loungefly (accessories), Madame Alexander Doll Company (collectible dolls), Netovative LLC (jewelry), Rubies (costumes), and S. Goldberg (footwear and sleepwear).