Former Disney Execs Launch Cartwheel Kids
Toy and consumer products industry veterans Vince Klaseus, Len Mazzocco, and Daniel Setton have launched Cartwheel Kids, which is part of an expansion to Xcessory International.
Cartwheel will design and manufacture an array of toy products including boys' and girls' roleplay, preschool toys, figures, playsets, plush, seasonal, novelty items, and more, that are expected to debut in 2014. The company will be announcing key partnerships in the coming months.
Daniel Setton, founder and CEO of Xcessory International, serves as CEO. Vince Klaseus, former chief executive of Disney Consumer Products' Global Toys division, is leading the team as president, and Len Mazzocco, former senior vice-president of creative at Disney Consumer Products, is CCO.
Moose Australia Opens U.S. Office
Moose Toys, the Australian toy and collectibles company, announced the opening of its U.S. head office in El Segundo, Calif. Moose's domestic marketing and sales teams will operate from the flagship U.S. office, which has been established so that the company can continue to successfully grow in the U.S. market.
"It's an exciting time for us as we've seen enormous growth in the United States over the past few years," said Paul Solomon, Co-CEO of Moose Toys. "We look forward to establishing a corporate presence in California and spending more time in the States as we expand and introduce new brands. Being here will allow us to continue to build relationships with retailers, meet growing consumer demands, and secure additional licensee relationships."
Moose entered the U.S. market with the Trash Pack brand in 2011. Since then it has added several additional brands including Micro Chargers and Blingles. Moose Toys has been in the toy industry for more than 20 years and is best known for its Mighty Beanz and Aqua Sand.
The new office will be located at 400 Continental Blvd, Suite 118, 6th floor, in El Segundo, California 90245.
Peeps Store Launches in TRU, FAO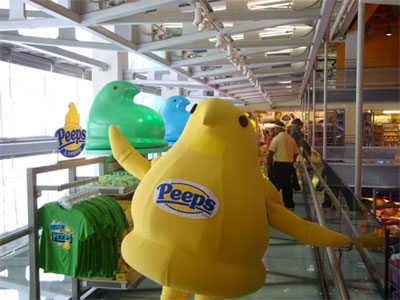 Peeps & Company, the retail division of The Just Born Candy Co. maker of Peeps, launched store-in-store venues inside Toys "R" Us Times Square and FAO Schwarz Fifth Avenue yesterday.
The shop is located inside Toys "R" Us Times Square's Candyland area and is inside FAO Schweetz in the FAO location. The shops are managed by It's Sugar and feature candy along with a variety of licensed goods.