Jay Franco Signed for Marvel's Guardians of the Galaxy
Marvel Entertainment announced that it has signed Jay Franco for home décor for Marvel's Guardians of the Galaxy.
Jay Franco will develop an extensive line of bedding, pillows, bath accessories, and beach products inspired by Marvel's latest film, which is expected in theaters August 1, 2014. The line is expected to launch at retail summer 2014.
Jay Franco joins a list of previously announced licensees Hasbro, Disguise, C-Life, Mad Engine, and Sideshow Collectibles.
Deals for Domo

Big Tent Entertainment announces two new deals for Domo for costumes, accessories, and more. The new agreements with Leg Avenue and Buckle-Down will introduce a range of Domo products throughout the U.S. and Canada.
Leg Avenue will introduce a line of Domo costumes for adults, young adults, and kids, as well as leggings, arm warmers, and costumed hoods. Buckle-Down is extending its partnership with Big Tent Entertainment to develop a line of high-quality belts and accessories.
New Licensees for Tickety Toc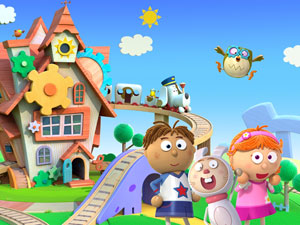 Zodiak Kids' Tickety Toc has signed additional licensees including BirthdayExpress.com for party goods, Bakery Crafts for cake decorations, and InCharacter Costumes for Halloween costumes.
The BirthdayExpress.com range will include personalized and non-personalized party goods and decorations including plates, napkins, cups, invitations, thank you notes, table covers, placemats, centerpieces, mylar balloons, banners, giant wall decals, sticker sheets, and more. Products will launch online at BirthdayExpress.com in spring 2014.
The party goods range will be complimented by a collection of cake & cupcake decorations by Bakery Crafts. The product will include cupcake rings and picks, edible images for cakes/cupcakes/cookies, candles, and candle holders. Products are expected to launch Q1 2014 at mass, specialty, grocery, and online.
InCharacter Costumes will create Halloween costumes for toddlers and preschoolers. Products will launch fall 2014 across all channels of distribution.
The deals were brokered by Established Brands on behalf of Zodiak Kids.
Downton Abbey Roses
Knockout Licensing announced that Weeks Roses has been granted the right to breed new hybrid rose varieties inspired by the Downton Abbey TV series and to then sell its Downton Abbey roses to nurseries, garden centers, and wholesale traders who cater to independent retailers around the world.
Metrostar Signed for Suzy's Zoo
Lawless Entertainment and Suzy's Zoo announce the appointment of Metrostar to represent Suzy's Zoo throughout the UK and Eire. Metrostar will represent Suzy's Zoo for publishing, licensing and merchandising in the UK. They will be targeting retailers and licensees of nursery products, apparel, books, toys, toiletries, and gifts.