Marvel, Huffy in Ride-on Deal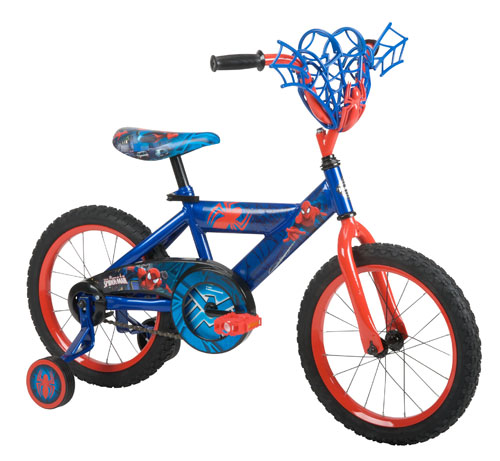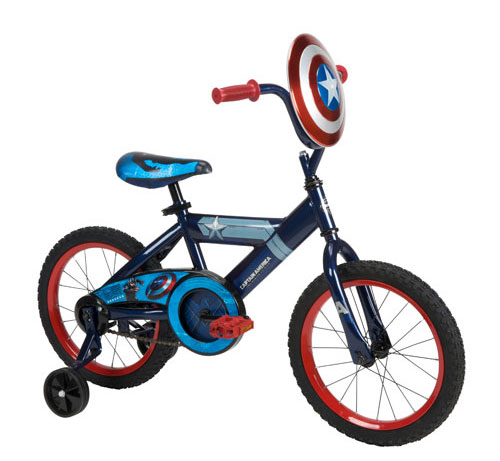 Marvel Entertainment and Huffy announced that they will develop a new line of bicycles, tricycles, scooters, and accessories. The new products will be a major expansion in the bike category for Marvel with innovations in the space that will transform the bike into an essential piece of gear for kids to play out their superhero missions. Focusing on Marvel's main franchises, including new films such as Marvel's Captain America: The Winter Soldier and The Amazing Spider-Man 2, the new line will roll out to stores in the spring and fall 2014. The line will also feature Marvel's Guardians of the Galaxy.
The Huffy line of Marvel products will include multiple designs with toyetic functions at mass retail stores across the U.S., ranging in price from $49.99 to $99.99. The collaboration adds to a program that already includes Spider-Man available in stores now.
Harry Potter Stamps Now Available
The U.S. Postal Service in collaboration with Warner Bros. Consumer Products dedicated 20 new Forever stamps featuring images of Harry Potter. The Wizarding World of Harry Potter at Universal Orlando Resort was the location for the unveiling ceremony.
The folded 20-stamp booklet has five pages.
Inside are five groupings of four stamps, each grouping set on its own page. Each set of four stamps surrounds the red wax seal of Hogwarts School of Witchcraft and Wizardry. The stamps feature scenes of some of the brave heroes, fearsome villains, and extraordinary creatures that inhabit Harry's world in the Warner Bros. films.
Domo in Car Accessories Deal
Big Tent Entertainment announced a partnership with Precious Kids for a new line of car accessories featuring Domo. Launching in spring 2014, Domo will be featured on a wide range of automotive accessories including steering wheel covers, car mats, car seat covers, car chargers, decorative decals, mud guards, key chains, license plate holders, and more. The Precious Kids line will be available at gift, specialty, and department stores in the U.S. and Canada, as well as through direct mail, internet retailers, and the Precious Kids website.
Uglydoll in Galeries Lafayette China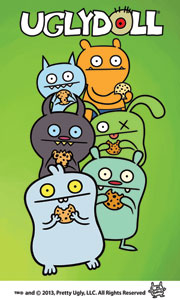 Global Pursuit Co., Ltd., the worldwide consumer products licensing, marketing and brand equity company, has announced a retail agreement with Galeries Lafayette China that will introduce Uglydoll brand apparel, accessories, and other products through its flagship store in Beijing.
In June 2013, Global Pursuit was named to represent the Uglydoll brand by Pretty Ugly, LLC, and is charged with developing and expanding the brand's licensing efforts in Taiwan, Hong Kong, and China. In addition to developing retail programs for the brand, Global Pursuit is also working with its extensive network of licensees and retailers throughout their territories to enhance the Uglydoll brand experience in categories such as apparel, accessories, stationery, publishing, toys, and more.
Wiesner, SG Companies License Marika
Marika, the largest division of Fam Brands has signed a multi-year licensing agreement with Wiesner Products, Inc., for women's hosiery, as well as SG Companies for women's footwear products under the Marika label. The new licensees will add to the brand's portfolio of licensees and complement the existing Marika active apparel. The territory includes the U.S. and Canada with initial deliveries to key retailers for hosiery beginning this holiday season and fall 2014 for footwear products.
The upcoming spring 2014 collection will include training socks, anti-blister socks, every day cotton/poly blend crews, and a studio yoga sock, all of which will be distinguished by distinctive Marika patterns with pops of color complementing the Marika apparel assortment. The retail price points are expected to be $6–$18.
The major focus for the footwear collection is Body Wellness with three major product categories: performance training, fitness studio, and sport-active lifestyle. Key features include aero-tech engineered breathable uppers, light and flexible compression, 3-D molded midsoles, and Marika Dry Wik linings. The retail price points are expected to be $24.99 to $59.99.
Discovery-Branded Pet Waste Product Line
Discovery Communications announced a partnership with Greenberry Eco-Industries for environmentally friendly pet waste products under the Animal Planet brand.
Greenberry Eco-Industries will develop a line of pet waste bags and dispensers, waste scoopers, wipes, training pads, cat litter, litter liner bags, litter mats, and litter boxes, as well as pet stain and odor cleaning products. All products will be sustainable or created from recycled materials and ingredients, and include biodegradable materials wherever possible. The line is set to debut in spring 2014 at a variety of retailers and e-commerce sites.
This deal was brokered on behalf of Animal Planet by its licensing agent, The Joester Loria Group.