New Licensees for Skylanders
Activision Publishing, Inc., a wholly owned subsidiary of Activision Blizzard, Inc., announced new global licensees for its Skylanders franchise. The new licensees include Crayola and General Mills. Activision and Crayola will introduce unique Skylanders-branded color and activity formats. The line will include Crayola's signature formats including Color Wonder, Giant Coloring Pages, and Xtreme Coloring, among other new platforms and will be available this holiday at top retail channels worldwide.
Starting in June, a new promotion with General Mills will release Skylanders-shaped fruit flavored snacks across North America. It will be available in grocery stores, supermarkets, drug stores, and mass market retailers.
Brand Central Signs Rainbow Loom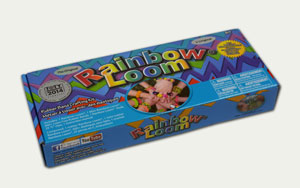 Choon's Design, LLC, the inventor of the Rainbow Loom and original creator of the rubber band weaving craze, has signed with Brand Central to develop a full consumer products licensing program. Brand Central and Rainbow Loom will be licensing the brand into new product categories as well as acquiring new brands for their products.
Brand Central is targeting strategic categories for Choon's partnerships including apparel and accessories, crafts, back-to-school, toys and games, party supplies, home products, digital and media, and more.
World of Eric Carle Apps to Debut
The Joester Loria Group, the exclusive global licensing agent for The World of Eric Carle, has brokered a deal with StoryToys for a three-year partnership to develop and publish a series of global apps based on the characters created by Eric Carle, the author and illustrator of more than 70 children's books, including The Very Hungry Caterpillar. StoryToys will launch the first The Very Hungry Caterpillar & Friends app on March 20th 2014, The Very Hungry Caterpillar Day, as part of the celebration of the 45th anniversary of the classic children's book.
Spin Master Signs DreamWorks, Pokémon for Ionix
Spin Master's Ionix construction system, creator of the line of Tenkai Knights, is expanding its portfolio to include characters from DreamWorks Animation's How to Train Your Dragon 2 and Pokémon. Ionix construction bricks shapeshift into characters and will allow kids to train, evolve, and build their favorite characters from Dragons and Pokémon in a whole new way. Additionally, Ionix bricks are 100 percent compatible with other leading construction systems.
New Licensees for Peppa Pig
Entertainment One Licensing (eOne) announced two new licensing partners. VTech has been signed for a Peppa Pig e-book and software download available for its InnoTab Learning Tablet range. Penwizard has signed to produce personalized books. The line will be available this spring.
Jazwares Signs Gravity Falls and NBA
Jazwares announced its plans to create a new Gravity Falls toy line. The new toy line, based on the Disney TV series, will include figures, plush, roleplay and playsets based on Dipper and Mabel's adventures with Grunkle Stan, his mysterious journal, and The Mystery Shack. Jazwares will release the first wave of Gravity Falls toys in fall 2014 at retailers across the U.S.
In a separate agreement, Jazwares has signed a deal with the National Basketball Association (NBA) to create the first-ever line of NBA Heroes action figures, playsets, and roleplay toys. The line will be available in the U.S. and Canada this fall. The new approach to professional basketball players will feature classic action figure attributes, fused with super-heroic alter egos. NBA Heroes' will start its lineup with some of the NBA's top players including LeBron James, Kobe Bryant, Kevin Durant, Blake Griffin, Derrick Rose, Carmelo Anthony, and Deron Williams with additional players coming soon. Releasing later this year, the fully articulated figures will be done in six-inch scale. The collection will be accompanied by an environmental playset.
Boo—The World's Cutest Dog Goes Global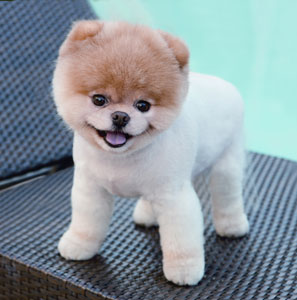 Knockout Licensing announced the appointment of sub-agents in Japan, Italy, Brazil, and Turkey to locally manage licensing programs for Boo—The World's Cutest Dog.
Knockout Licensing announces the recent appointment of the following sub-agents to grow the Boo merchandise program around the globe: Tact Communications, Inc. for Japan, Lucci Brand Extension & Licensing for Italy, Fama Licensing for Brazil, and Istanbul Lisans for Turkey.
These four sub-agents are in addition to three previously appointed international sub-agents including, Caroline Mickler Ltd. for the United Kingdom and Ireland, Grahame Allan Company Pty Ltd. for Australia and New Zealand, and M.J.A. Licensing for France.
Paper Punk, Nickelodeon in Deal
Paper Punk has signed a licensing agreement with Nickelodeon to develop paper-based construction/craft kits inspired by the Teenage Mutant Ninja Turtles and SpongeBob SquarePants. The Paper Punk Teenage Mutant Ninja Turtles kits are available now with SpongeBob SquarePants following mid-year.
Paper Punk Teenage Mutant Ninja Turtles kits will feature all four characters—Leonardo, Raphael, Donatello, and Michelangelo. Each character will have its own all-inclusive kit containing 16 punch-n-fold shapes, more than 30 stickers, and 40 adhesive dots to construct a 9-inch x 3-inch x 5-inch 3-D paper figure.
Paper Punk SpongeBob SquarePants kits will feature SpongeBob and Patrick. Each kit will also be all-inclusive, containing 8-16 punch-n-fold shapes, more than 120 stickers, and 40 adhesive dots to construct paper figures standing 7.5 inches x 7 inches x 3 inches.
Marvel, Feld Entertainment in Live Show Deal
Feld Entertainment, Inc., has partnered with Marvel Entertainment for the first-ever live Marvel tour, which is expected to consist of 85 cities. Marvel Universe Live will offer an original story that brings more than 25 Marvel characters together on one epic quest.
Marvel Universe Live launches new innovations in set design, aerial stunts, pyrotechnics, and state-of-the-art show elements that bring movie-style special effects to the live entertainment arena, said both companies in a statement.
Madballs Fashions
AG Properties (AGP), the intellectual property and outbound licensing division of American Greetings Corporation, announced that it has partnered with fashion designer Jeremy Scott for an apparel collection inspired by the Madballs brand. Madballs bouncing balls were a craze in the 1980s. Jeremy Scott was recently named the creative director for Moschino.
Fisher-Price, Neat-Oh in Deal
Neat‐Oh! International, LLC, and Fisher‐Price, Inc., announced an agreement for Fisher‐Price to develop a Thomas & Friends Wooden Railway storage product utilizing Neat‐Oh!'s patented transforming toybox ZipBin technology. Thomas & Friends ZipBin products by Fisher‐Price are expected to hit shelves in 2015.