SELF magazine Launches Food Line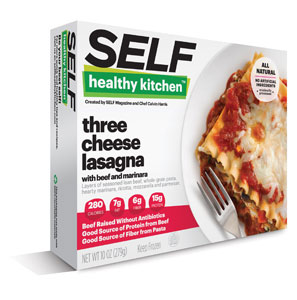 SELF magazine, a Condé Nast brand, introduces SELF Healthy Kitchen, a new line of frozen meals. The line is expected in 2,900 supermarkets across 37 states such as Kroger, Stop & Shop, and select Whole Foods. SELF worked with chef Calvin Harris, CEO of Benevida Foods, to create the new line featuring eight entrées.
SELF Healthy Kitchen marks the first time that SELF and Condé Nast are introducing a line of packaged foods and is a result of a licensing agreement brokered by FremantleMedia.
A full marketing campaign from SELF and Condé Nast will promote the new food line on all platforms, including print, digital, social media, and via targeted database outreach.
New Licensees for Star Trek
CBS Consumer Products is expanding its Star Trek consumer products program into new categories. Star Trek golf accessories, office accessories, and souvenirs are hitting retail this spring and summer.
Soft Stuff Creations leads the new partner list with its take on plush Star Trek golf club covers that will be available in April. Gary Gurmukh Sales will introduce a selection of souvenirs including apparel, headwear, and giftware throughout Canada starting in April 2014. Icon Heroes introduced its line of Star Trek office accessories. A Crowded Coop will introduce a line of bags and accessories, which will be available at retail in July.
Other Star Trek deals globally include 21 Trends Private Limited for T-shirts in India, Mitch Dowd men's outerwear, sleepwear, and underwear for Australia, and Lady Sandra Home Fashions for cuddle wraps and wearable blankets in Canada.
Peavey, MLB in Deal

Peavey Electronics, a musical instrument and professional audio equipment manufacturer, is launching a new line of officially licensed Major League Baseball-themed instruments and accessories. Fans can show their team pride with a range of products including half-size acoustic guitars, ukuleles, as well as leather straps and picks.
DC Comics, Q-Pop Figures
Quantum Mechanix, Inc., announced that it has signed a deal with Warner Bros. Consumer Products, on behalf of DC Entertainment, to bring the DC Comics universe to its roster of Q-Pop figures.
The lighthearted style of Q-Pops will be applied to such DC Comics Super Heroes as Batman, Superman, Green Lantern, Wonder Woman, and other members of the DC Comics universe.
Q-Pops are a line of PVC figures that put a whimsical spin on pop culture's favorite characters. The Q-Pop style is reminiscent of Japanese chibi characters, but injected with a distinctly American flair. Each figure is approximately 3.5-inches tall and will include a themed base and word balloon with a whiteboard surface that will allow collectors to write in quotes or verbalize sound effects with an included dry-erase marker.
Fox Signed iSoftBet
iSoftBet, an online game supplier, has signed a deal with Twentieth Century Fox Consumer Products for an all-new slot machine game based on the TV series 24.
New Deal for HillBilly Brand
HillBilly Brand, Inc., announced the signing of a licensing agreement with Bell/Ranger Outdoor Apparel, granting them the rights to market HillBilly apparel. The line will include apparel including men's and boys' camouflage T-shirts, fleece, and outerwear; women's and girls' sleepwear, swimwear, and lingerie; and infant/toddler and children's dresses, diaper shirts, pajamas, and more.