Jakks, Skechers in Deal

Jakks Pacific, Inc., announced a long-term licensing agreement with Skechers USA, Inc., to manufacture, distribute, and market a line of toys and products inspired by the Skechers lifestyle and entertainment brand, and the Twinkle Toes children's footwear brand. The agreement encompasses multiple product categories including collectibles, dress-up and roleplay, Jakks' miWorld line of miniature play environments, and a line of Skechers Twinkle Toes-themed Cabbage Patch Kids, which will launch in June.
Under the agreement, Jakks will launch a miWorld Skechers playset. The Skechers playset will be compatible with the miWorld Mall DreamPlay app, which utilizes patented iD recognition technology to bring the miWorld playsets to life on smartphone and tablet devices.
Jakks is also producing a line of Twinkle Toes Cabbage Patch Kids featuring miniature replicas of the real life Twinkle Toes footwear, including light up versions. In addition, some Twinkle Toes Cabbage Patch Kids will wear Twinkle Toes apparel and backpacks.
Saban Brands Israel to Represent DreamWorks
Saban Brands Israel (SBI) has been appointed as consumer products licensing agent for DreamWorks Animation in Israel. SBI will represent upcoming DreamWorks Animation feature film and television properties in the areas of merchandise, retail, and publishing. These properties include the theatrical release of How to Train Your Dragon 2 this summer, the ongoing TV series Penguins of Madagascar, Kung Fu Panda: Legends of Awesomeness, and Dragons: Riders of Berk and DreamWorks Animation's franchise properties of Shrek, Kung Fu Panda, Madagascar, How to Train Your Dragon, and Puss in Boots.
Simba Dickie Signed for Masha and the Bear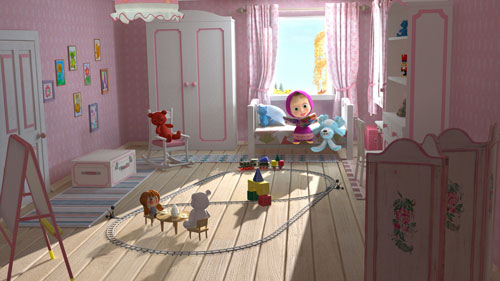 Ink, on behalf of Masha and the Bear, announced that it has signed a Europe-wide master toy licensing agreement with Simba Dickie.
Simba Dickie is set to develop a range that includes plush, construction, wooden toys, summer toys, wheeled toys, and arts and crafts. The new deal covers Eastern Europe, GAS, Iberia, the Nordics, Benelux, France, Italy, and the UK, with product set to launch in Q1 2015.
Masha and the Bear chronicles the adventures of a little girl called Masha and the bear who becomes her reluctant playmate. Having established itself as the biggest brand and one of the most popular shows in Russia, Masha and the Bear is now going global and agreements are in place with major broadcasters across Europe and the rest of the world to screen the cartoon.
The agreement is one of the first steps in the global licensing program for Masha and the Bear. Ink is looking to replicate the success of the brand in the Russian market, where more than 100 partners are in place, generating more than 1,000 individual SKUs across categories including publishing, puzzles, confectionery, home décor, digital, toys, and fashion. Some licensees currently include Kinder, Egmont, Orkla, and Ferrero.