Saban, Spin Master in Popples Deal
Saban Brands announced a new licensing partnership with Spin Master, who will serve as global master toy licensee for Saban's reimagined Popples brand.
Marvel's Avengers: Age of Ultron Announces Licensees
Marvel's Avengers: Age of Ultron, slated for summer 2015 release, has a host of licensees now on board. Marvel announced this week that Hasbro, LEGO, Mattel's Hot Wheels, and Huffy have all been signed. Under Armour will continue as performance wear licensee for the franchise and Mad Engine and C-Life lead the apparel program. American Greetings will introduce a line of party goods with Hallmark providing social expressions. Jay Franco will roll out a line of bedding. More partners to support the program will be announced soon.
Angry Birds Transformers to Debut
Rovio Entertainment and Hasbro, Inc., are teaming up again for Angry Birds Transformers. It will come to life in multiple forms, including a mobile game, consumer licensed goods, and a product line from Hasbro featuring the Telepods platform.
Sony Pictures Consumer Products Signs New Agents
CPLG will represent upcoming Sony Pictures Consumer Products feature film and television properties for merchandise, retail, and publishing in Italy and France. Merchantwise has been signed to oversee Australia and New Zealand.
Among the properties included in the deal are the upcoming films Goosebumps (August 2015) and Hotel Transylvania 2 (October 2015), TV series Breaking Bad, the much-anticipated prequel Better Call Saul, as well as the classic television and film rosters and other upcoming Sony Pictures Television releases.
King Signs Agents for Candy Crush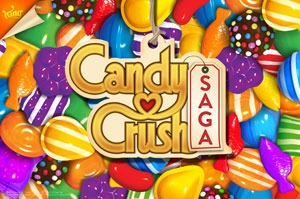 King Digital Entertainment plc, the interactive entertainment company most known for its Candy Crush Saga, announced that it will expand its licensing program internationally and has appointed a global network of licensing agents to represent its game franchises. This licensing effort will be led by Candy Crush Saga, which has been downloaded more than 500,000 million times since launch.
Working closely with the 10 newly appointed agents, King aims to secure licensing partnerships in key territories across multiple categories including apparel, accessories, confectionery, cosmetics, and home décor.
The newly appointed licensing agents include:
• Striker Entertainment—U.S. & Canada
• Tycoon Enterprises—Latin America except Argentina & Brazil
• Tycoon 360—Brazil
• IMC—Argentina
• Mediogen—Israel
• Sinerji—Turkey
• Pacific Licensing Studio—Southeast Asia
• Wild Pumpkin Licensing International Pty Ltd.—Australia & New Zealand
• PPW—Greater China
• Voozclub—Korea
The European licensing business for Candy Crush will be managed by King's in-house licensing team.
WBCP, Mattel Extend Deal
Warner Bros. Consumer Products (WBCP), with DC Entertainment, announced that it has once again extended its relationship with Mattel. The new multi-year agreement grants Mattel rights to continue as master toy licensee for the entire universe of DC Comics characters. Under the terms of the agreement, Mattel is granted access to the complete breadth and scope of the DC Comics vault of characters, which includes more than 1,000 world-famous DC Comics Super Heroes and DC Comics Super Villains, such as Batman, Superman, Wonder Woman, The Flash, and The Joker. The deal continues Mattel's support of the universe of DC Comics characters across its entire portfolio of core brands, including Hot Wheels, Matchbox, Barbie, Mattel Games, and Fisher-Price.
In addition, this deal grants Mattel the rights to produce toys based on future DC Comics films, animation, and television projects that are developed and produced during the term of the agreement. Mattel is set to develop toy lines for two of Warner Bros.' summer 2016 release of Batman v Superman: Dawn of Justice, and the recently announced Justice League film, to follow.
Mattel will also have the opportunity to create product with newly announced DC Comics–based television series Gotham, Constantine, and iZOMBIE, which will all debut during the 2014–15 television season.
Uglydoll Signed for Star Trek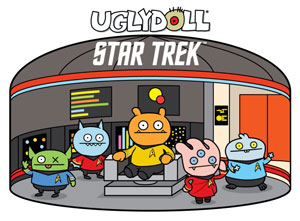 Pretty Ugly, LLC has teamed with CBS Consumer Products for its newest collaboration with the iconic Star Trek characters, set to launch in 2015.
The product line will include Wage as Captain James T. Kirk, Ox as first officer Spock, Ice-Bat as chief engineer Scotty, Babo as Doctor McCoy, and Tray as communications officer Uhura.
Lawless Signs YooHoo & Friends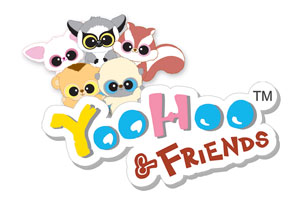 Lawless Entertainment announced its appointment as representatives for television distribution, licensing, and merchandising in North America for Aurora World's YooHoo & Friends.
YooHoo & Friends is based on a range of collectible toys and other licensed goods including social expressions, stationery, apparel, bedding, books, and more that feature rare or endangered animals from around the world.
YooHoo & Friends was created by Aurora World Corp. and has sold more than 34 million units worldwide. There are more than 4,000 SKUs including social expressions, stationery, apparel, bedding, books, and more. The YooHoo & Friends animated series consists of two seasons of 52×11 minute episodes each and airs in 40 countries worldwide.
European Licensing Deals for Fender
Music lifestyle brand Fender announced Sunset Bioworld and Pyramid Posters as its first two European licensing partners in the apparel and wall art categories. The deals mark the launch of the brand's European licensing program, developed in collaboration with Fender's licensing agency, Beanstalk.
Sunset Bioworld will create a line of apparel and accessories items, including T-shirts, hoodies, jackets, socks, headwear, wallets, and keychains. Pyramid Posters has been granted the European rights for a Fender wall art collection, featuring posters, canvases, wood prints, mirrors, metal prints, key chains, and badges. Both ranges will be available through offline and online retailers across Europe.
Epic Rights Signs Jefferson Airplane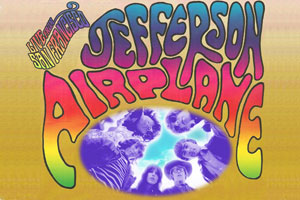 Epic Rights has been named global licensing agent for Jefferson Airplane, the band whose unique San Francisco sound defined psychedelic rock.
In representing the Jefferson Airplane brand, Epic Rights will expand on the colorful look of the tie-dye, psychedelic '60s rock brand, incorporating both the band's album art and its rich photographic imagery into a broad range of consumer products and services to be released in conjunction with the band's 50th anniversary celebration in 2015. The imagery and fantastical array of colors tap into apparel, accessories, home décor, stationery/paper goods, collectibles, gifts, novelty, and publishing.
Monster Jam Set from The Bridge Direct
The Bridge Direct, Inc., and Feld Entertainment, Inc., announced a multi-year global licensing agreement, which was brokered by The Licensing Shop, Inc., to develop and market Monster Jam Construction Sets. The Monster Jam construction line will center on the iconic Monster Jam trucks as highly detailed buildable vehicles, with driver figures and stadium environments for extended play.
The Monster Jam construction sets are expected to make their debut at retailer in fall 2015.
Seltzer Licensing Signs Basketball Player Jeremy Lin
Professional basketball player Jeremy Lin and JLIN Marketing selected Seltzer Licensing Group as its licensing agent to secure strategic new licensing partnerships for "Jeremy Lin," "Linsanity," "JLIN," "林書豪," and "林书豪." Seltzer Licensing says this is trademarked in the U.S., China, Taiwan, many East Asian countries, and other target countries around the globe.
Lin's improbable rise to global stardom, known worldwide as "Linsanity," began in February 2012 when the Harvard graduate unexpectedly became a starter for the New York Knicks and captivated the world with his clutch shooting and overall dazzling play.
Hummingbird Bakery Signs Scoop Designs
American-style baking brand, The Hummingbird Bakery, announced that it has appointed gift manufacturer, Scoop Designs as its giftware licensee. The agreement marks the kick-off of a strategic licensing program, developed by Hummingbird's brand licensing agency, Beanstalk. Scoop Designs will create gift sets combining baking equipment with recipe cards from The Hummingbird Bakery, enabling fans to recreate the brand's popular indulgences at home. The collection will launch in late 2014 with a broad roll-out of the range set for department, grocery, and independent store distribution for spring/summer 2015. The Hummingbird Bakery is an American-style bakery founded in 2004 to bring the authentic taste of American home baking to London. The company has six branches across London and also recently launched two branches in Dubai through a franchise agreement.
MasterChef Cruise Sets Sail this November
Consumer Strategies has brokered a location-based entertainment deal between Life Journeys, Inc., and Shine America, producers of MasterChef, to launch the official MasterChef event cruise. Consumer Strategies represents Life Journeys, Inc., a travel production company that produces branded cruise and land events. The cruise will set sail this November to the Caribbean.