Sony Seeks Licensees for Pixels Film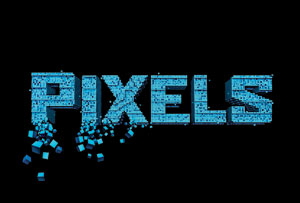 Sony Pictures Consumer Products is looking for global partners to develop a multi-category licensing program supporting the action comedy Pixels, which is scheduled to be released in the summer of 2015.
In Pixels, when intergalactic aliens misinterpret video-feeds of classic arcade games as a declaration of war against them, they attack the Earth, using the games as models for their various assaults. President Will Cooper (Kevin James) has to call on his childhood best friend, 1980s video game champion Sam Brenner (Adam Sandler), now a home theater installer, to lead a team of old-school Arcaders (Peter Dinklage and Josh Gad) to defeat the aliens and save the planet. Michelle Monaghan plays the team's unique weapons specialist.
The action-comedy is directed by Chris Columbus from a story by Tim Herlihy and a screenplay by Tim Herlihy and Timothy Dowling, based on the original short film of the same name by Patrick Jean. The film is produced by Adam Sandler, Chris Columbus, Mark Radcliffe, and Allen Covert.
For licensing opportunities, contact Greg Economos, senior vice-president of global consumer products at gregory_economos@spe.sony.com.
New Licensees for Loteria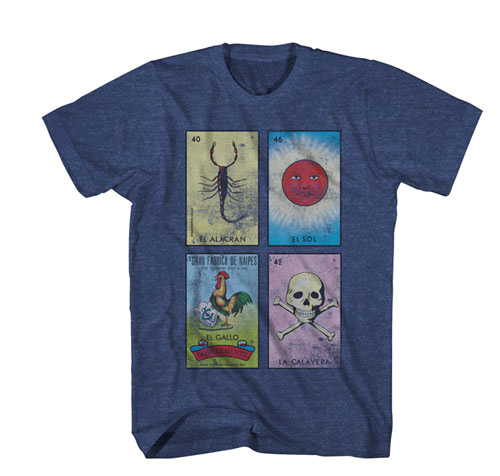 FremantleMedia North America (FMNA) announced that it is expanding the Loteria brand through two new partnerships with Mad Engine and Chronicle Books.
Mad Engine will be combining Loteria with fashion by introducing a full line of apparel including tanks and tops, hooded pullover and zip fleece, and infant onesies. The new clothing line will include items for men, women, juniors, girls, and boys.
Chronicle Books will be bringing a host of stationery products to market this fall across North America, United Kingdom, and Australia. Items will include journals, notebooks, and notecards, all featuring trademarked images from this cultural pastime.
Care Bears, Osiris in Shoe Deal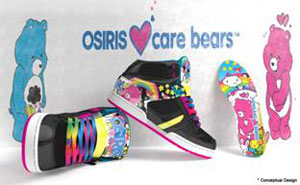 AG Properties (AGP), the intellectual property and outbound licensing division of American Greetings Corporation, has signed the skate shoe company Osiris to introduce a line of special-edition skate shoes featuring Care Bears. The skate shoes are expected to hit retail for the 2015 Back to School season. Osiris expects to sell its new Care Bears skate shoes at major skate and apparel retailers.
Apparel Licensees for KISS
Epic Rights, representing the rock band KISS, has signed Hybrid Apparel, Fifth Sun, Impact Apparel, Junk Food, Signorelli and Trevco for apparel in the U.S. The Canadian partners are Xtreme Worldwide and Philcos. The new apparel lines—T-shirts, fashion tops, hoodies, loungewear, and accessories—will feature new artwork inspired by iconic imagery from KISS through the years including band photos, album covers, tour poster art, new logo development, and more. The various lines will be available at a wide range of retail outlets. The initial lines will be available in fall 2014, with the majority launching in spring 2015.
New Licensees for Little League
Fermata Partners, the licensing agency for Little League Baseball and Softball, has signed three new licensees. Logo Chair, Inc., will offer Little League-branded folding chairs, stadium cushions, and other products ideal for use at ballparks. MPI Coin is offering a collectors' coin to commemorate the 75th anniversary of Little League. It comes with a tri-fold display featuring a rich timeline of Little League history. Zumer Sport will be introducing wallets, iPad covers, bracelets, keychains, portfolios, duffle bags, backpacks, and cinch sacks, among many other items.
Additionally, Fermata and Little League have renewed the existing licensing partnership with StyleCraft Home Collection. The company offers an array of Little League-branded lamps and the line will now expand with this renewal to include home wall décor, occasional furniture, and decorative accessories.
Cut the Rope Happy Meal Promo Across Europe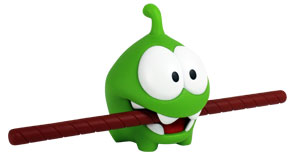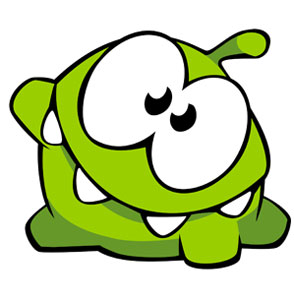 Zeptolab announced a new multi-market Happy Meal promotion with McDonald's featuring Zeptolab's mobile game Cut the Rope. The deal was brokered by ITV Studios Global Entertainment, Zeptolab's master licensing agent in Europe.
Starting now and continuing through October 2014, the promotion will run in 37 markets across Europe and will feature a new and exclusive app, Cut the Rope: Hungry for Fruit, which is available on McDonald's Happy Studio on the iOS and Android platforms. The game, which has been developed especially for the promotion, features new arcade gameplay. The goal of the game is to get the candy-eating monster Om Nom on a steady diet of fruit by popping floating bubbles that contain the fruit or Om Nom himself. During the promotion, every Happy Meal purchase will come with one of eight Om Nom fruit-themed toy premiums.
Store window takeovers, fruit sampling, fun fruit recipe cards, and premium demos are among the support for the duration of the promotion.
Talking Tom Custom Shirts
Outfit7 has signed an on-demand apparel deal with MerchANT, a London-based tech start-up and licensing company, for Outfit7's Talking Tom and Friends.
The Talking Tom and Friends MerchMAKER is set to launch on August 27 and will allow fans to create their own Talking Tom and Friends merchandise using MerchANT's interactive personalization system. Users in the UK and Ireland will be able to choose from a wide range of apparel and accessories to customize with their favorite character images and quotes. The system uses PayPal or parentally controlled OINK payments.
Established in 2012, MerchANT uses interactive personalization platforms connected to social media to deliver licensed product—spanning film, TV, apps, and gaming—utilizing the just-in-time manufacturing method.
Worx Toys Signed for Poopeez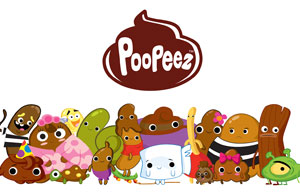 Brandberry announced that it has signed Worx Toys as its master toy partner for its IP Poopeez. A book and plush program that introduces all of the Poopeez characters is expected. This potty-training brand offers a comical twist on life's stinkiest moments and can be enjoyed by all ages.
In addition to the 200-plus characters in the line, there are also Poopeez songs, webisodes, poems, puns, and more.
Bare Tree Media is launching virtual goods and Alley Oop Toys will remain on as the novelty toy licensee. More licensees are expected to be announced soon.