Character Options Named Global Toy Partner for Teletubbies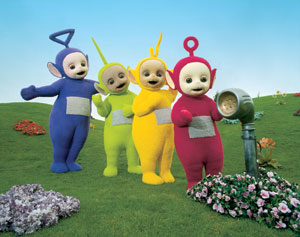 DHX Media, content creator for families and children, has appointed UK toy company Character Options as global master toy partner for the new Teletubbies series. The deal was completed by DHX Brands, the company's dedicated brand and consumer products arm. Character Options will launch product at retail in the UK in 2016, with other territories to follow. Core categories will include plush, plastics, and bath toys.
The new 60-episode series of Teletubbies has been commissioned by the UK's CBeebies and is being produced by UK production company, Darrall Macqueen Ltd. It will feature the same characters but will bring a refreshed, contemporary look to the property. Teletubbies originally launched in 1997.
Kohl's, AwesomenessTV in Apparel Deal
Kohl's Department Stores and AwesomenessTV (a wholly owned subsidiary of DreamWorks Animation) announced a partnership to launch S.o. R.a.d., a seven capsule limited-edition junior's fashion line and Life's S.o. R.a.d., an original four season YouTube series featuring top teen influencers. The first S.o. R.a.d. junior's capsule will launch at Kohl's and Kohls.com on September 22, 2014. The first S.o. R.a.d. capsule will be priced from $30–$48 and will feature dresses, sweaters, skirts, knits, and leggings.
Life's S.o. R.a.d., the multi-part original scripted AwesomenessTV series, will debut on September 19, starring Amanda Steele and Lia Marie Johnson in an imaginative depiction of their involvement in the S.o. R.a.d. brand's creation. Each episode will engage viewers in an authentic social conversation using #sorad on Twitter and Instagram to drive excitement about the new fashion line. Each of the series' seasons will feature a different pair of influencers and completely unique storylines.
The series will be live on the AwesomenessTV's YouTube channel, which has more than 1.7 million subscribers and more than 400 million views. It will be promoted across the AwesomenessTV's multi-channel network, which has more than 52 million subscribers and more than five billion views. The campaign will also be supported by videos by Amanda and Lia Marie, which will be live on their own YouTube channels.
Licensed Products for Hawaiian Tropic, Banana Boat
Energizer Personal Care, home of sun care brands Hawaiian Tropic and Banana Boat, has partnered with Morgan Home Fashions to produce Hawaiian Tropic and Banana Boat branded beach accessories, including beach towels, beach mats, totes, and swim sacs. The agreement was brokered by Brandgenuity representing Energizer Personal Care.
Morgan Home's Hawaiian Tropic line will feature island-inspired beach towels, beach mats, totes, and swim sacs. The Banana Boat line will include a family friendly line of beach towels and beach mats, as well as a juvenile line of swim sacs, beach backpacks, and roll-up beach mats.