Disney Channels Asia Extends Agreement for Camp Lakebottom Season 2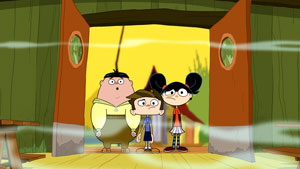 9 Story Media Group has licensed an additional 26 x 22-minute episodes of the animated comedy series Camp Lakebottom to Disney Channels Asia, which includes Southeast Asia, South Korea, Taiwan, and Hong Kong. Other Disney territories including the U.S., the UK, CEEMEA, INDIA, Japan, and Latin America also picked up the second season. Camp Lakebottom premiered on Teletoon Canada and Disney XD (U.S.) in July 2013.
Lowe's, Sherwin-Williams Sign Distribution Deal for HGTV HOME
Lowe's Companies and The Sherwin-Williams Company announced that HGTV HOME by Sherwin-Williams brand paints will be available at Lowe's stores and on Lowes.com beginning in March 2015.
The HGTV HOME by Sherwin-Williams product line will feature a new and improved interior and exterior paint program available at Sherwin-Williams' stores and Lowe's stores nationwide as well as exclusive line extensions available at Lowe's.
The HGTV HOME by Sherwin-Williams color palette will offer 16 designer-inspired color collections, eight of which will be exclusive to Lowe's. Each collection will include 20 coordinating colors along with design tips for homeowners.
CARD.com to Feature Strawberry Shortcake on Prepaid MasterCards
CARD.com entered into a strategic partnership with American Greetings Properties (AGP), the intellectual property and outbound licensing division of American Greetings Corporation, to introduce a specially designed line of CARD.com Prepaid MasterCard cards featuring Strawberry Shortcake to the U.S. market.
The Strawberry Shortcake designed card can be used everywhere Debit MasterCard is accepted and includes access to more than 24,000 in-network ATMs, direct deposit, and mobile check deposits. Consumers can sign up for a Strawberry Shortcake design card online at CARD.com.