Airheads Frozen Treats from Koldwave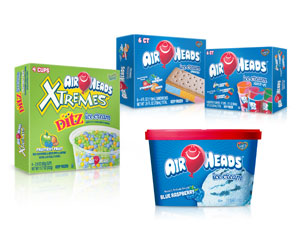 Confectionery manufacturer Perfetti Van Melle announced that its Airheads brand has partnered with Koldwave Foods LLC, a wholly owned subsidiary of Spring Creek Holdings LLC, to create an assortment of Airheads frozen treats. Koldwave Foods and Airheads were brought together by Beanstalk, Airheads' licensing agency.
Airheads ice cream is available in eight flavors, including blue raspberry, cherry, watermelon, orange, green apple, pink lemonade, grape, and strawberry. The ice cream also incorporates ribbons of Airheads taffy. In addition to ice cream, Airheads' line of frozen desserts includes the following cream-based frozen novelties: cups of DitZ ice cream mini bites, sundae cups, tri-flavored ice cream sandwiches, and two-in-one flavor ice cream squeeze-up tubes.
Airheads ice creams and cream-based frozen novelties will be available at grocery, club, convenience, drug, and mass retailers nationwide beginning this month.
Corona-Branded Apparel Debuts This Spring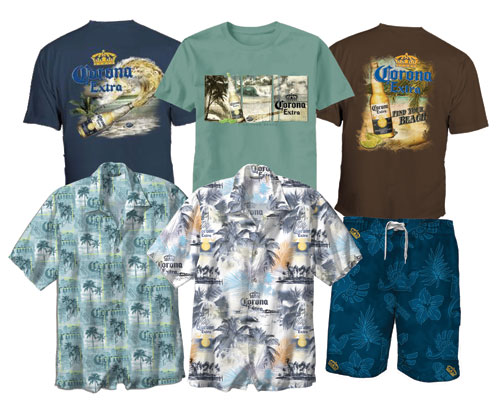 The Joester Loria Group (TJLG), the exclusive licensing agency for Constellation Brands' beer portfolio in the U.S., has signed Fencepost Productions to develop a collection of Corona-branded men's apparel and swimwear. It will retail for $15–$50 and will be available this spring.
The Corona collection is co-branded with established menswear brands owned by Fencepost Productions. The brand portfolio includes resort brands Joe Marlin, Out of Bounds, Newport Blue, and No Bad Days that complement the Corona brand.
TJLG says that Fencepost joins a growing roster of licensees with Corona lifestyle product including fashion accessories, footwear, outdoor and beach gear, glassware, barware, giftware, and appliances.
GBI, FatRedCouch Partner for Thomas Edison's Secret Lab App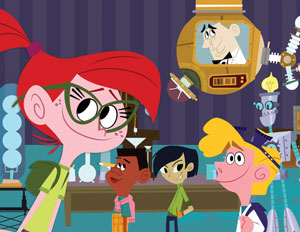 Genius Brands International, Inc., (GBI) announced a partnership with FatRedCouch, Inc., for the production of apps for GBI's new animated children's series, Thomas Edison's Secret Lab.
GBI and FatRedCouch will introduce a master app for Thomas Edison's Secret Lab to coincide with the premiere of the new animated series on U.S. public television stations later this year. The master app is expected to feature a self-contained play environment offering multiple activities and games utilizing animation footage from the series. The app will be available on iOS and Android platforms initially through channel partners, including Apple, Google, Amazon, and Barnes & Noble (for Nook).
Thomas Edison Secret Lab follows Angie, a 12-year-old prodigy and her young science club who accidentally discover a dream lab equipped with gizmos and gadgets.
Eric Carle in Deal with Oriental Trading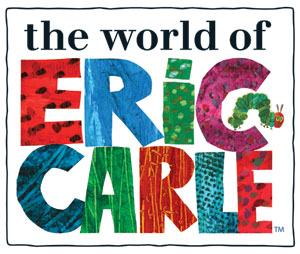 The Joester Loria Group (TJLG), the exclusive worldwide agency for The World of Eric Carle, has brokered a licensing agreement with Oriental Trading Company, Inc., the direct retailer of value-priced school and party supplies, for a multi-category program featuring the iconic artwork and characters from The World of Eric Carle.
Oriental Trading will develop an extensive line of products utilizing popular characters from Carle's books, including The Very Hungry Caterpillar, to create collections that capture the playful theme of the World of Eric Carle and emphasize Carle's distinctive collage art. Oriental Trading will launch the program in June.
MEGA Brands, Highlights in Puzzle Deal
Highlights for Children, Inc., has signed MEGA Brands, a division of Mattel, to a multi-year licensing agreement to develop a new line of puzzles featuring Highlights' Hidden Pictures illustrations for kids ages 3 and up. The license was brokered by Highlights' licensing agency, Dimensional Branding Group.
AriZona, Welch's in Drink Deal
AriZona Beverages and Welch's are teaming up to create a new line of all natural, sparkling juice cocktails. Welch's Sparkling Grape and Welch's Sparkling Strawberry will be packaged in AriZona's iconic 23 oz. Big Can. The new drinks will be made with Welch's Concord Grape Juice and Sweet California Strawberries.
Smithsonian Lecture Series on Regent Cruises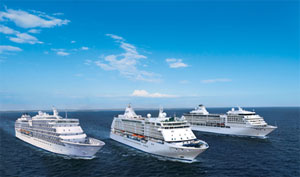 Regent Seven Seas Cruises and the Smithsonian Institution announced a new enrichment program, The Smithsonian Collection by Smithsonian Journeys. This new guest lecture series will feature a wide range of experts, from noted art historians to prominent authors and geopolitical experts, leading spirited discussions both aboard the ships and ashore. Starting in July, The Smithsonian Collection by Smithsonian Journeys will be available on a majority of sailings, with more than 80 voyages scheduled across the fleet for the 2015/2016 season, and featured on itineraries throughout the world, including South America, Europe, Africa, Asia, and the Caribbean.
Mossy Oak Camo Signed for Products
Mark Feldstein & Associates (MFA), a product development company and importer of giftware, housewares, and electronics, has named Mossy Oak Brand Camo as its newest licensed partner on a series of Break Up camouflage-patterned Illuminator Wind-Up Flashlights and Power Banks.
PakLab Launches Bay Soleil for Mandalay Bay
The All-American Licensing & Management Group (AALMG) representing Mandalay Bay has signed PakLab for Bay Soleil for Mandalay Bay. Inspired by Las Vegas' desert surroundings and Mandalay Bay's tropical pool paradise, PakLab has developed 12 new solar products to protect sunbathers with SPF, but also will assist with repairing skin damage caused by prolonged sun exposure and extreme environments.
memBrain Licensing Signs Purridge & Friends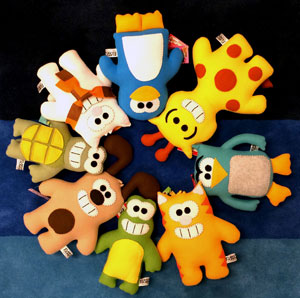 memBrain licensing announced that it has been selected to manage the merchandise licensing program for the whimsical character brand Purridge & Friends, created by Alvin and Cheri Ong of Furry Feline Creatives. Purridge & Friends stars Purridge, a little white cat with a big heart, and her friends. Purridge shares her love of food, fun, and learning with her best pals who are filled with personality and fun. The plush line launched in 2012 and memBrain plans to extend the line into apparel, accessories, toys as well as other categories.
Puma, WB in Apparel Deal
Puma, in partnership with Warner Bros. Consumer Products (WBCP), announced the retail debut of its range of co-branded apparel, accessories, and footwear collections for Tom and Jerry and Superman.
The Tom and Jerry children's collection is now available globally (except for Chile) at Puma stores, Puma e-commerce sites, department stores, sports retailers, and specialty stores. The Superman kids' collection is available worldwide (except in the U.S. and Canada).
Puma's spring/summer 2015 Tom and Jerry children's collection spans infant to teens and features on-trend sneakers, T-shirts, shorts, sweatshirts, headwear, swimwear, and bags. Its Superman collection, which includes styles based on Superman, Supergirl, and Superbaby, includes fun hero products like the innovative Superman-caped backpack.
C3 to Represent Magician Michael Grandinetti
C3 Entertainment, Inc., announced that it is now representing acclaimed illusionist and magician Michael Grandinetti currently a regular on the CW Masters of Illusion TV show for licensing and merchandising. Grandinetti headlined the nightly production show Masters of Magic at the Grand Sierra Resort in Reno, Nev.
Last year, he was honored as the first illusionist ever invited to perform in America's Independence Day Parade in Washington, D.C. During this national celebration, he levitated a girl high above one of the floats as it moved down Constitution Avenue while an audience of 250,000 lined the streets.
Kid Glove Signs NumbersAlive! for Licensing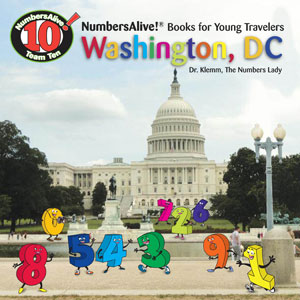 NumbersAlive!, educational children's products created by Dr. Rebecca Klemm, aka The Numbers Lady, has signed Kid Glove to develop the property for a wide spectrum of global entertainment platforms around the world.
NumbersAlive! is a framework for demystifying numbers and math. Through toys, puppets, books, and animated characters that teach children about math, NumbersAlive! was launched with a mission to improve numerical literacy.