Smurfs Signs Jakks
Jakks Pacific, Inc., announced that it has secured a licensing agreement with LAFIG and Sony Pictures Consumer Products (SPCP) to produce toys and related products based on the Smurfs franchise including the classic Smurfs brand and the upcoming Smurfs feature film premiering in August 2016. The worldwide, master toy agreement includes rights to produce figures, playsets, plush, and more. The new line from Jakks will be available at retailers nationwide this fall.
New Licensees for Tapatío
Firefly Brand Management announced new licensees in non-food categories for its client, Tapatío Hot Sauce. The licensees include:
• Mighty Fine for T-shirts and adult apparel
• Costume Evolution for Halloween costumes
• Frost Productions LLC for lottery scratcher tickets
• Socksmith for men's and women's socks
• Fiesta Concession Corp. for plush, inflatable bottles, and kids' capes
• Poprageous, Inc., for leggings, bathing suits, harem pants, crop tops, dresses, and skirts
• Zynga for a Tapatío Hit It Rich social slots game
The newest licensees join a roster that includes Aquarius Entertainment Merchandising for playing cards/tin deck set, puzzles, posters, and calendars; Hot Properties for buttons, magnets, lanyards, patches, stickers, and key chains; and Aristocrat, Inc., for slot machines.
AALMG Signs Bow Wow Pets
All American Licensing & Management Group (AALMG) announced the signing of Bow Wow Pets to develop a comprehensive line of pet products that incorporates Dog for Dog's mission to feed pets. With each Dog for Dog-branded item that is sold, a meal is donated to a dog in need. The Bow Wow Pets lineup of products is expected to include dog toys, beds, training pads, crate mats, collars, harnesses, retractable leashes, waste bags and dispensers, and more.
Investors and supporters of Dog for Dog include Snoop Dogg, Chelsea Handler, Michael Buble, and Amar'e Stoudemire. All of the Dog for Dog celebrity investors and athletes will be featured in the Save Our Shelter television series launching on the CW network this fall.
Body Rags Signed for Pepsi, Mountain Dew
The Joester Loria Group announced that it has signed Body Rags for apparel on behalf of its client, PepsiCo for its Pepsi and Mountain Dew brands. Body Rags will offer designs for upmarket, specialty, and e-commerce channels of distribution. The line is expected to be available this month.
WBCP EMEA, Flik Flak in Watch Deal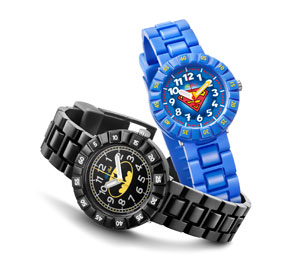 Warner Bros. Consumer Products EMEA (WBCP EMEA) and Flik Flak, part of The Swatch Group, announced a global partnership that brings new character-inspired watches, featuring the DC Comic superheroes Batman and Superman, to stores worldwide beginning this spring.
A total of eight new WBCP-licensed watches will launch in 2015 featuring Warner Bros.' properties. Flik Flak straps are designed specifically for children and are water-resistant to almost 100 feet.
Forza Horizon 2 Presents Fast & Furious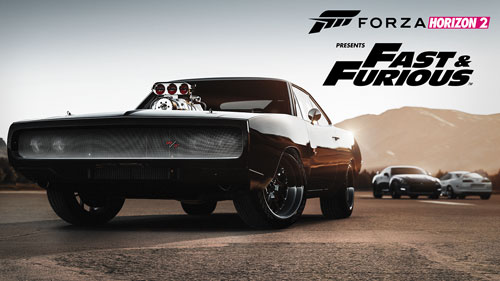 Microsoft's Xbox and Universal Partnerships & Licensing announced a partnership between Forza, the highest-rated racing series of the past 10 years, and the Fast & Furious film franchise to create an original adventure in Forza Horizon 2 Presents Fast & Furious.
Launching on March 27, 2015, Forza Horizon 2 Presents Fast & Furious is a stand-alone expansion to Forza Horizon 2 for Xbox One and Xbox 360. The all-new expansion will put players behind the wheel of iconic vehicles from the Fast & Furious film series, including new cars appearing in Universal Pictures' Furious 7, in theaters April 3. Players do not need to have purchased or played Forza Horizon 2 in order to download this version.
This stand-alone expansion will be available at no charge for a limited two-week period. Beginning on March 27 and continuing through April 10, 2015, players can download the expansion on Xbox One or Xbox 360 at no charge. After April 10, the expansion will cost $10, but players who downloaded it for free during the two-week window can continue to play without restriction.
Mentos, Chupa Chups in Apparel Deal
Perfetti Van Melle and Pantone Colorwear have teamed up for an outwear collection featuring Perfetti's Mentos and Chupa Chups. The Chupa Chups' capsule collection combines the flower-shaped logo designed by Salvador Dalí with popular flavors such as Strawberry Cream, Vibrant Orange, Lemon, and Green Apple. This collection focuses on basic items such as T-shirts and sweatshirts. The new collection will be available at retail worldwide this September.
AALMG Signs The Legendary Hatfield & McCoy Family Brand
All American Licensing & Management Group (AALMG) announced the signing of The Legendary Hatfield & McCoy Family Brand. AALMG will develop a comprehensive licensing program that will include a line of products that incorporate the history, culture, and craftsmanship of these two iconic families. The Hatfield-McCoy feud is an American roots story, and after more than 150 years it remains the most notorious family feud in American folklore. The two families still live along the West Virginia and Kentucky border and are working together in this licensing venture.